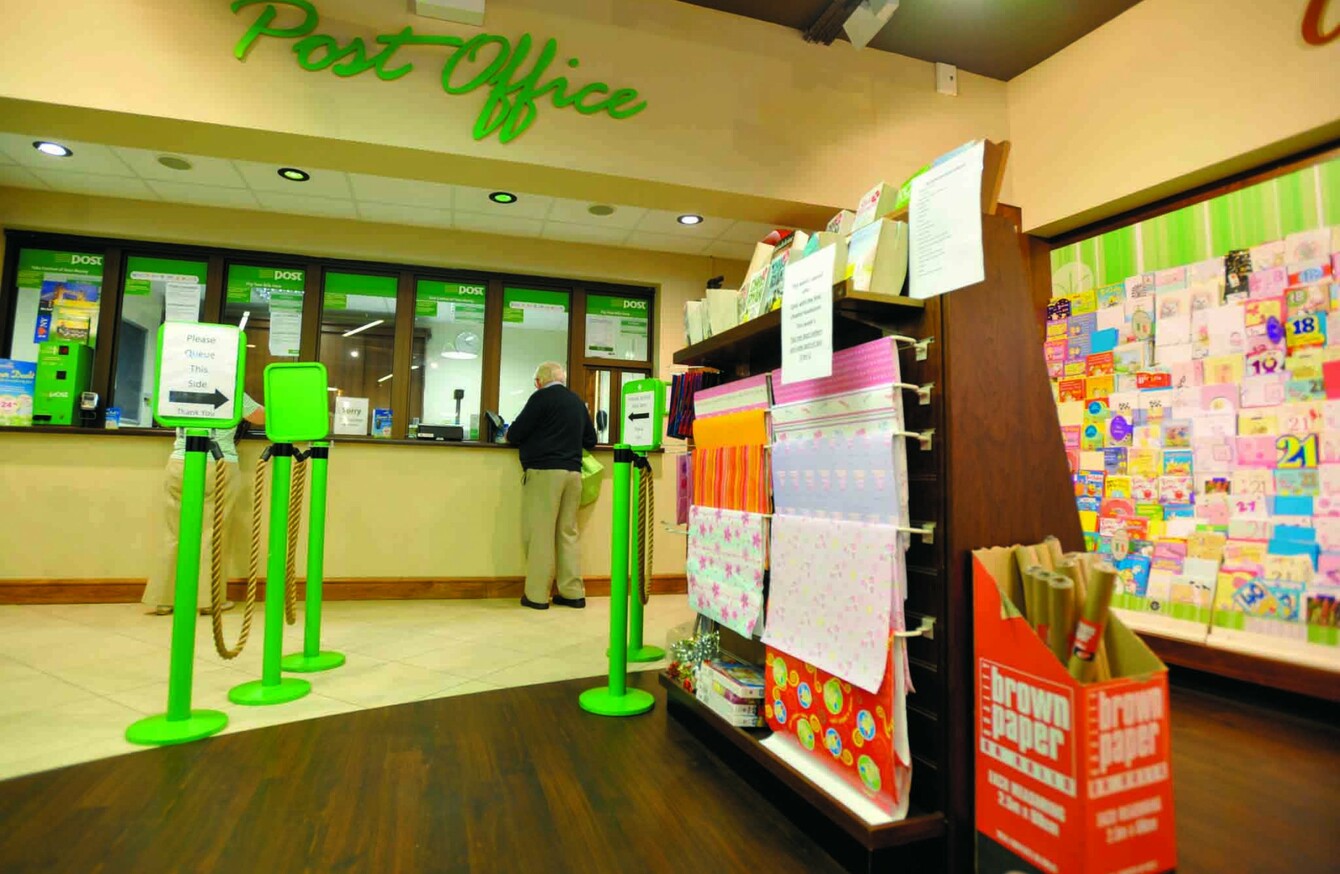 Image: Sasko Lazarov/Rollingnews.ie
Image: Sasko Lazarov/Rollingnews.ie
POST OFFICES HAVE served local communities in Ireland for hundreds of years.
A lifeline in rural areas, and an essential service everywhere else, the 21st century has put increasing pressure on post offices across Ireland, as their traditional business model shifted, usual safe sources of income began to erode and post offices began to close.
In 1992, there were 1,907 post offices in Ireland. A quarter of a century later, in 2017, there are now just over 1,130.
Post offices have been closing steadily for years, but it is in the last decade that the pressure has accelerated on the network, with a very real possibility that more post offices will close in the near future.
Postmasters are, in effect, self-employed private sector workers in that they win a contract from An Post and then take responsibility for operating the business as a franchise.
An Post furnishes them with an income to correlate to how much business the office does.
Lots of social welfare payments, stamps sold and parcels sent? Each transaction means an extra bit of income for the postmaster who must then use this income to pay wages, pay rent and run the business.
But, with people not using services like they used to and, what postmasters believe is, a refusal to modernise, post offices have been struggling in recent years.
So what's happened?
Cabra postmaster Andrew Kelly told TheJournal.ie that there are two driving forces behind the current crises for post offices – technology and the economic crisis.
"It was a gradual change that really began to pick up the pace around eight years ago," he said.
As consumers embraced online banking, email became ubiquitous at the expense of sending letters and the option for social welfare payments directly into bank accounts all became prevalent, the Irish post office lost a chunk of its core market.
But, instead of modernisation, there has been stagnation as a range of measures put forth in a report designed to save the post office have not yet been implemented.
In fact, reports of further branch closures enraged postmasters to such an extent that they went protesting this week.
At this stage, however, there is an enduring pessimism about the future state of post offices in Ireland, and little optimism that the government and An Post have the will and desire to fix it.
Storming the GPO
On Tuesday 14 March, postmasters held a protest outside (and inside) the GPO to resist any branch closures proposed by An Post.
Reports had emerged that An Post was considering the closure of 80 branches in an effort to plug their €12 million annual losses.
While An Post said that no final decision had yet been made, postmasters were unequivocal in their rejection of such a measure.
Ned O'Hara, general secretary of the Irish Postmasters' Union, said at the protest: "We felt the need to come here because postmasters are extremely worried about their future. This will devastate rural Ireland."
Dennis O'Flynn, postmaster at Ladysbridge Post Office in Cork, told TheJournal.ie that An Post needed to modernise in order to allow the post office network to survive.
"I'm a contractor. I can't go out and source business for the post office. I do what I can. I encourage people to buy TV stamps etc.
I can't bring about new business. That's An Post's job.
The Kerr Report
In January 2016, the Post Office Network Business Development Group published a report (or the Bobby Kerr report as the IPU referred to it) on how post offices could be saved – through expanding commercial potential and government-level changes.
Among its 23 recommendations were measures such as extended opening hours, a basic payment account for social welfare recipients, introducing ATMs and offering a credit union structure to provide credit.
In compiling the report, Kerr said that he had observed how the UK "grappled with similar issues and embarked on a journey, with significant government support, that has resulted in even greater segmentation of the network and investment in post offices".
This is an exercise that needs to take place in Ireland.
Minister of State for Regional Economic Development Michael Ring said that, in the wake of this report, two working groups were established to see if these measures were feasible on the ground, could be implemented, and would yield the desired results.
One group looked at branch modernisation, the streamlining of products and services, and postmaster contracts.
The other looked at models whereby post offices could act as community hubs, particularly in rural areas.
As a central part of the community, it is hoped that post offices could continue to enjoy that role by offering a range of services that cater more for modern lifestyles.
Rural TDs, in particular, have been vocal in their desire to fix the problems in the post office network.
A motion to propose a post office banking system, such as those used in New Zealand and Germany, was put forward in the Dáil in November.
Speaking this week to TheJournal.ie, Solidarity-PBP TD for Dublin South Central Bríd Smith said they also advocated a community banking model such as the Kiwi Bank in New Zealand.
Social welfare payments
As contractors, postmasters get a fee for each transaction they process. This is fixed and agreed between An Post and the postmasters.
In urban areas, social welfare payments constitute a large proportion of the income that postmasters receive as, for each transaction, they receive a small amount.
On a number of occasions, it appeared that An Post was at risk of losing its contract with the Department of Social Protection to provide payments to social welfare recipients.
In 2013, an agreement was reached for An Post to continue offering the service for at least another two years, with the possibility for up to six years.
In 2016, then-Minister Joan Burton announced that the contract would be retained for another year, saying that it "would help sustain business throughout the whole post office network".
However, while it is common for payments to be collected at a post office, people receiving a payment can apply to receive this payment straight into their bank account, with the exception of jobseeker's allowance.
Cabra postmaster Andrew Kelly said that offering social welfare payments through the post office was the most cost-effective, from the government's point of view, method of giving these payments.
"We have a contract," he said, "it's capped. Banks can charge what they want to. Most social welfare recipients need cash. This is a recipe for disaster for the most vulnerable in our society."
Despite this, the move away from this to offering payments through financial institutions not only eroded a post office's ability to make money, but it damages the local economy too, according to Kelly.
"Post offices act as economic hubs for the businesses around them. They bring people to the area. They distribute cash. People go spend that cash in these businesses.
The economic argument here is overwhelming in favour of post offices. For some reason, no one is listening.
On Monday, Ulster Bank announced that it would no longer offer free banking to over 60s.
Kelly said this was an example of how people – in this case State pension recipients – would be penalised if social welfare payments switched from post office collection to direct deposit into bank account.
Bríd Smith TD said that, having spoken to postmasters across her constituency, that many of them were worried that their income was being threatened by this.
She told TheJournal.ie: "It's not just a rural problem, it's a major problem in urban areas. We've got three post offices in Ballyfermot. One of them, at least, will go."
Kelly echoed Smith's fears, saying that some of the post offices most at risk were the "big, expensive ones that rely on social welfare payments".
He said that communities in Ballyfermot, Ballymun, Tallaght and Neilstown were at risk of losing their post office in the near future if the trend towards taking social welfare payments out of the post office continues.
It is the post offices that have to pay the big rents, rates, insurance and staff. They will not be able to do that because they finance everything out of the fee they receive from An Post. Once our viability is gone. It's gone forever.
Dáil attacks
In a Dáil debate on the matter last week, opposition TDs lined up to outline their concerns about the post office, both in their own constituency and nationwide.
Fianna Fáil TD for Galway West Éamon Ó Cuív said: "The issue here today is not what needs to be done. The issue is whether the Government will do it. If it does not do it, we will not be talking about 80 post offices.
I hear from postmasters and postmistresses that persisting with the status quo will mean that very cleverly, the Government and An Post are forcing them out of business.
Independent Tipperary TD Mattie McGrath similarly attacked the government for inaction on the problem. He said:
The Government is closing them by stealth. It will not allow them do motor tax or driver licences. It will not allow them to be tourist offices. It will not allow them do the parcel post. It is strangling them with their hands behind their backs and eyes blindfolded.
Feistiness is hardly an irregular occurrence in the Dáil but this issue has certainly raised the temperature in the chamber each time it's mentioned.
When Ring said that he had "no statutory responsibility for An Post" and that decisions about the post office network and whether there are to be any closures are matters "for the board and management of An Post", he drew a withering response.
Ó Cuív called it "the most extraordinary performance ever by a Minister of State" and McGrath said Ring claiming he had no responsibility was the "greatest Pontius Pilate act" he had ever witnessed.
McGrath also accused the Minister of washing his hands of the problem, when Ring said it was Minister for Communications, Climate Action and Environment Denis Naughten who was responsible for these matters.
Speaking this week to TheJournal.ie, Solidarity-PBP TD Bríd Smith said the government was "passing the parcel" on the issue and said that if it continues to ignore the problem, post offices will inevitably close.
She said: "No one is taking responsibility, and it is local post offices that are suffering.
We could bail out the banks overnight, but we don't seem to be able to do anything about [post offices] over a period of years.
Pessimism
Looking ahead, some postmasters are pessimistic about the future of post offices in Ireland, fearing both government inaction and a refusal from An Post to engage with them on retaining the network around the country.
One Dublin-based postmaster, who wished to remain anonymous, said that the cost of running the business had risen, and their income had declined, to such an extent that they may be forced to close within the next 12 months.
"And I don't think there'll be someone coming in to replace us," they said.
O'Flynn, from Ladysbridge post office in Cork, said that every business is under pressure, but An Post needed to implement the changes to secure the network's future now.
"It's not all retail's fault that the company is losing money," he said. "It's natural with the advent of technology that business is going to go somewhat. What we're interested in is seeing the Bobby Kerr report implemented."
Kelly felt less positive on the matter. "In a few years time, I don't think there'll be a lot of post offices around," he said.
"Given the rate of change, the complete lack of consultation with us and the complete disregard for reality and economic logic, I'm not optimistic there will be still be a comprehensive network.
"If we can't make money on it, then no one can. It'll die.
It's taken 200 years to build up this network. Do Irish people want to see it taken away in the next few years? Once it's gone, it's gone for good.