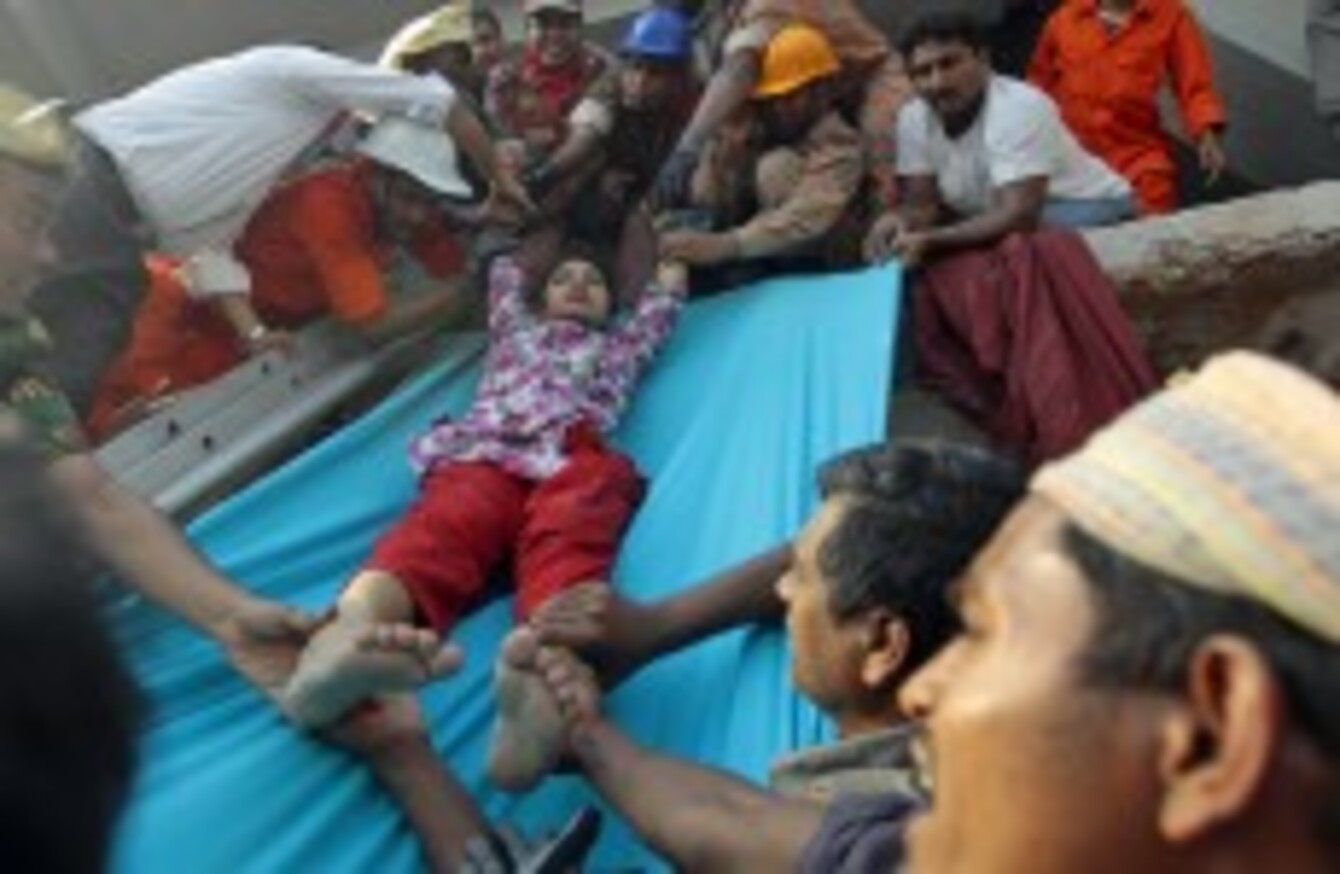 Rescuers lower down a survivor from the debris of a building that collapsed in Savar, near Dhaka.
Image: A.M. Ahad/AP
Rescuers lower down a survivor from the debris of a building that collapsed in Savar, near Dhaka.
Image: A.M. Ahad/AP
RESCUER IN BANGLADESH are continuing the hunt survivors in a collapsed building, as the death toll rose to 159 and criticism mounted of foreign firms that source cheap clothes from the country.
More than 1,000 people were injured when the eight-storey building, housing five garment factories, imploded on the outskirts of Dhaka - allegedly after managers ignored workers' warnings that the building had become unstable.
Flags flew at half-mast as the shell-shocked country declared a day of mourning for the victims of the nation's worst factory disaster, which highlighted anew safety concerns in Bangladesh's vital garment industry.
"The death toll is now 159," said Wali Asraf, a senior police officer in the disaster control room, adding that thousands of people were still massing at the disaster site for information about their missing relatives.
Working with cutters and drilling machines, fire and army rescue teams have pulled out 1,400 people alive since they launched the operation with "many still trapped beneath the rubble," fire service director Major Mahbubur Rahman said.
"We could hear cries for help from underneath the rubble. We've sent them water, biscuit and oxygen through the holes to keep them alive," Rahman told AFP, adding that they had so far managed to rescue ten people from the rubble.
"We're digging carefully and using only small machines to cut through the pancaked floors," he said, adding they stopped using heavy equipment for fear that it might jeopardise the chances for survival of those trapped alive.
The accident has once again highlighted the safety problems and poor working conditions that plague the textile industry in Bangladesh, the world's second-biggest clothing exporter which supplies global retailers.
Last November, a blaze at a factory making apparel for Walmart and other Western labels in Dhaka left 111 people dead, with survivors describing how fire exits were kept locked by site managers.
The body of a victim lies trapped in the debris of a building that collapsed in Savar. A.M. Ahad/AP
Disaster 'symptomatic' of corporate culture
Tessel Pauli, a spokeswoman for the Amsterdam-based Clean Clothes Campaign, said the latest disaster was "symptomatic" of problems in Bangladesh where foreign buyers are accused of jeopardising safety in their search for profit.
"These accidents represent a failure of these brands to make safety a priority. They know what needs to be done and they are not doing it," Pauli told AFP.
Bangladeshi unions and rights activists have also reacted furiously, calling for an end to the impunity the country's garment manufacturers enjoy.
The British-owned Irish clothing chain Primark said that one of its suppliers was based in the eight-storey Rana Plaza in the town of Savar that collapsed at about 9:00am local time (3am Irish time) on Wednesday.
"The company is shocked and deeply saddened by this appalling incident at Savar, near Dhaka, and expresses its condolences to all of those involved," it said in a statement.
Walmart said it was investigating to see if any factories in the Rana Plaza building had been among its suppliers. Spanish fashion label Mango and Benetton of Italy said none of their own Bangladeshi suppliers was involved.
Survivors complained that the building had developed cracks on Tuesday evening, triggering an evacuation of the roughly 3,000 garment workers employed there, but that they had been ordered back to the production lines.
"The managers forced us to rejoin and just one hour after we entered the factory the building collapsed with a huge noise," said a 24-year-old worker who gave her first name as Mousumi.
Local police chief M. Asaduzzaman told AFP that cases have been filed against the owner of the building, a ruling party official, and the garment factory owners for death due to gross negligence.
Mustafizur Rahman, head of a police unit created to handle industrial problems, said the factory owners had gone into hiding and had ignored a warning not to reopen the building.
"After looking at the cracks on Tuesday, we told them to keep the plants shut. They defied our call," he told AFP.