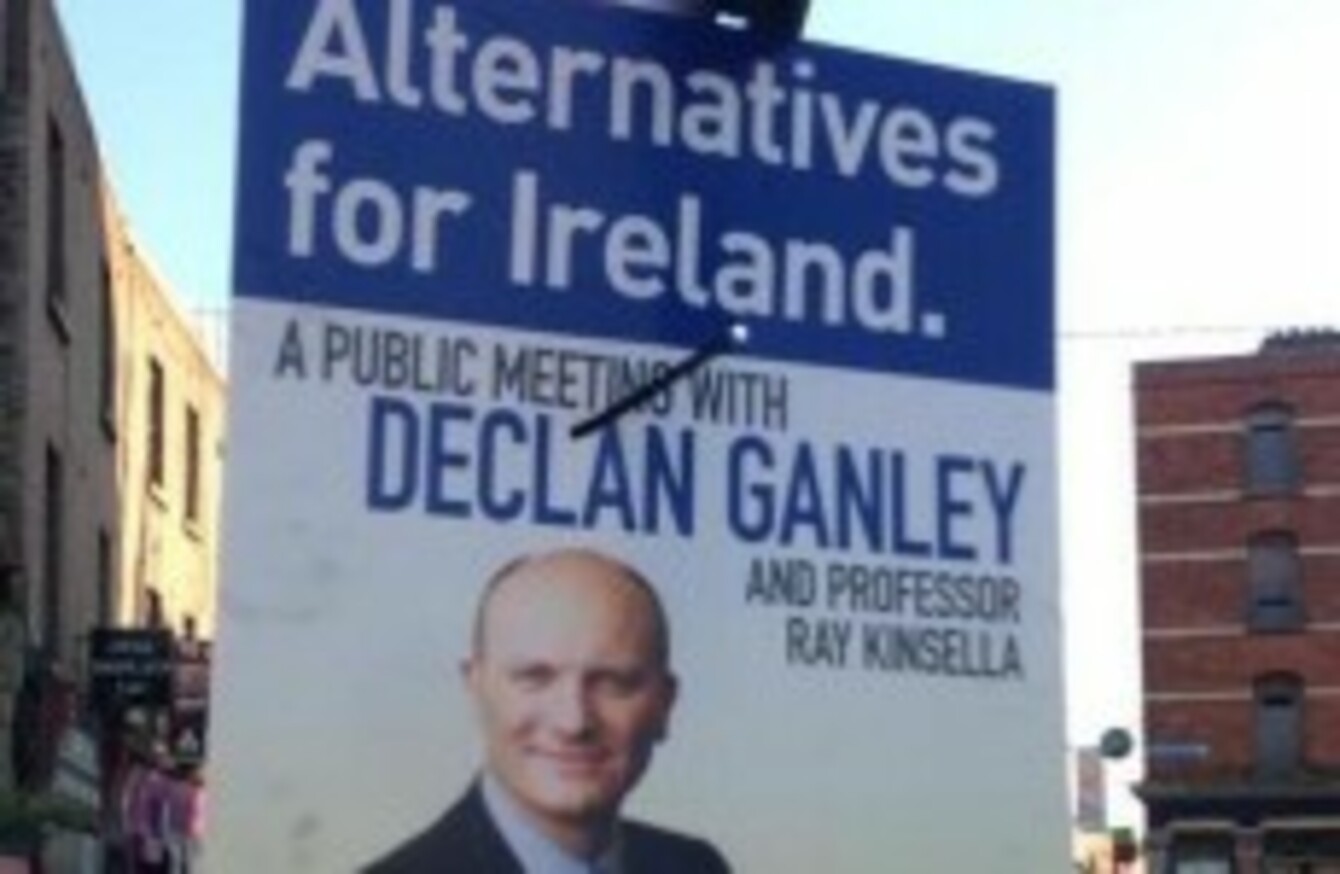 Posters advertising a public meeting with Declan Ganley have been appearing around Dublin this week
Posters advertising a public meeting with Declan Ganley have been appearing around Dublin this week
BUSINESSMAN DECLAN GANLEY is holding a public meeting next week as efforts to form a new political party gather pace although he insisted yesterday that there is no firm decision made on whether or not he'll set up a new party.
Billboards advertising 'Alternatives for Ireland' with a picture of the Libertas founder have begun appearing around Dublin city centre this week ahead of the meeting planned for next Wednesday where UCD banking and finance professor Ray Kinsella will also speak.
Ganley told TheJournal.ie yesterday that the meeting will be "discussing alternatives to the current status quo in Irish political thinking" on a range of issues from economics to abortion.
"There is a sort of political status quo that holds sway in everything right across the board, from economics, policy towards job creation, and taxation," he said.
"You couldn't put a cigarette paper between all the main parties on these issues."
He said meetings had taken place with people of no strong political affiliation as well as people currently in existing political parties in recent weeks but was not definitive on whether or not he will be forming a new political party.
He added: "If it is to happen it has to be from the grassroots. It can't be about one person. It can't be about, for example, me. It has to be a real movement that is addressing issues that are of core relevance."
Ganley has previously said that the need for a new political party in Ireland is "obvious".
'Conviction politics'
Speaking yesterday, he said there was a lack of "conviction politics" in Ireland: "There is a significant portion of people out there who are in something of a stupor, who have deliberately tuned out of politics."
Ganley, whose pan-European Libertas movement failed in the 2009 European elections, also said a significant proportion of the population are not being represented" on the issue of abortion, raising concerns about the Protection of Life during Pregnancy Bill's clause concerning suicide and the lack of term limits.
"What is surprising is that there is a middle of the road, moderate, pro-life constituency that is very significant in Ireland that has got no voice," he said. "There is no political party that is representing that voice in the Oireachtas."
Ganley claimed that the Fianna Fáil leader Micheál Martin, who supports the legislation, is "way to the left" of the Labour Party chairman Colm Keaveney, who has outlined his opposition to the Bill.
"It's a bizarre situation where you find the leader of Fianna Fáil out to the extreme left of the chairman of the Labour Party," he said.
Ganley has also previously spoken of the need for a United States of Europe and the federalising of eurozone debt.