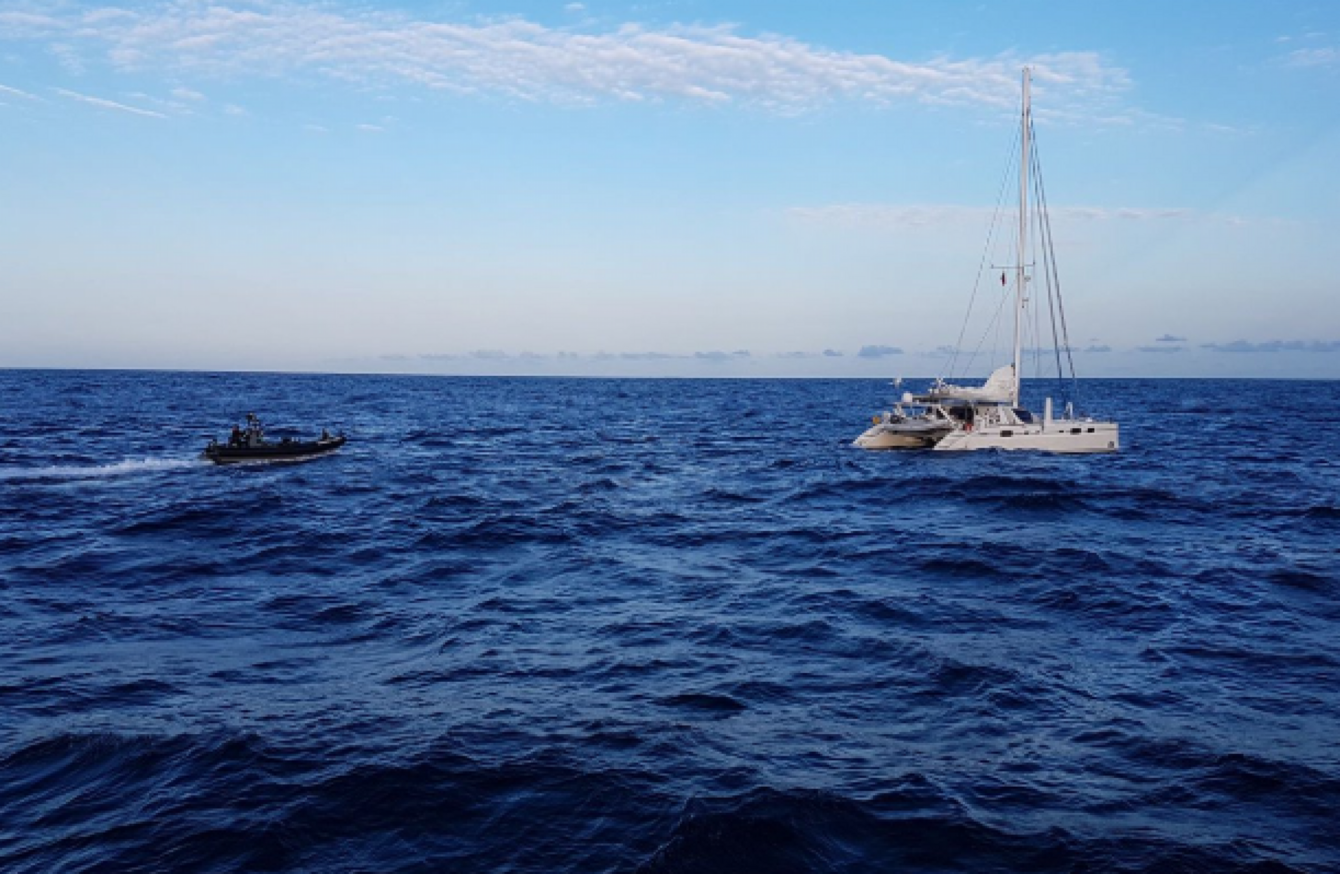 Image: National Crime Agency via Twitter
Image: National Crime Agency via Twitter
AN OPERATION WHICH led to the seizure of a significant quantity of cocaine on a yacht in the UK has been hailed as an example of the trust and cooperation between international agencies this morning.
Five men were arrested yesterday after UK border forces detained and bordered a yacht at Newlyn harbour, off the Cornish coast. After the arrests, UK authorities thanked the Irish Defence Forces, as both the Naval Service and Air Corps had assisted.
Speaking to RTÉ's Morning Ireland today, Captain Brian Fitzgerald of the Irish Naval Service Captain Brian Fitzgerald of the Irish Naval Service said authorities were working on intelligence delivered to them by the National Crime Agency in the UK about a yacht suspected of smuggling drugs. The Defence Forces were contacted as the yacht was due to move through Irish waters.
The job of one of the NAval Service's boats and the Air Corps was to locate the yacht and conduct surveillance all the way through the Irish area of operation – without being detected – until it reached the UK port.
"It was a complex operation," he said. "Effectively at this point Ireland has been given the baton in terms of trying to find this vessel, identify it without breaking, we'll say, our covert nature of our operations and then remaining with that vessel, at any time prepared to step in, but hopefully that vessel could be escorted to where the intelligence originated from and perhaps to its port that it was headed to which was the south-west port of the UK."
He said this was an "extraordinary result of the international cooperation and trust involved between this multiple of agencies". Captain Fitzgerald said a significant quantity of cocaine was found on board, but he said the exact amount has not been made public yet as the level of search required for a yacht like this one is "substantial".
He said this operation shows that the transportation of illegal drugs through waters to European countries "remains a present danger".
Five men have been arrested for drug trafficking offences and are now being questioned by National Crime Agency officers. Defence Forces have said the operation was based on intelligence provided by the NCA via the Maritime Analysis Operations Centre – Narcotics (MAOC-N), which is based in Lisbon, Portugal.