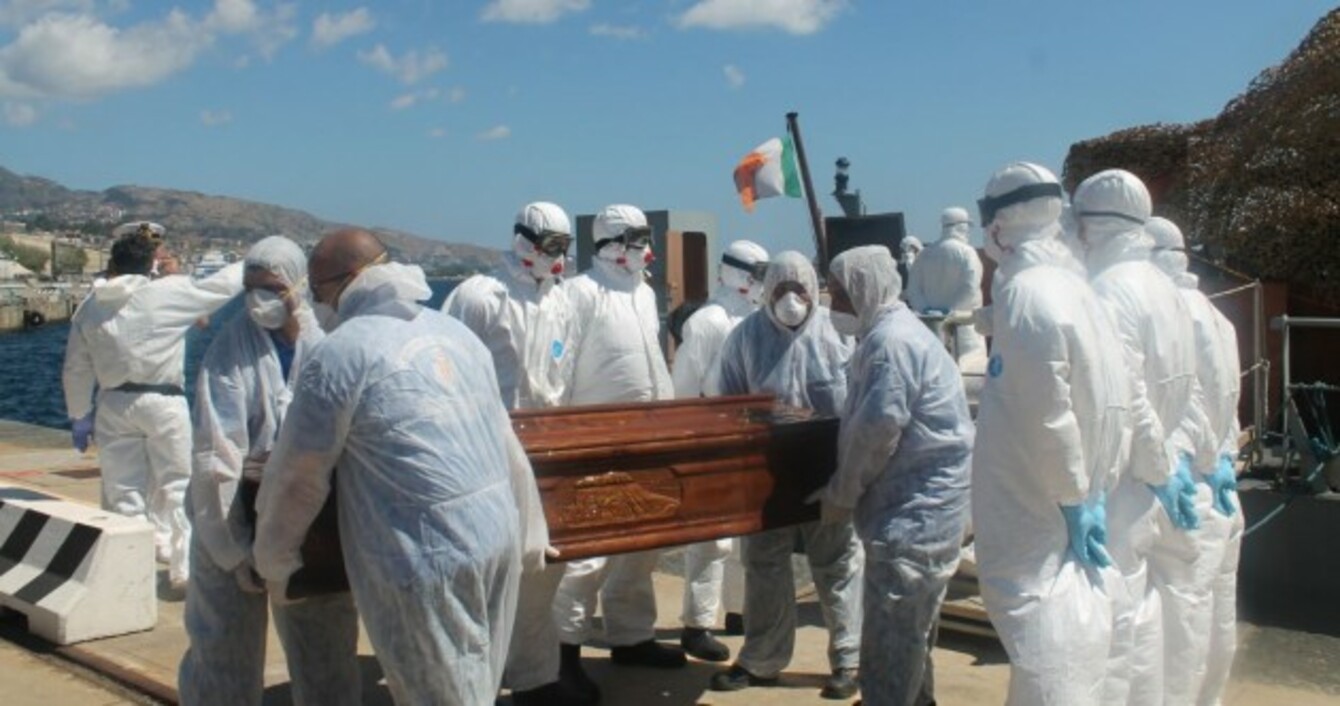 Image: Defence Forces
Image: Defence Forces
Updated at 4pm
FOURTEEN BODIES RECOVERED from an overcrowded barge some 80km west of Tripoli by the crew of the LÉ Niamh on Monday have been disembarked from the vessel in Italy today.
453 migrants rescued by the crew in recent days have also arrived at the port of Messina in Sicily.
Speaking yesterday, the Defence Forces' Captain David Barry said it appeared the people found dead on the vessel had been crushed.
What happened?
According to a statement from the Defence Forces, the Irish Naval Service vessel commenced a rescue operation in tandem with a Medécins Sans Frontiére ship at around 4.30pm on Monday afternoon, after a wooden barge was discovered with around 500 migrants on board.
Searches carried out of the migrant vessel, after passengers had been transferred, uncovered 14 bodies below deck.
It's believed the barge had only left the Libyan capital that morning.
"From where they were located, which was well below decks on the vessel, it would be our estimation that they died simply from overcrowding – from crushing and asphyxiation," Captain Barry told RTÉ's News at One.
Now, we're not medical experts obviously – there will be procedures carried out to determine that, but on the face of it it looks to be a result of overcrowding.
The ship also rescued 243 migrants in a separate operation earlier on Monday.
Prior to those call-outs missions, the crew had already rescued 827 people (672 men, 123 women and 32 children).
The Niamh was deployed to the Mediterranean on 10 July, taking over from another Irish vessel, the LÉ Eithne.