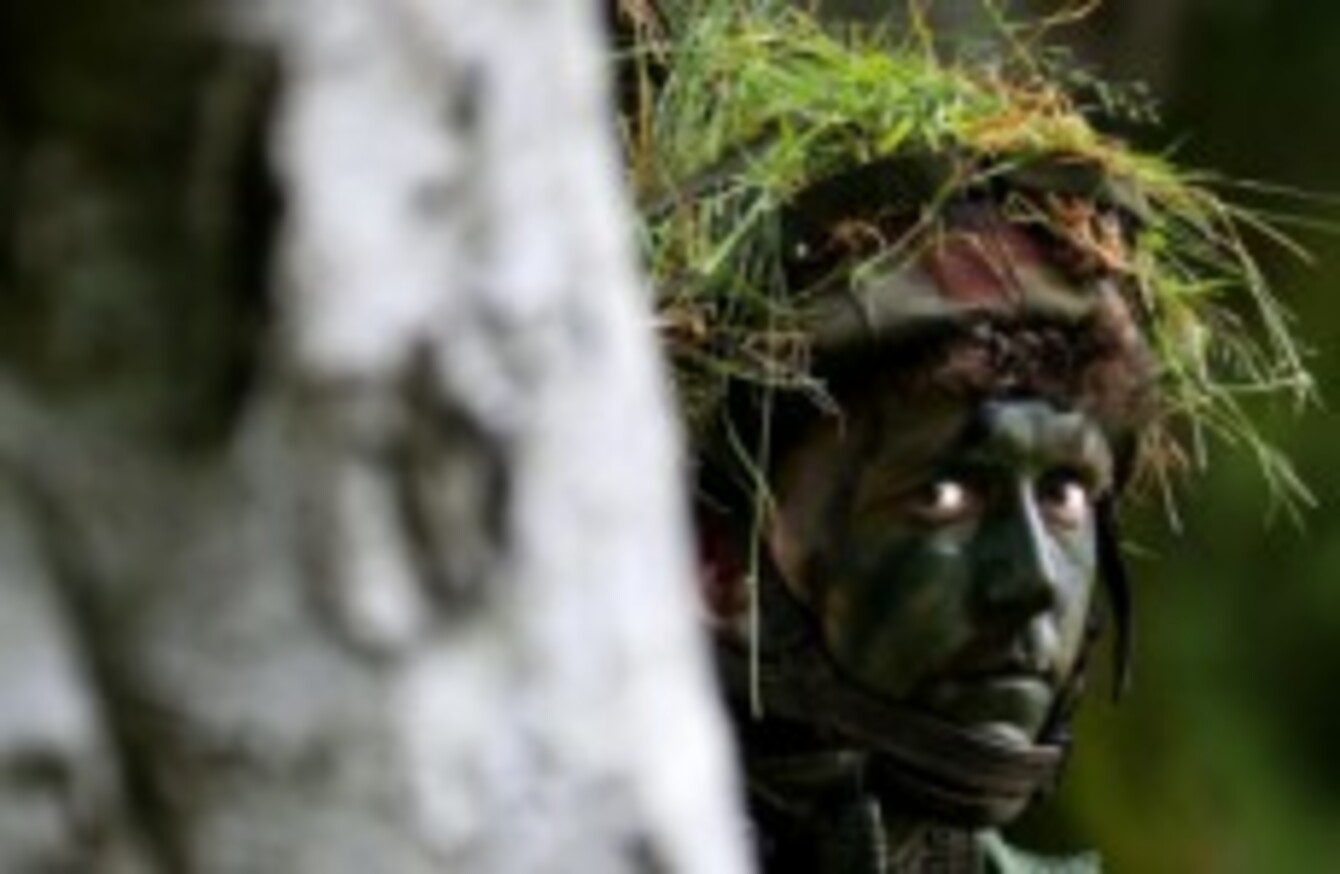 Army reserve
Image: Defence Forces
Army reserve
Image: Defence Forces
SOME 120 MEMBERS of Ireland's Defence Forces who were recruited in 1994 will be out of work next year, potentially costing the State upwards of €4 million.
Under the current agreement between the government and the Permanent Defence Force Other Ranks Representative Association (PDFORRA), there is a maximum service limit of 21 years for private and corporal personnel.
Labour's Ann Phelan is among the TDs who have publicly supported an upper service limit of 50 years for privates and corporals, as proposed by the PDFORRA.
Earlier this month, Phelan brought her concerns to the Dáil, asking a parliamentary question about the compulsory redundancies.
"Many members of the Defence Forces are skilled in particular areas and they simply will not be in a position to transition into areas of civilian employment. They will be forced to avail of Jobseeker's Benefit for a period of nine months, at the single rate of €188 per week. The overall amount in this regard will be €1.1 million," Phelan stated.
She added: "The cost to the Exchequer of replacing 100 to 120 post-1994 corporals and privates will run to €1.3 million in pension costs per annum and will give rise to a once-off €2.1 million in gratuities."
Phelan said that the State would "benefit by €20,000 per individual if they remained in service as opposed to being discharged".
Poor prospects
Gerry Rooney, General Secretary of PDFORRA, told TheJournal.ie that prospects for re-employment for those set to be made redundant are "relatively poor" as "high levels of unemployment are now the norm".
Rooney said most privates were paid an average of €36,000 annually, while corporals earned more. He added that it would be "financially more beneficial to the State" to raise the upper service limit.
Negotiations on the issue are ongoing between PDFORRA and officials of the conciliation and arbitration section of the Department of Defence. Rooney said that he expected a decision to be made this month.
He noted that the existing health and fitness regime has made the Defence Forces "a far more efficient and effective organ … at home and abroad" and said that the "primary matter" being considered by both sides was the "capability" of personnel.
"I don't know if I'd say I was confident but I certainly wouldn't expect to come away [from discussions] empty handed," Rooney added.
Image: Defence Forces
Fewer sergeant roles
Phelan said that a "major reorganisation of the Defence Forces during the recession" led to the closure of many barracks, causing an over-subscription to non-commissional officer courses and fewer sergeant roles.
Consequently, personnel under the rank of sergeant who were recruited in or after 1994 cannot reach their maximum pension of 31 years service.
Phelan noted that if current rules are not changed, the government will have to pay pensions and redundancy packages as well as salaries to replacement recruits. She said that many of the personnel in question are reliant on the State subsidy of family income supplement as "their salaries aren't huge".
She said that the issue was "causing great distress" in her constituency of Carlow and Kilkenny, commenting: "Owing to the recession and subsequent closure of the barracks in Clonmel, there was an influx of transfers to the barracks in Kilkenny."
Phelan told the Dáil: "The compulsory redundancy of enlisted Defence Forces members, which is based on an upper service limit of 21 years, means those recruited into the force in 1994 and post-1994 stand to be discharged on 10 April next year. These troops will be generally in their mid-30s to early 40s and will have high mortgages, loan repayments, child care costs and young families who must be supported … Continuing in employment is vital to them and their families."
She added: "It does not make sense that serving members of the Defence Forces will be discharged after completing 21 years' service, despite having passed all relevant fitness and medical tests …  In no other sector of the public service are service periods limited to 21 years."
Phelan also noted that under the current scheme, personnel are trained to become technicians seven or eight years after they are enlisted and that this process may take up five years, meaning fully-trained technicians may only serve for nine years.
'Severe Criticism'
When answering her parliamentary question, Junior Agriculture Minister Tom Hayes said that the then government settled on the current age limit following the publication of an "in-depth study" in 1994 that "expressed severe criticism of the age profile of members of the Defence Forces".
He noted that the 21-year cut-off point affects enlisted personnel, up to and including the rank of corporal and the equivalent Naval Service rank, but that personnel "in the rank of sergeant may be permitted to continue in service up to the age of 50 years and enlisted personnel in all higher ranks may serve to the age of 56″.
In 1993, the government decided to enlist private soldiers on five-year contracts, following concerns over the age profile of personnel due to the demanding physical nature of the job.
A deal was reached with the Permanent Defence Force Other Ranks Representative Association (PDFORRA) in 1997 to extend this period to twelve years, subject to a medical and fitness test. In 2004, the time frame was extended to twenty one years.
Applications for 900 new roles in the Army and Navy closed last week. There were approximately 6,700 applications for the Permanent Defence Forces and more than 1,800 for the Reserve Force.