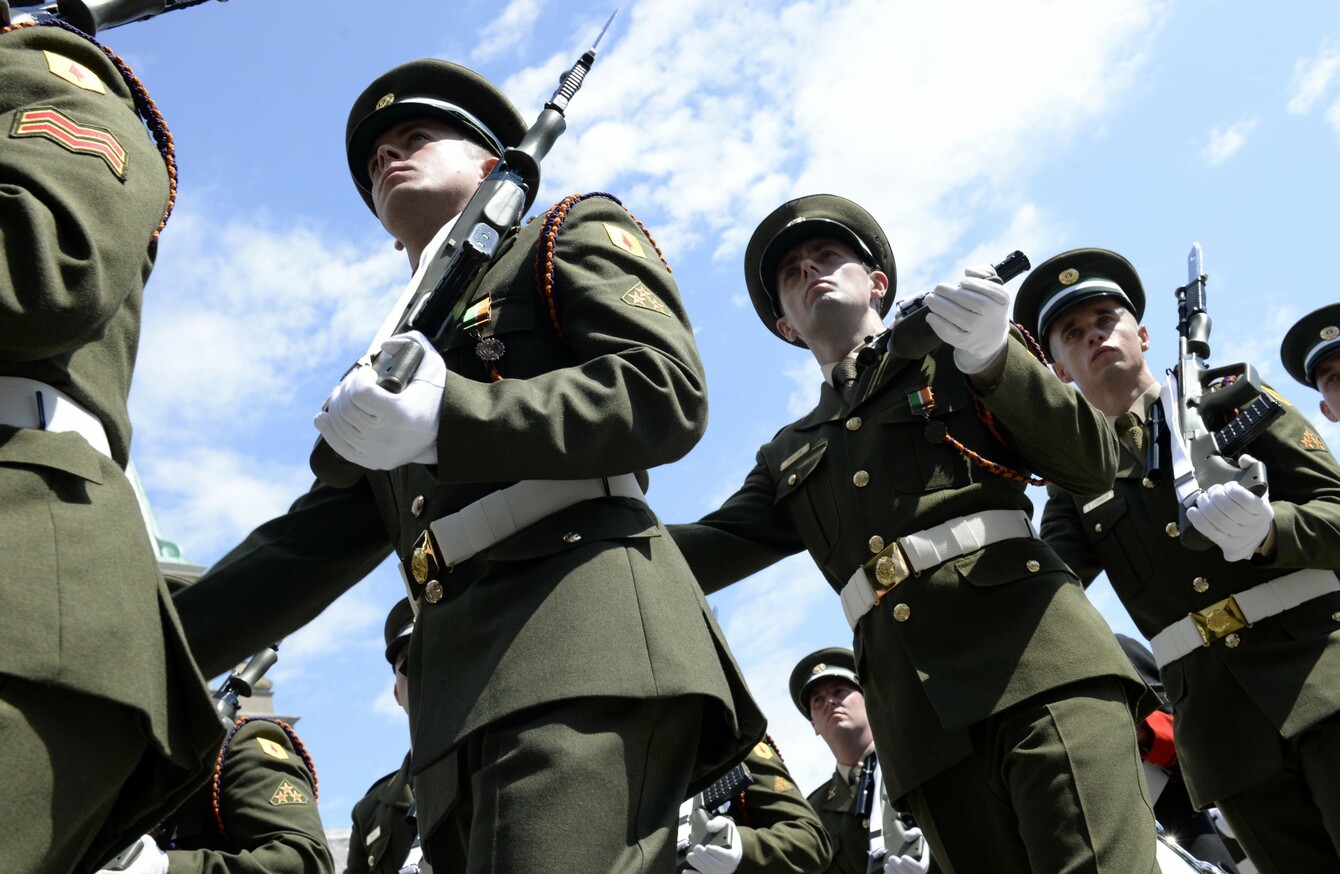 A new report has highlighted poor pay and conditions reported by Defence Forces personnel.
Image: Bryan Meade/RollingNews.ie
A new report has highlighted poor pay and conditions reported by Defence Forces personnel.
Image: Bryan Meade/RollingNews.ie
POOR PAY AND conditions, a feeling of unfairness and worries about career development are just some of the problems facing members of the Defence Forces, according to a new survey.
A total of 603 officers, non-commissioned officers and lower ranks in the forces completed the survey, and their results show that morale within the Defence Forces is significantly affected by these ongoing issues.
First reported by the Irish Examiner this morning, the report details respondents talking about "Hotel Rwanda-style barracks" and described how pay and conditions are causing an exodus from the forces.
While there were a number of things that the researchers from the University of Limerick – who evaluated the responses – said that the Defence Forces "should be commended upon" there were a number of issues that needed to be "explored further".
Speaking to RTÉ's Drivetime, Minister for Defence Paul Kehoe said that he will meet with representative groups to discuss the problems that members are having.
Problems
While respondents to the study felt "a sense of pride" in their work, the results "suggest a disconnect from the organisation itself" the researchers said.
They wrote: "Perceptions of organisational justice are low – respondents feel rewards, procedures and policies and overall treatment and interaction with staff as being unfair.
"There is a generational disconnect with younger employees feeling disconnected from older Defence Forces members.
It may be difficult to change some of these factors (e.g. pay, promotional opportunities, and commuting times) but it is essential that they are reviewed.
Overall, respondents said that the Defence Forces "is not meeting personnel's monetary expectations".
Reaction
Gerry Guinan, general secretary of representative association PDFORRA, told RTÉ's News at One that he would be meeting Minister for Defence Paul Kehoe to discuss these findings on Thursday.
"We need to increase their pay," he said. "Our members are currently acting in emergency mode.
Pay levels are so low that they are giving rise to significant turnaround to our members.
Speaking later to RTÉ's Drive Time, Shelly Cotter of the Wives and Partners of the Defence Forces Group said that her husband and son are on very different contracts, and said that newer entrants like her son are hardest hit.
She said that her husband is earning €130 less a week now compared to 2008.
"The Defence Forces wages were so low anyway," she said, "that the cuts made them crippling."
She said that the reports of Hotel Rwanda-style barracks chimed in with what members of the group had reported experiencing in recent months.
"Some of these barracks are absolutely horrific," Cotter said.
#Open journalism No news is bad news Support The Journal

Your contributions will help us continue to deliver the stories that are important to you

Support us now
She said that Minister Kehoe had pinned medals to soldiers' chests but "medals don't feed families".
Sinking morale
Minister Kehoe told Drivetime that members of the Defence Forces are public sector workers, and that salaries had increased after PDFORRA signed up to the Lansdowne Road agreement.
He said he accepted the findings of the survey. "This is not just about pay," he said. "It talks about recruitment and retention too." Kehoe said that there have been thousands of applicants so far this year.
The Minister said that the Defence Forces had to compete with a "growing economy", and said he requested a retention programme to be implemented.
On the claims that the accommodation was described as like Hotel Rwanda, Kehoe said:
Anyone that joins the Irish Defence Forces doesn't feel they're going to get five-star… We have come through the biggest recession in the history of the State.
He added that he had secured extra funding in the most recent budget.
In a statement today, Sinn Féin defence spokesperson Aengus Ó Snodaigh described the report as "damning".
He said: "Defence Force personnel are having to take out loans to meet basic living expenses and many are reliant on social welfare supplements such as the family income supplement.
The financial strain being placed on military families is leading to severe stress yet soldiers are reluctant to seek professional help as it may prevent them from being deployed overseas.