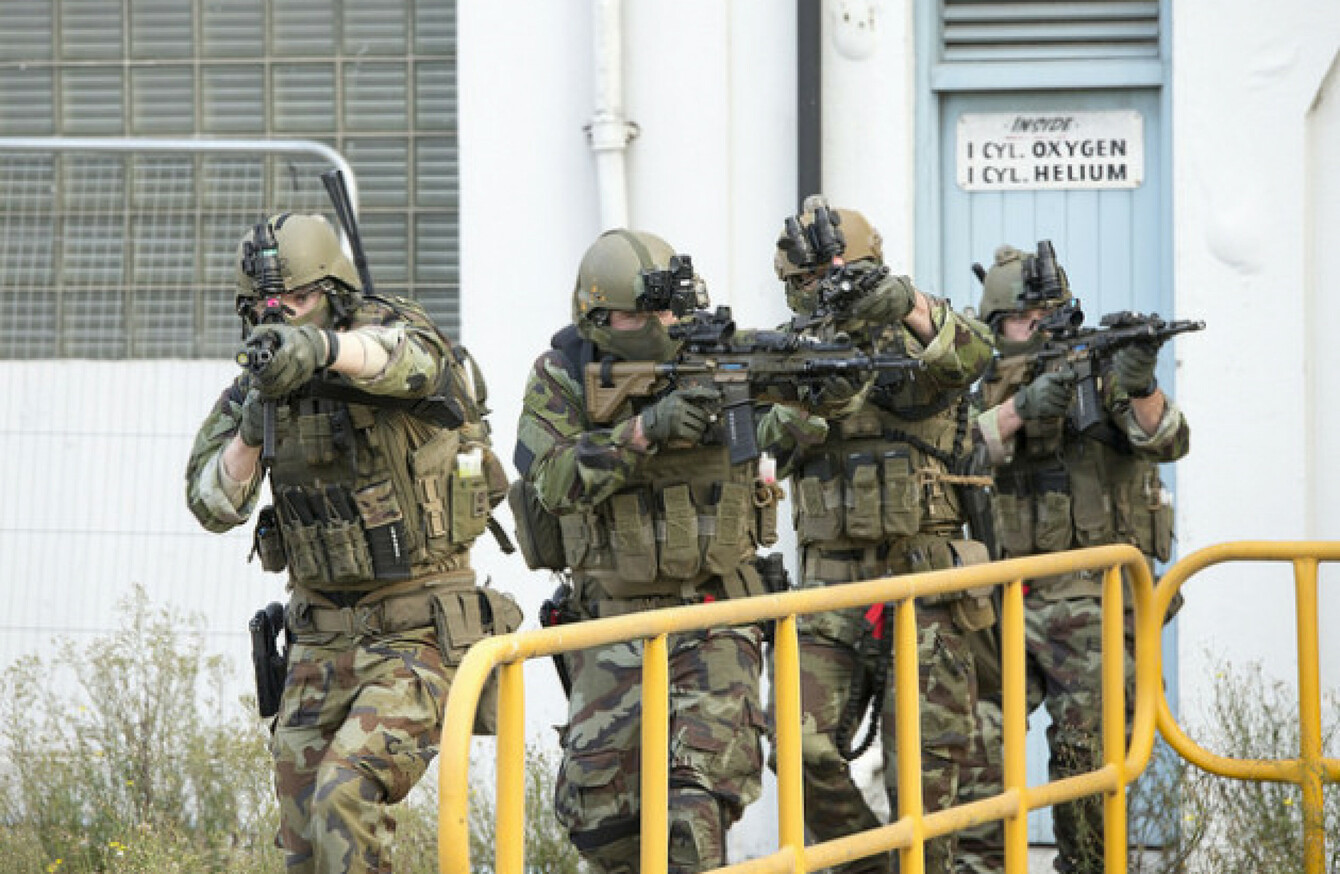 Members of the Defence Forces taking part in an exercise last December which focused on how to respond to a major terrorist attack
Members of the Defence Forces taking part in an exercise last December which focused on how to respond to a major terrorist attack
THE DEFENCE FORCES are looking to recruit 480 people, Defence Minister Paul Kehoe has announced.
The recruitment campaign is part of the government's commitment to maintaining a strength level of 9,500 personnel across the Army, Naval Service and Air Corps.
An Air Corps Apprentice Aircraft Technician Competition has been running since 5 March and has over 460 applicants to date, an increase of 38% on last year.
Applications for the recruitment campaign announced today can be submitted online from now until 11.59pm on Sunday, 22 April.
Commenting on the launch of the campaign, Kehoe said: "We achieved historically high levels of recruitment last year where we inducted 750 people to the Defence Forces."
Kehoe added that Ireland needs a Defence Forces that "can defend against the modern threats of international terrorism and cyber attack" and also "manifest our national values in peacekeeping operations protecting the most vulnerable on this planet; while also having the flexibility to support our communities in times of need such as the recent extreme weather".
Pay and conditions 
At its annual conference last year PDFORRA, which represents members of the Defence Forces, said poor pay and conditions are pushing people out of the job and discouraging new recruits from joining.
Some 2,840 members left the Defence Forces in the last five years – that's over 30% of the total enlisted personnel. More than 1,000 members purchased their discharge, paying a sum of €300, during the same period.
This year's recruitment campaign aims to build on the #joinourteam initiative which focused on social media ads, online gaming experiences, and a push to increase the number of women applying.
In addition to this campaign and the ongoing Air Corps apprentice campaign, the Defence Forces will also run a Cadet-based campaign next month as well as a second general service recruitment campaign later this year. The planned target is to induct approximately 800 new entrants to the Defence Forces across all services in 2018.