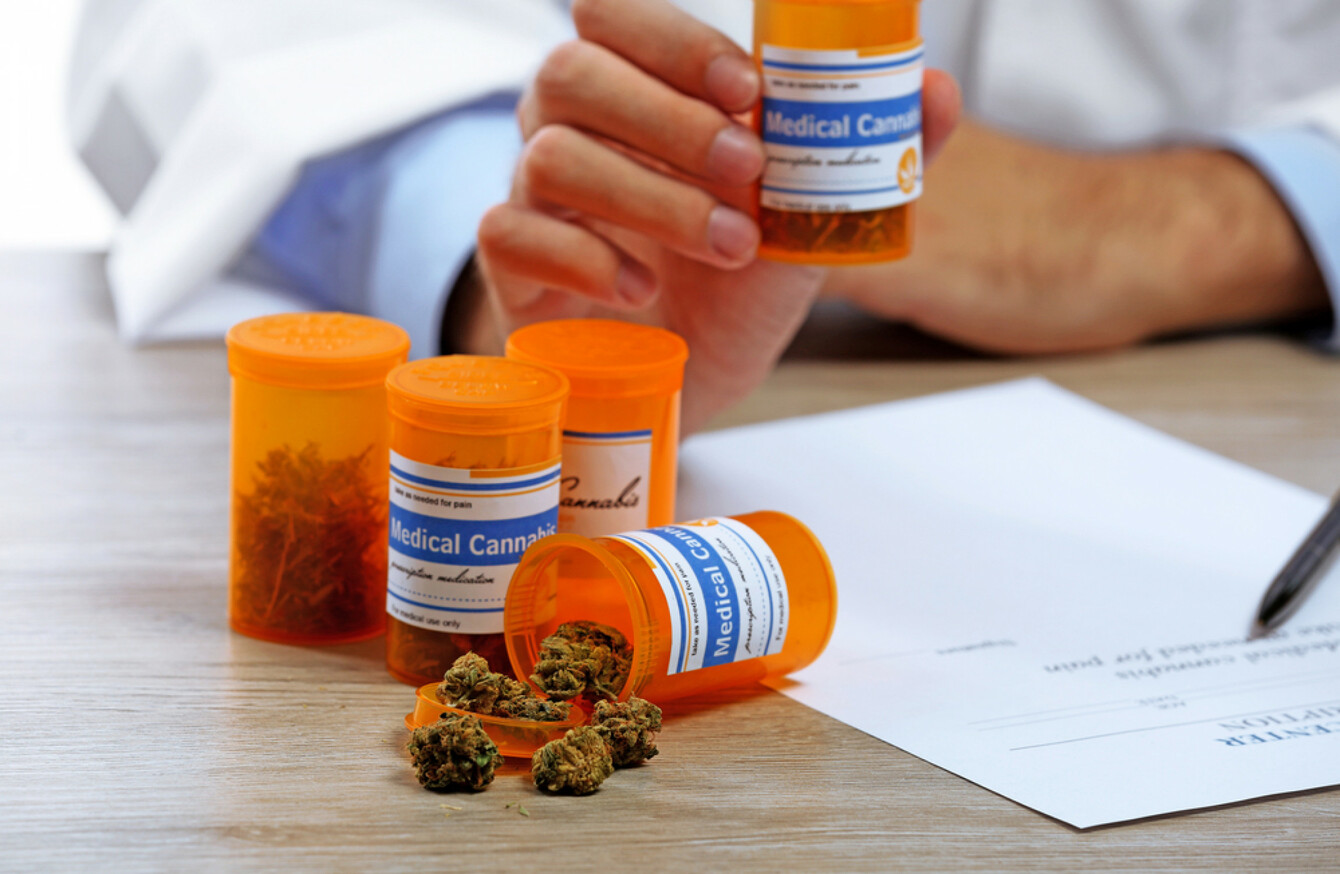 Image: Shutterstock/Africa Studio
Image: Shutterstock/Africa Studio
NEARLY TWO YEARS since Health Minister Simon Harris announced that a medicinal cannabis access programme is to be established, but as of yet no scheme has been rolled out. 
The delay is being blamed on the government running into problems finding a quality assured supplier of cannabis and a supplier that can export its products to Ireland, which is proving difficult. 
The access programme aims to allow access to cannabis-based therapies for the treatment of patients with multiple sclerosis, those experiencing nausea and vomiting associated with chemotherapy, and those with severe, refractory and treatment-resistant epilepsy.
The establishment of the scheme follows on from recommendations from the Health Products Regulatory Authority (HPRA). 
As the months drag on, questions are now being asked about what the hold up is. 
Fianna Fáil leader Micheál Martin has said the Dáil has been "extremely patient" about the delays as have people around the country. 
He added that when the programme will be rolled out remains a "mystery" stating that the numbers using the existing framework for importing medicinal cannabis, based on an endorsement by one's general practitioner, GP, and consultant, is growing all the time.
Patients, such as Vera Twomey, must travel overseas to Europe every three months to secure the medicinal cannabis which has been identified by their specialists and GPs, said Martin, who added: "This cannot go on."
People Before Profit TD Gino Kenny has also raised the issue countless times. Next week, he will push for his Cannabis for Medicinal Use Regulation Bill, which he states is "currently under an effective embargo" by the government as they have imposed a money message on it, despite the Dáil voting to pass the Bill last year. 
He said the unnecessary hold up is preventing children and others who could benefit from access to medicinal cannabis from obtaining it.
Taoiseach Leo Varadkar has said the problem relates to finding a supplier or pharmacy in Ireland which would be "willing and capable of providing the product and ensuring it was up to standard in pharmaceutical regulations, safety and so on".
The Department of Health told TheJournal.ie that "considerable progress" is being made in relation to the introduction of the cannabis for medical use access programme.
However, Health Minister Simon Harris has acknowledged that the "lack of availability of cannabis products in Ireland remains the most critical barrier to full implementation" of the scheme.
"Full establishment is dependent on the commercial operators making these products available in Ireland," he said, adding that while medical cannabis products are not medicines, ensuring that such products meet appropriate quality standards when they are made available to the Irish market is a critical aspect of facilitating safe access to medical cannabis for Irish-based patients.
Harris said it Department of Health officials are currently working intensively on the issue to ensure a supply of appropriate medical cannabis products from other EU Member States and further afield to meet the needs of Irish patients.
In a statement the department the cannabis products to be available under the scheme are not subject to the same rigorous safety, quality and efficacy standards that are in place for medicines, nor are the producers subject to the same responsibilities as the marketing authorisation holders for authorised medicines.
It added that while efficacy and safety data are not available for these products, "it is crucially important to be assured, as far as possible, of the quality of the products, as advised by the HPRA".
Availability, quality standard and affordability to patients is "critical" in establishing the access programme.
However, the health department states that only two countries, Canada and the Netherlands, currently permit export of such cannabis products, which meet acceptable quality control standards, beyond their borders.
The department said it is not aware that quality-approved medical cannabis products are available on the UK market.
The Netherlands permits exports of cannabis dried herb, but does not permit commercial export of their oil-based cannabis formulations. Therefore, medical cannabis oils can only be procured from the Netherlands by patients who present a valid medical prescription to an authorised Dutch-based pharmacy.
Until this is all figured out, doctors are operating under the current ministerial licencing route, which allows them to prescribe medical cannabis for their patients.
Licences have now been granted for twelve individual patients, the majority of whom are obtaining their medical cannabis from a Dutch pharmacy on foot of their medical prescription.
The health minister said he or his department have no control in relation to business decisions taken by commercial product manufacturers abroad and has no powers to compel such companies to supply their products to Irish market.
Until the access scheme is up and running, patients are forced to source the prescribed medical cannabis-based product from a pharmacy in the Netherlands.
The department said it issues guidance to patients about the sourcing of cannabis products abroad, stating that it understands that patients who have been prescribed such products under ministerial licence are sourcing the products from Transvaal Pharmacy in The Hague. 
Department officials stated they are working intensively on finding solutions to the supply of appropriate products for Irish patients.