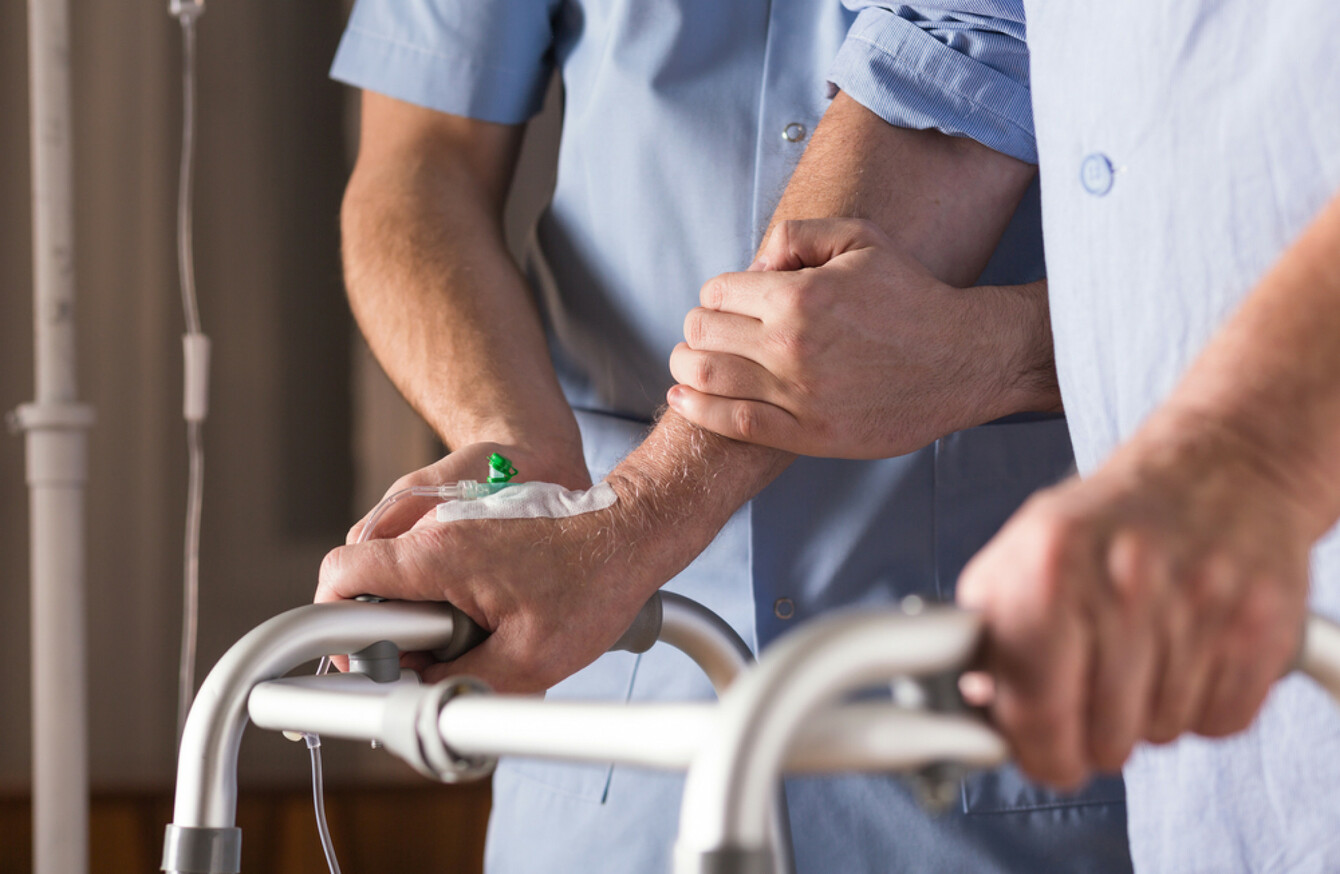 File photo of a patient in a hospital.
Image: Shutterstock/Photographee.eu
File photo of a patient in a hospital.
Image: Shutterstock/Photographee.eu
PATIENTS WHOSE DISCHARGE is delayed experience unnecessarily long stays in hospital, sometimes leading to infections, general physical deconditioning and/or other adverse outcomes, such as falls.
That's according to a new report into delayed discharges compiled following an Independent Expert Review. 
A report published today notes that delayed discharges reflect the health service's "inability to provide the right care, in the right place, at the right time – which would normally be the lowest complexity environment possible up to and including the patient's own home".
A delayed discharge refers to a patient who has been deemed clinically fit for discharge from an acute bed, but whose discharge is delayed because they require some form of ongoing support or care following their discharge and the support is not immediately available.
Delayed discharges are a contributory factor to Emergency Department overcrowding and adversely affect patient flow throughout the hospital.
The working group overseeing the report was led by Graham Knowles, Chairperson of the University of Limerick Hospital Group. 
The group has made a number of recommendations which include the development of a national policy to provide a more consistent approach to recording delayed discharges, strengthening data collection, standardising definitions, and ensuring consistent discharge guidelines.
Fair Deal Scheme 
The report also looks at the impact of so-called 'bed blockers'.
It states that some families fail to engage with the Fair Deal Scheme, also known as the Nursing Home Support Scheme (NHSS), through which people may for financial support to pay for the cost of nursing home care. 
The authors note: "Prior to admission many patients and their families may not have considered the patient requiring long-term care. While some families wish to care for their relative at home, the level of support available for them is very limited and thus families are ultimately forced to transfer their loved one into a nursing home."
They add that the NHSS process "can take a considerable amount of time".
Stricter rules 
The report also notes that an acute hospital is "the least appropriate place to assess a patient's care needs" and "not an appropriate setting for the patient and their family to make the life-changing decision as to which nursing home their relative will move to on discharge".
It adds that while the majority of patients remain in hospital until a nursing home of their choice becomes available, submissions "suggest that some families do not cooperate with the NHSS process".
Some may not provide the correct information, while others will refuse to send their relative to a number of nursing homes despite the patient having been accepted to the nursing home.
The report recommends that a stricter process should be implemented to "address families who are not cooperative with the NHSS (Fair Deal) scheme".
It also notes that some families "may unintentionally cause a delay in the application being processed".
"For example if a family is not living close to the patient, logistically it may prove difficult to source all the documentation required within a short timeframe."
#Open journalism No news is bad news Support The Journal

Your contributions will help us continue to deliver the stories that are important to you

Support us now
Audit 
The working group states that the "absence of a clear national policy and consistent approach" in relation to delayed discharges has "resulted in significant under-reporting and has therefore inhibited the implementation of measures to manage this deficit".
It also notes the following: 
There is insufficient focus on the length of stay that patients spend in hospitals notwithstanding the risks that present the longer a patient is in hospital such as deconditioning and susceptibility to infection
There is significant variation in the reporting of delayed discharges and an insufficient capability in the health system to proactively manage patient flow
The HSE organisational structure militates against an integrated approach to patient flow and needs to adapt to address this deficit
The working group has called for an audit to be carried out within the next 18 months in relation to delayed discharges "to identify the reasons patients are being recorded as a delayed discharge and whether these reasons should be modified/updated".
The report also states that a consistent approach when communicating information regarding delayed discharges to a patient, their family and their next of kin is "crucial". 
It recommends that a public health campaign should be undertaken to raise awareness that patients are "better off being discharged rather than being kept unnecessarily in the acute healthcare setting".
Welcoming the report, Minister for Mental Health and Older People Jim Daly said his immediate focus is on "reducing delayed patient discharges and transfers of care as we come into winter through mobilising the additional resources being made available through the Winter Plan".
He said he also wants to ensure that social care measures are "effectively deployed to enable older people leave hospital and return to a more appropriate care setting, including their own home, as quickly as possible, with the supports they need".
The full report and recommendations can be read here.