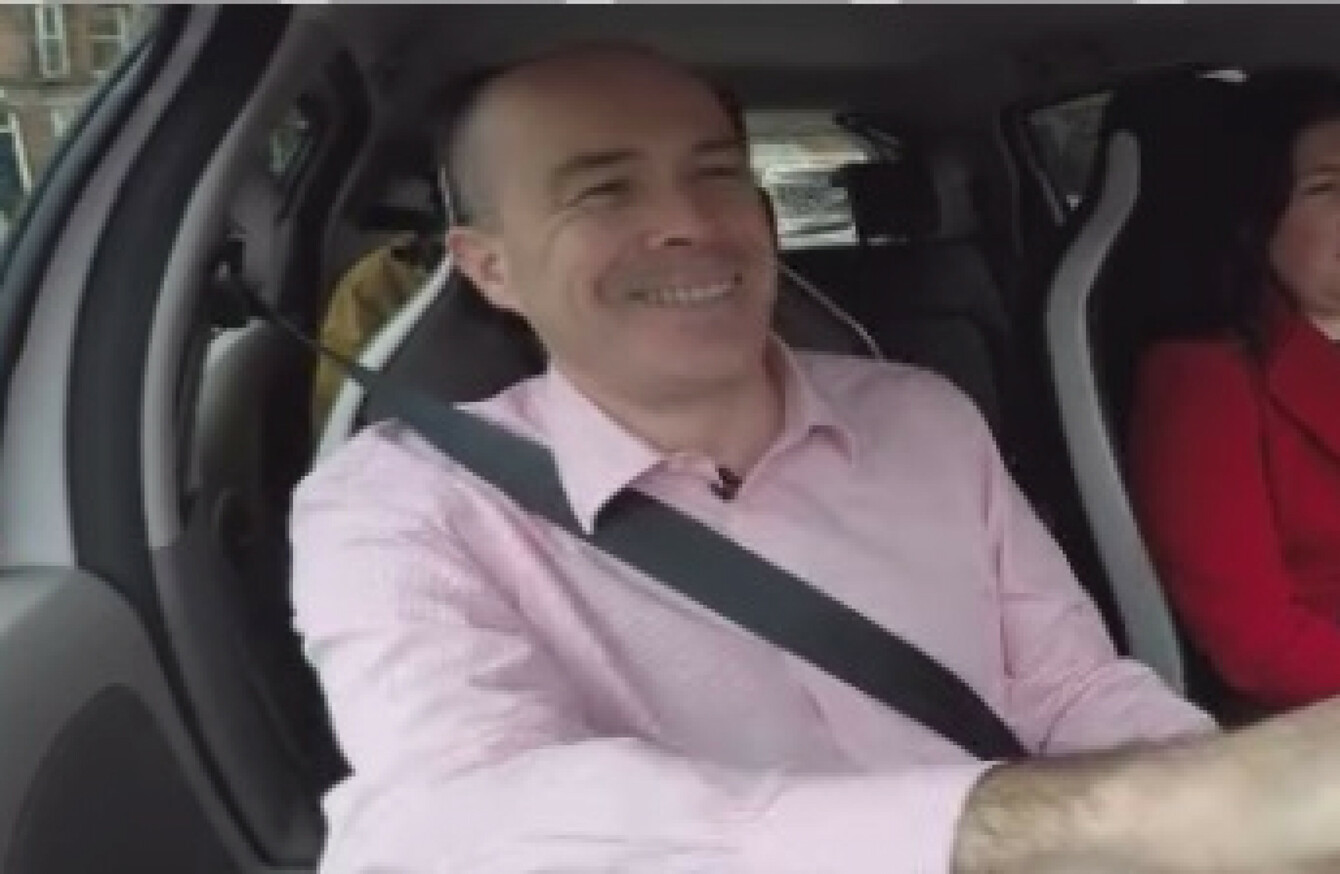 Environment Minister Denis Naughten took TheJournal.ie for a spin in his new electric car.
Image: TheJournal.ie
Environment Minister Denis Naughten took TheJournal.ie for a spin in his new electric car.
Image: TheJournal.ie
Source: TheJournal.ie/YouTube
ENVIRONMENT MINISTER DENIS Naughten has said he hopes to bring Michael Healy Rae for a spin in the new electric car he is testing out over the next week.
The Kerry TD was giving out about the cars in the Dáil recently, describing them as a "whole load of rubbish".
Testing out the new Renault Zoe electric car, which has a driving range of up to 300 kilometres, the minister said:
I hope to give him a spin in it and let him try it out himself.
Taking to the streets of Dublin with the minister, TheJournal.ie discussed swapping his hybrid for full-blown electric, climate change and how he wants every TD in Leinster House to bring their own coffee cup to work.
"There are a lot of misconceptions when it comes to electric vehicles," said the minister, as he pulled the e-car out of the parking lot at the Department of Communications.
"It's something we have to overcome," he said, pointing out that the range anxiety most people have about electric cars just doesn't apply to regular drivers who are commuting in and out of Dublin each day.
The Roscommon TD said he is in no doubt that more people will buy electric cars in the future for the simple fact that it makes economic sense.
"They are virtually free to run," said the minister, though he acknowledged that the take-up in the countryside where people have to drive longer distances may prove to be a challenge.
"They have a big impact in terms of climate change," said Naughten, adding that electric cars are 30% more carbon efficient than other fossil fuel vehicles.
The move to electric 
In a bid, to increase the number of electric cars on Irish roads, a 0% rate of Benefit in Kind (BIK) for such vehicles is being introduced.
Naughten said companies, who never would have considered going electric, have voiced an interest following the Budget announcement.
While some are concerned the incentive will only last 12 months, there are no plans to scrap it after a year, he explained.
Naughten said Finance Minister Paschal Donohoe will be using the time to put in place even more support measures to encourage people to switch to electric cars.
The Sustainable Energy Authority of Ireland (SEAI) already offers grants of up to €5,000 to people who buy electric cars. However, as the initial cost of an electric car is often higher than the equivalent diesel or petrol vehicle, it's still too expensive for many drivers.
A Vehicle Registration Tax relief to a maximum of €5,000 is also in place.
But some have been critical of the minister for not going far enough in terms of climate change action. Ireland is set to fall well short our 2020 emissions targets, something the minister acknowledged as disappointing.
"I am going to get us as close as possible to the target," he told TheJournal.ie, stating that despite missing the 20% reduction for 2020, he hopes to hit the 30% reduction mark in 2030. The bigger issue for the minister is the renewable energy targets, which sets out that 16% of all of Ireland's energy needs must come from renewable energy.
Fines from Europe for missed targets
The current trajectory puts Ireland at 13% so far, but if we fail to hit these targets, the country face annualised fines from the European Union, explained the minister.
The new Renewable Heat Incentive Scheme will help Ireland with its targets, said the minister, who said that despite criticism, it won't face the same downfall as the scheme in Northern Ireland.
The Cash-for-Ash scandal almost brought about the demise of DUP leader Arlene Foster when it was revealed the flawed incentive cost the public purse over £500 million.
"We have put a lot of checks and balances in place, we are not going to have the problems experienced in the North. We have learned from the mistakes in Northern Ireland."
Climate change is also under the remit of Naughten's department, and one way he addressing it personally is by cycling.
However, during the summer, Naughten was involved in a serious accident where he was knocked off his bike and rushed to hospital.
"I'm doing okay now," explained the minister, who said he is still an avid cyclist.
"I don't think we are going to remove cars from our cities overnight," said Naughten, but added he would like to see more people cycling and walking to and from work and school.
Waste reduction and recycling is also under the umbrella of his department, with the minister stating that he has been in discussions with coffee chains and his counterparts in other countries about tackling the issue of non-disposable coffee cups.
#Open journalism No news is bad news Support The Journal

Your contributions will help us continue to deliver the stories that are important to you

Support us now
In a bid to get TDs to stop using paper coffee cups, the minister bought each and every one a carry cup (and he has his own with him in the car).
Coffee carry cups 
Somewhat disappointed that he hasn't seen more ministerial and political colleagues with their carry cups around the halls of Leinster House, Naughten said he would like coffee shops to go down the route of reusable coffee cups, rather than biodegradable, and hasn't ruled out a coffee cup levy.
"We have to get people to change their thinking. We can't force people down a particular road and there is only so much charges and taxes will achieve," said the minister, highlighting the success of the plastic bag levy and how some said it would never work.
"There are ways we can encourage them to think about the use of that coffee cup," he said.
Food waste is also a big challenge, said Naughten. He explains that the new waste charges are about encouraging people to think about their waste, what they eat and what they throw out.
"What I am trying to do in terms of climate and waste, is to nudge issues, not to shove people in the right direction," he said.
"Some families are throwing out €700 of food every single year – they could easily reduce that by 50%. I want to encourage people to use their brown bin (which is used to recycle food waste)," he said, adding that everyone living in an area of over 500 people will be given a brown bin.
He is also in discussions with the supermarkets and manufacturers in a bid to reduce plastic packaging, adding that Ireland needs to go down the route of Germany where recycling bins are situated at back of supermarkets where people can dispose of packaging they do not want to bring home with them.
"I think that would encourage the industry and retailers to reduce packaging in the first place."
Up until now, Naughten admits there has been a failure in selling the green economy.
"It's been all about doom and gloom," said the Roscommon TD.
"We've been trying to tell people what is going to happen in 20 years down the line when they are focused on the here and now, so it is very hard," he said.
"It should be about trying to explain the issues to people, and bring the community along with us. I do think we have failed in this whole debate. We've lectured people and said 'this is how it has to be done'," said Naughten.
But he said the reality of climate change is upon us now, with the effects particularly evident post the last number of storms to hit Ireland in recent years.
"We have 67 families looking to be relocated because of severe flooding. These are climate refugees in this country now. That is a direct result of climate change and it is only going to become a bigger and bigger problem unless we do something about it."