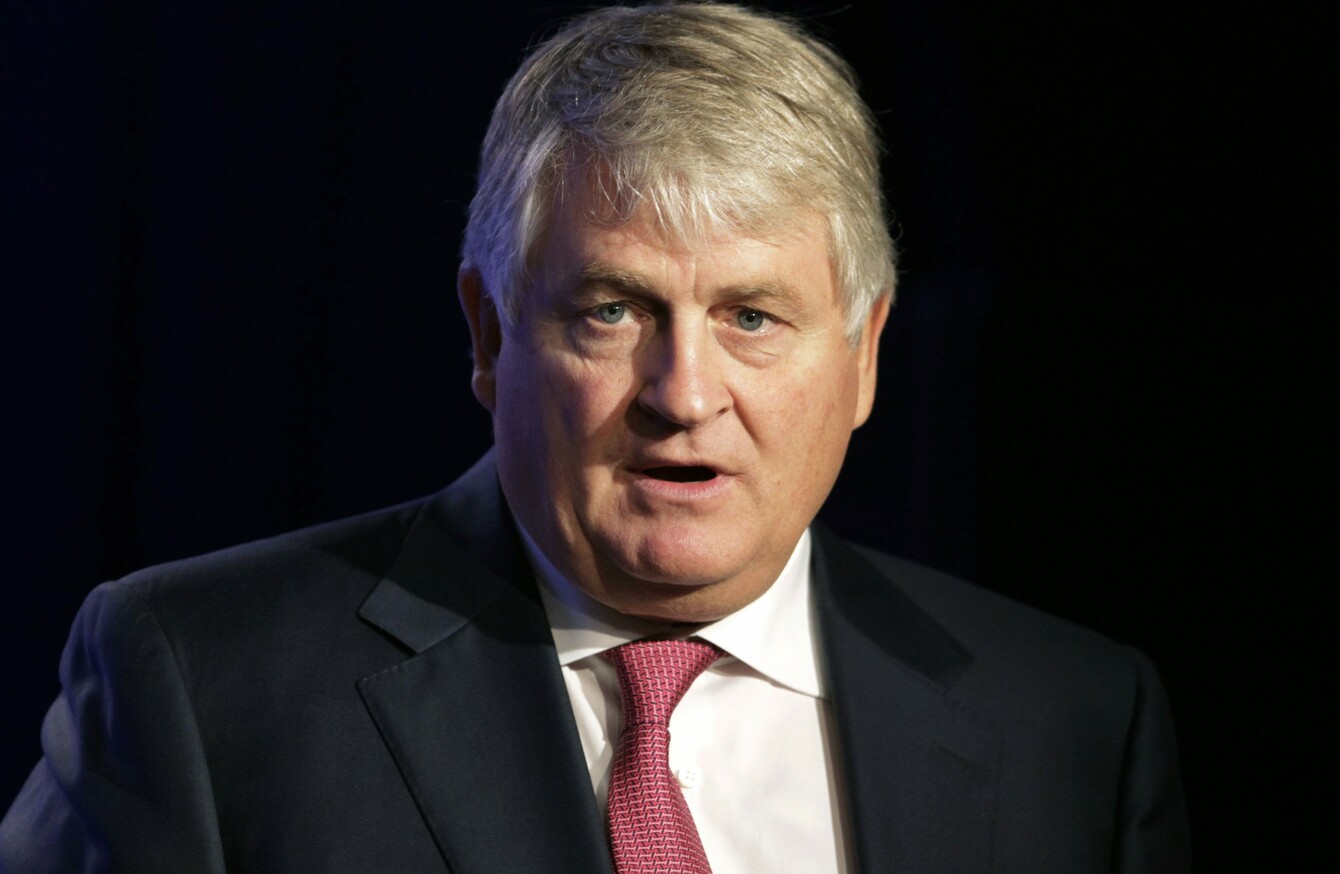 Image: Mark Lennihan AP/Press Association Images
Image: Mark Lennihan AP/Press Association Images
FOLLOWING TODAY'S HIGH Court ruling against Denis O'Brien, the businessman released a statement to say that he was disappointed with the decision but would consider the matter carefully before deciding whether or not to appeal to the Supreme Court.
O'Brien had taken a case against the Dáil and the State, centred on certain statements made about his business dealings in the Dáil chamber by Social Democrats TD Catherine Murphy and Sinn Féin TD Pearse Doherty.
The comments were made on 6 May 2015 during a debate on the sale of Siteserv.
He had alleged that the statements that were made breached his constitutional right to privacy, and were prejudicial to another legal action he had taken against RTÉ.
Ruling against him today, Judge Úna Ní Raifeartaigh said the statements did not decide the RTÉ case, and that Dáil utterances are protected from judicial condemnation and court interference.
While O'Brien admitted disappointment at the decision, he also said that was "encouraged by several sections of the judgement" handed down by Judge Ní Raifeartaigh.
"Most importantly, I am encouraged by the fact that the court appeared to appreciate that current operation of parliamentary privilege as found by the court, warrants a review," he said.
O'Brien said he was also encouraged by the court's acknowledgement that the case raised "important issues" as to what role the court plays when the "principle of comity" is breached.
He singled out a section from the 100+ page judgement as he was "also encouraged by the court's findings on the facts of [his] case", which included this line referring to the Dáil utterances: "This was as far from an accidental slip of the tongue on the floor of the House as one could imagine".
In a pointed remark, O'Brien also said:
I would like to record my appreciation for the courteous hearing I was afforded by the court and the careful judgement of the court. This is in marked contrast to the treatment I received from the Dáil and its committee.
He closed the statement by saying that intend to "study today's judgement in detail before making a decision to appeal".
Speaking to reporters following the ruling, Kildare deputy Catherine Murphy said she is "very pleased with the judgement".
"It's very comprehensive. The bottom line – and the judge made the point – [is] that TDs should be judged in the court of public opinion and there is a separation of powers between the courts and the Oireachtas.
In a statement, Pearse Doherty said that the ruling is "very welcome at it vindicates" both himself and Murphy and "makes it clear that [their] comments, made under Dáil privilege, did not affect the outcome of [O'Brien's] case against RTÉ".
He added that the judgement "provides absolute clarity and lifts the concerns of TDs of raising issues of national importance".
With reporting from Christina Finn