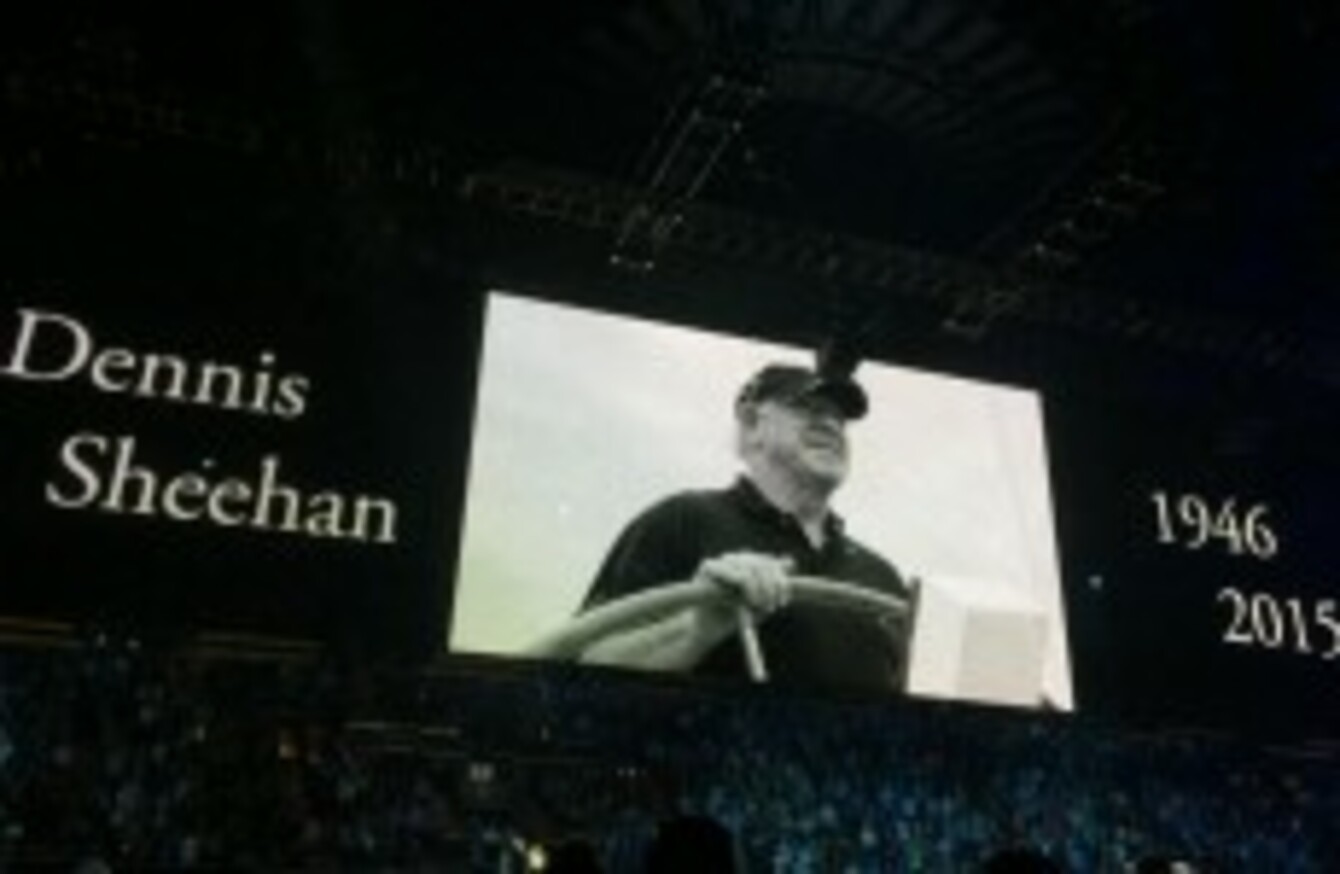 A tribute to Dennis Sheehan onscreen at U2's concert in Los Angeles last night
A tribute to Dennis Sheehan onscreen at U2's concert in Los Angeles last night
TRIBUTES ARE BEING paid for Dennis Sheehan, U2′s tour manager of 33 years, who died suddenly yesterday just hours after the band's first concert at The Forum in Los Angeles on their latest tour.
68-year-old Sheehan was found unconscious in his room at the Sunset Marquis Hotel in West Hollywood in the early hours of yesterday morning. He was pronounced dead of a suspected heart attack by paramedics at the scene according to TMZ.
"Often with the behind the scenes guys, it's not fully appreciated just how much they contribute, but Dennis really was," Hot Press editor Niall Stokes told RTE.
He'll be hugely missed, not just as a professional, but as a human being because he was genuinely a lovely, lovely man.
Sheehan had been on the road with U2 for the last 33 years, since just before the release of their album War in 1983.
Born in 1946, he played in a band between the ages of 13 and 19 according to Billboard, before first coming to LA in the early 1970s.
Prior to working with the band he was assistant to singer Robert Plant (frontman to 70s rockers Led Zeppelin), and had worked with Zeppelin and other artists including Iggy Pop, Lou Reed, and Patti Smith.
The band paid tribute to Sheehan at last night's gig at The Forum, the second of five in LA, according to Billboard reporter Shirley Halperin.
"U2 is a kind of family, a brotherhood, but our extended family is very, very important to us," Bono told the crowd.
We look after each other and it takes a lot to put on a show like tonight. Last night we lost a member of our family.
Dennis was U2′s tour manager for 33 years. He loved, as we all do, the city of Los Angeles and he called the Sunset Marquis his 'home away from home'.
A lot of U2 songs over the years were written to fill a void, an absence, a hole in a heart left by a loved one. With the loss of Sheehan, U2 now has such a wound.
It is the second bereavement to strike the iNNOCENCE and eXPERIENCE tour, with drummer Larry Mullen's father dying shortly before the first show of the run in Vancouver.
"We've lost a family member, we're still taking it in. He wasn't just a legend in the music buinsess he was a legend in our band. He is irreplaceable," Bono said in a statement on the group's website.
Arthur Fogel, head of the band's touring management company Global Touring said "with profound sadness we confirm that Dennis Sheehan has passed away overnight".
He was a dear friend to us all, our heartfelt sympathy is with his wonderful family.