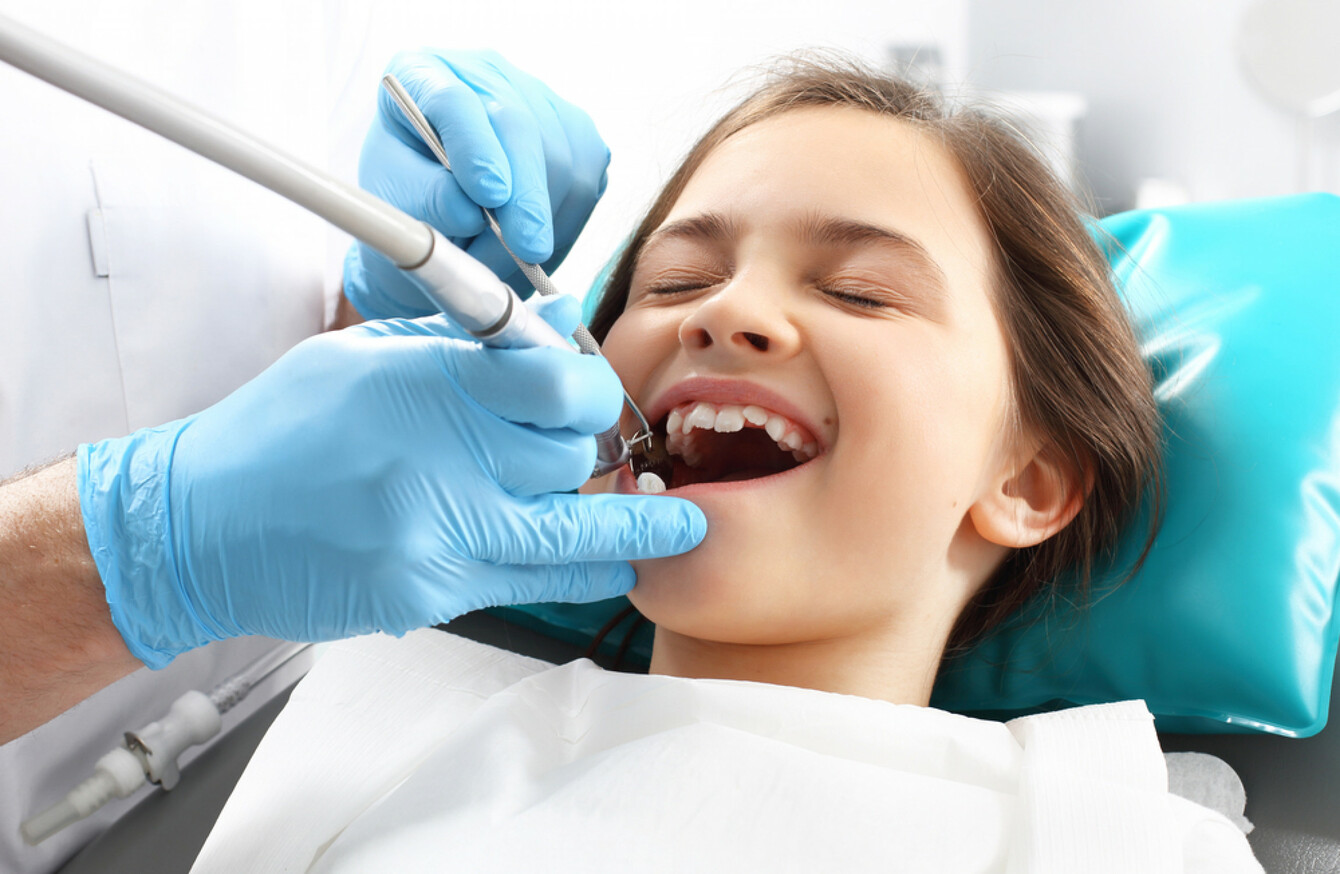 Image: Shutterstock/Robert Przybysz
Image: Shutterstock/Robert Przybysz
SOME CHILDREN ARE waiting up to 12 years for their first dental screening.
The Irish Dental Association (IDA) has called on the government to initiate a major recruitment drive for dentists to enable the Public Dental Service (PDS) to deliver on its programme of care for children and other vulnerable groups.
The IDA has said "totally inadequate staffing levels" mean the PDS is "failing children who are waiting up to seven or eight and sometimes 12 years for their first dental screening".
Currently there are 300 dentists employed in the PDS but the IDA says this figure needs to be increased by 50% (150 dentists) if the service is to deliver on its objectives.
International guidelines recommend that children should have their first dental examination by their first birthday. Dentists here have supported calls for the introduction of a voucher scheme for parents to cover the cost of their child's first dental visit.
For most children in Ireland, their first scheduled encounter with the public dental service is at age seven or eight, under the school screening programme. Unfortunately thousands more are only being seen for the first time in sixth class, age 12.
Cutbacks
As part of its pre-Budget submission the IDA is also calling for the restoration and expansion of tax relief on dental treatments – the Med 2 scheme – for prescribed dental treatments.
In January 2009, the government restricted relief that could be claimed against the cost of dental treatment to the standard tax rate. The IDA has said the annual withdrawal of €30 million in reliefs has impacted on patients' willingness to look after their dental health.
The CSO recently confirmed that household spending on oral health fell by 60% between 2010 and 2015.
Fintan Hourihan, chief executive of the IDA, said: "Staff shortages, clinic closures and a lack of policy and direction by the HSE are putting an intolerable burden on staff in the PDS and undermining their ability to provide an effective service.
"While the under-16 population has increased by 20% over the past decade to 1.1 million people, the number of dentists in the Public Dental Service charged with looking after their oral health has dropped by 20% due to recruitment restrictions.
The situation with children and oral examinations is akin to a lottery and that cannot be allowed to continue any longer. The IDA is calling on the Minister for Health to direct the HSE to urgently commence a recruitment campaign to bring staffing to the required levels.
The IDA estimates that €500 million-worth of supports to patients and their families covered by the medical card and PRSI dental schemes have been lost by government cuts since 2010.
"We now need to start reversing the damage done by these cuts in state supports towards accessing dental care," Hourihan said.
#Open journalism No news is bad news Support The Journal

Your contributions will help us continue to deliver the stories that are important to you

Support us now
'Continuously overlooked'
In its submission the IDA notes that while dentists do not receive any financial support from the State, GPs can receive up to €100,000 per year in grants to help run their practices.
"Oral health is critical to maintaining good overall health, a fact that is continuously overlooked by government when it comes to investing in our dental services and the dental profession. Budget 2018 is an opportunity for government to afford dentists the same supports which are provided to other healthcare professionals," Hourihan added.
Speaking about dental health in the Dáil in May, Health Minister Simon Harris noted that dental services for children up to 16 years of age and people with special needs of all ages are provided at clinics run by the HSE's PDS.
"This includes emergency services and referral as appropriate to children under six. A targeted fissure sealant programme is provided for children aged six to eight and 11 to 13 (usually in second and sixth class in primary school).
"In addition, a screening programme is provided for these age groups with necessary interventions for permanent teeth including fillings and extractions. Children aged nine to 11 may receive a screening and necessary interventions where resources allow," Harris said.
He added that about €60 million is spent on the PDS every year.