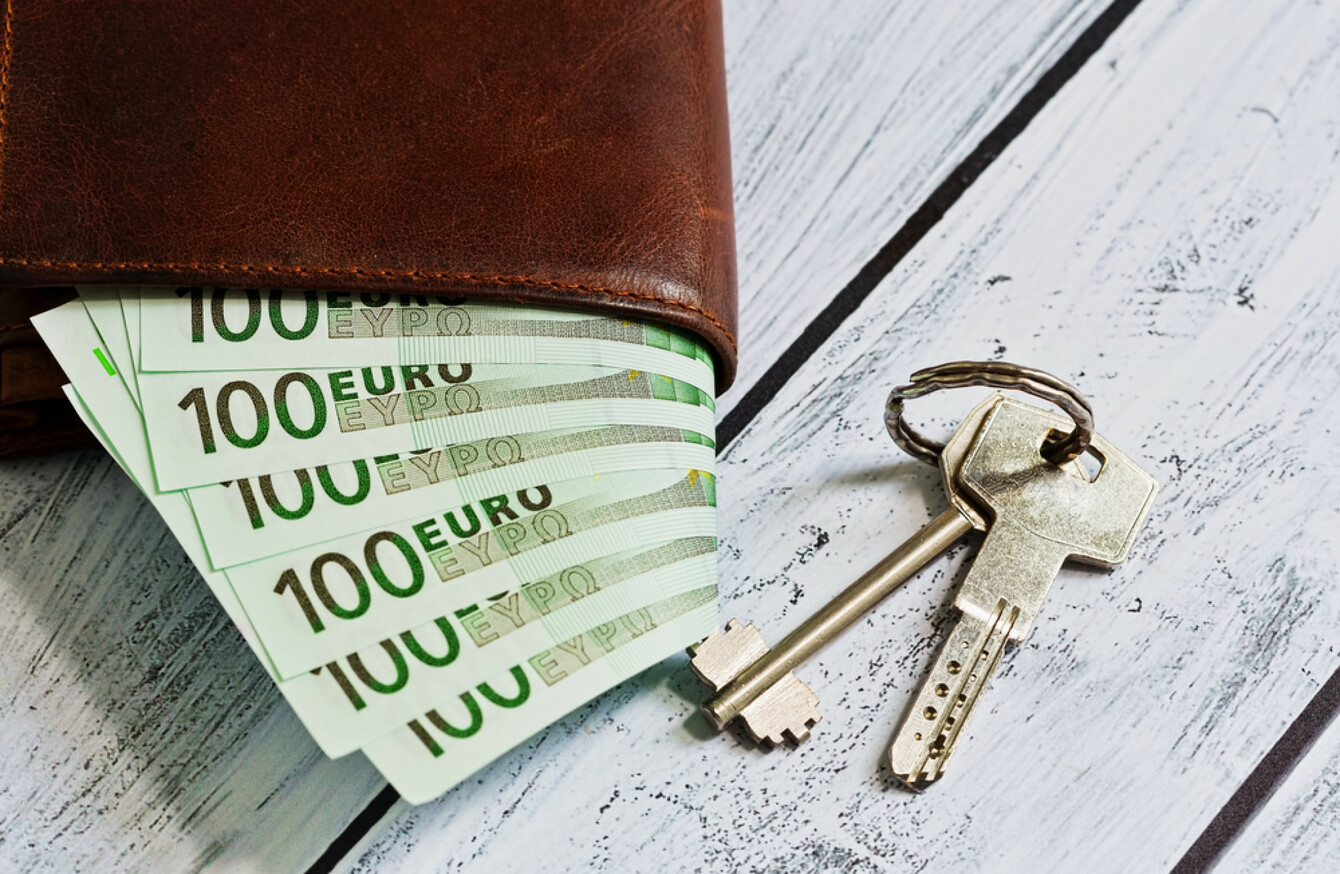 Image: Shutterstock/AntonGrachev
Image: Shutterstock/AntonGrachev
DEPOSIT RETENTION BY landlords is to be tackled by government with the roll out of the long-awaited Deposit Protection Scheme.
The scheme will ensure there is a legal definition that a deposit will cover one month rent only. It's understood this could also allow the Residential Tenancy Board (RTB) to retain deposits until both landlord and tenant agree it can be released.
Last year, the RTB received 4,837 new applications for dispute resolution, a 20% increase on 2015. One of the most common disputes is landlords refusing to return deposit payments.
It's understood powers of the RTB in relation to deposit retention are to be enhanced, with the Housing Minister Eoghan Murphy due to announce a raft of reforms to help struggling renters next week.
Deposits 
It's common practice for landlords to request deposits of one month's rent, which can be held back or a portion retained to cover any damage done to the property. However, in some cases, the money is never returned.
The law to introduce such a protection scheme was put forward in 2015, however, it has been delayed and a review of the scheme has been taking place over the last year.
Housing charity, Threshold, has long called for the introduction of a Deposit Protection Scheme, and included the measure in their latest budget submission.
"Deposit Protection Schemes are an effective, cheap and straightforward means of preventing homelessness. The retention of deposits and deposit disputes are a leading category of disputes referred to the RTB. The retention of a deposit, and the consequent inability to place a deposit on a new home, can be the first step towards homelessness," it said.
Cap on deposit payments 
In addition to deposit retention being tackled, government also aims to cap deposits at one month's rent under new proposals to crack down on landlords demanding higher payments from renters looking to secure accommodation.
It's becoming more frequent for landlords to demand two or three months rent upfront. This is causing serious difficulties for renters, said one government source.
Imposing restrictions on deposits would give some certainty to those looking to rent who are competing with people who have large deposits available to them.
Rent Pressure Zone
Murphy is also looking to further extend the Rental Pressure Zone (RPZ). Areas in Louth and Meath are expected to be included in the scheme, which only permits rents to rise by a maximum of 4% annually.
The measure already applies in Dublin and Cork city, as well as other localities such as Galway, Kildare, and Wicklow.
One of the well-flagged measures being considered by government is the re-introduction of bedsits. Murphy first hinted that the return of bedsits could be part of the government's revised housing strategy back in July.
The proposal to lifting restrictions around the renting of bedsits remains under consideration, according to a spokesperson for the Minister for Housing Eoghan Murphy, who added that possibility of allowing landlords rent out bedsits will be subject to new safety regulations and inspections.
A number of political parties, however, have said that it would be wrong to restore bedsits.
Labour's Joe Costello said: "The bedsit is not a healthy option for accommodation and thousands of people were condemned to cramped, unsanitary conditions before their abolition in 2013.
Reintroduction of the bedsit will not resolve the housing crisis or even contribute to resolving it.  But it will ensure that another generation of single and mainly elderly men and women will be condemned to a lifetime of poor quality, cramped accommodation.
Sinn Féin's Eoin Ó Broin said it would be a "retrograde step".
He said: "Anybody who claims that these bedsits will be subject to stringent inspections isn't living in the real world. The reality is local authorities do not have the resources to conduct the inspections required due to funding cuts by central government."
Landlords have given a cautious welcome to proposed government action which would allow the return of bedsit accommodation.
The Irish Property Owners Association (IPOA) said that effectively banning bedsits up to now for "spurious reasons" had exacerbated the homelessness crisis.
Older persons charity Alone, however, said the reintroduction of bedsits would be a backward step for the housing market and would impact older people the most.
Bedsits are typically single-room properties in which the occupants share a bathroom with the occupants of another bedsit in the complex.
They were essentially banned in Ireland in 2013 by housing regulations which ruled out shared bathrooms.
In the midst of the housing crisis, however, the government is said to be considering allowing landlords to rent out bedsits, if the standards of these forms of accommodation are high.
Stephen Faughnan, chairman of the IPOA, said: "This is not a call for any type of substandard accommodation.
The banning of good quality, affordable accommodation because there was no integrated bathroom was a huge mistake. The damage already caused to the private rental market by this ill-thought action will now be impossible to reverse, but we can try to make up for it in some small way.
He said that hundreds of houses were sold because landlords were not able to comply with legislation banning the bedsits and adapt them to alternative forms of accommodation.
Alone said that it campaigned for the abolition of bedsits for years, and would consider their return a backwards step.
Its CEO Sean Moynihan said: "In a time of extremely high rents, the government is rewarding landlords who have taken no actions to improve housing standards.
Older people on fixed incomes cannot compete in the current rental sector and we would be concerned that it will be our older people who end up in living in these tiny bedsits.
With reporting from Sean Murray