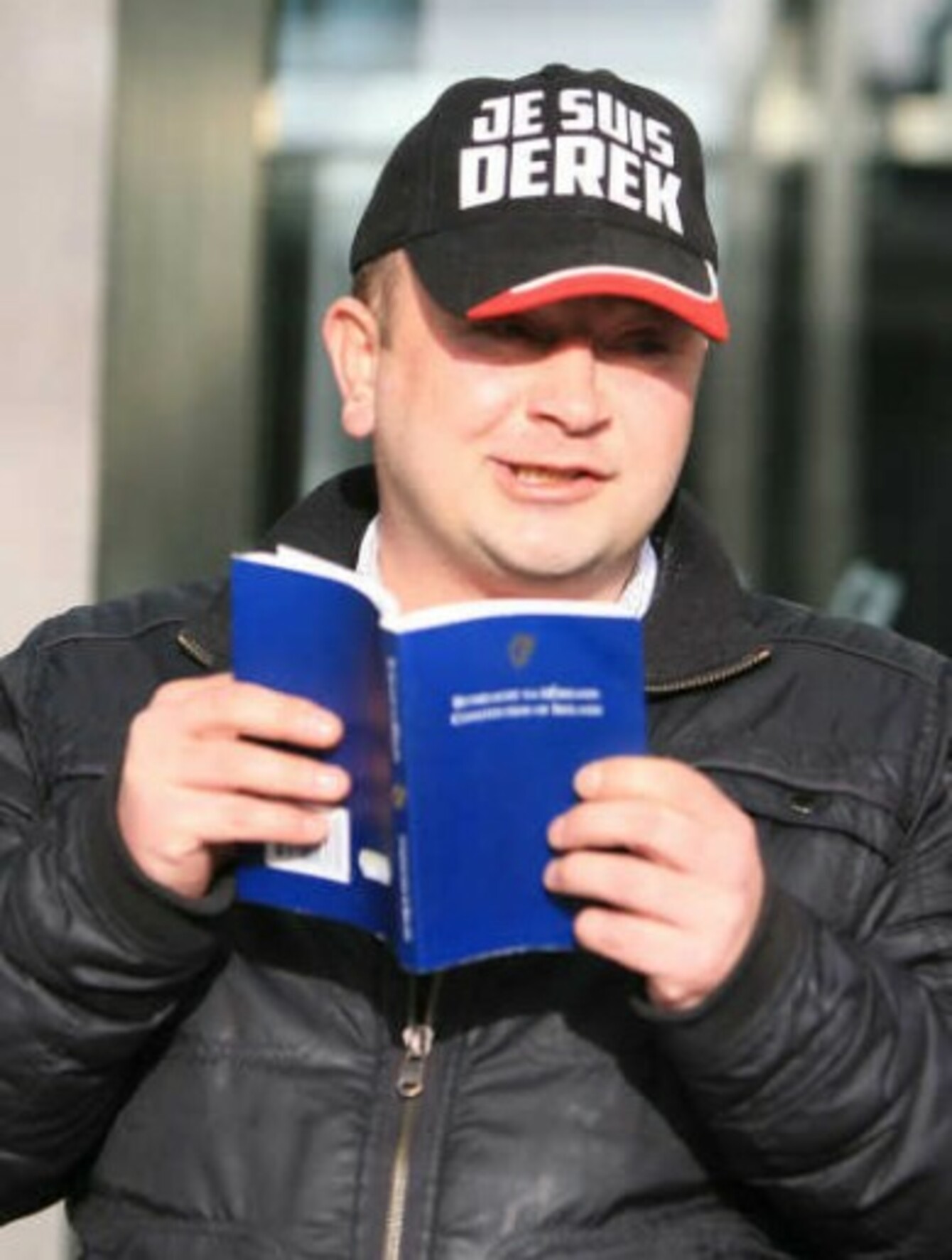 Image: Rollingnews.ie
Image: Rollingnews.ie
Updated 10.30pm
- This report contains language which some may consider offensive.
A WATER PROTESTOR who shouted abuse at President Michael D Higgins and called him a "midget parasite", has been spared a jail sentence.
Father-of-three Derek Byrne (36), from Streamville Rd, Kilbarrack, Dublin, was fined €300 by Judge Bryan Smyth at Dublin District Court today.
Byrne, a security guard, was found guilty of engaging in threatening, abusive and insulting words or behaviour with intent to provoke a breach of the peace or being reckless as to whether a breach of the peace may be occasioned.
Speaking to Niall Boylan on Classic Hits 4FM this evening, Byrne said he does not regret his actions.
"If I had to go back in time I wouldn't change a thing about it," he said.
I believe it's free speech.
Byrne also said he believes the process, which took over a year to go through the courts, would have cost well over half a million euro.
The abuse was directed at the President during a protest outside Colaiste Eoin secondary school at Cappagh Road in Finglas in Dublin on 23 January last year.
The president and his wife Sabina had been visiting Colaiste Eoin as part of its 50th anniversary celebrations. The protest was organised through Facebook because the president had signed the Water Services Bill into law.
About 40 people turned up outside the school shortly before 10am.
Garda Chief Superintendent John Quirke said many of them had their faces covered with hats and scarves.
He said that when the President's cavalcade arrived protesters tried to block his car and a "generally nasty atmosphere developed". The Chief Supt. said he was punched by someone.
He agreed with defence counsel Prionsias Ó Maolchalain BL that he did not see Derek Byrne shoving or attacking anyone. He said Byrne had a megaphone and was wearing a GMC Sierra jacket .
Garda Sergeant Peter Hayde told Judge Smyth that protesters were trying to impede the President's car. Abuse was shouted and the President was called a traitor.
Garda Sergeant Hayde said Byrne was shouting midget and parasite and profanities were directed at Sabina Higgins by protesters. Garda Sergeant Hayde said he found the words to be threatening and insulting.
Mrs Higgins was called a "slut" while children were present but there was no suggestions Byrne was responsible for that comment.
Just over an hour later, when the entourage was departing, Byrne began running alongside the President's car and shouting in the window.
Garda Sergeant Hayde said that he went down on the ground while tackling another protester.
He said Derek Byrne started to abuse him and called him a "fucking prick". He alleged Byrne was "roaring at me".
Video clips from the protest were later uploaded to Youtube, the court heard. Some clips were played in court and men and woman could be seen confronting gardaí.
In the clips, there was also chanting of "traitor", "little midget parasite", "fucking scumbag" and "shame, shame, shame" when the President arrived.
Some were also chanting "no way we won't pay". Gardaí were taunted about having their wages cut.
It was put to the garda that words like parasite were part of political discourse but Garda Sergeant Hayde said Byrne made references to gardaí and they were called clowns and glow-sticks .
The sergeant also alleged Byrne called him a "fucking pig".
Garda Inspector Aidan Flanagan told the court that protesters had placards and banners and some of them tried to get around the President's car and to block it entering the school.
He said he heard Derek Byrne shout abuse at the President and call him "a fucking parasite, little fucking midget". "This continued for some time," said Inspector Flanagan.
When they were leaving people had to be restrained form blocking the car, he said.
Garda Mary Kilcommons said she and her colleagues were outnumbered by the protesters.
She said Byrne was using a megaphone to call gardai corrupt and "puppets protecting a parasite" . She alleged that Byrne said "yegardai get allowances for socks and uniforms".
She said there were only two women gardai present at this stage. She alleged he said to them: "I suppose you female guards get an allowance for being on the rags" and he said he was told by another protester that he had overstepped the mark
The defence put it to her that he did not make that comment but she said he did and "if I was going to make up something I would make up something better than that, I've been called many things in the job but that has never been said to me".
She said that one woman attacked her and another woman threatened to batter her. As this happened Byrne was pointing his camera shouting at her, she told the court.
The President's aide-de-camp Commandant Louise Conlon gave evidence in the trial.
She travelled in the same car as him and was sitting in the front passenger seat.
She said that when they arrived abuse was shouted towards him and Sabina Higgins was called a "slut".
She could hear the chanting outside as the President gave a speech in the school. She said that when they departed the car became "engulfed", adding " I was concerned something is going to happen".
Prosecution solicitor Michael Durkan argued that the situation was a powder keg. Defence counsel Prionsias Ó Maolchalain BL argued that his client apologised in the media for comments he made about the president. He said Byrne was involved in water protest movement and trying to protect communities from the hardship of austerity.
He said some of the comments were clearly tongue in cheek and not made in an aggressive manner and his client was motivated by "public spiritedness". He regrets the comments and a conviction could jeopardise his job, counsel said.
The offence can carry a three-month jail sentence.
Judge Smyth noted Byrne is working as a security guard, is supporting a family and has no prior criminal convictions. He said he was satisfied there was sufficient evidence to convict Byrne fined him €300.
Co-defendant Anna Clarke (35) from St Donagh's Road, Donaghmede, Dublin but now living in England, was facing the same charge but was not present for the hearing.
Judge Smyth dismissed her charge on the grounds that the evidence of her identification was not sufficient.