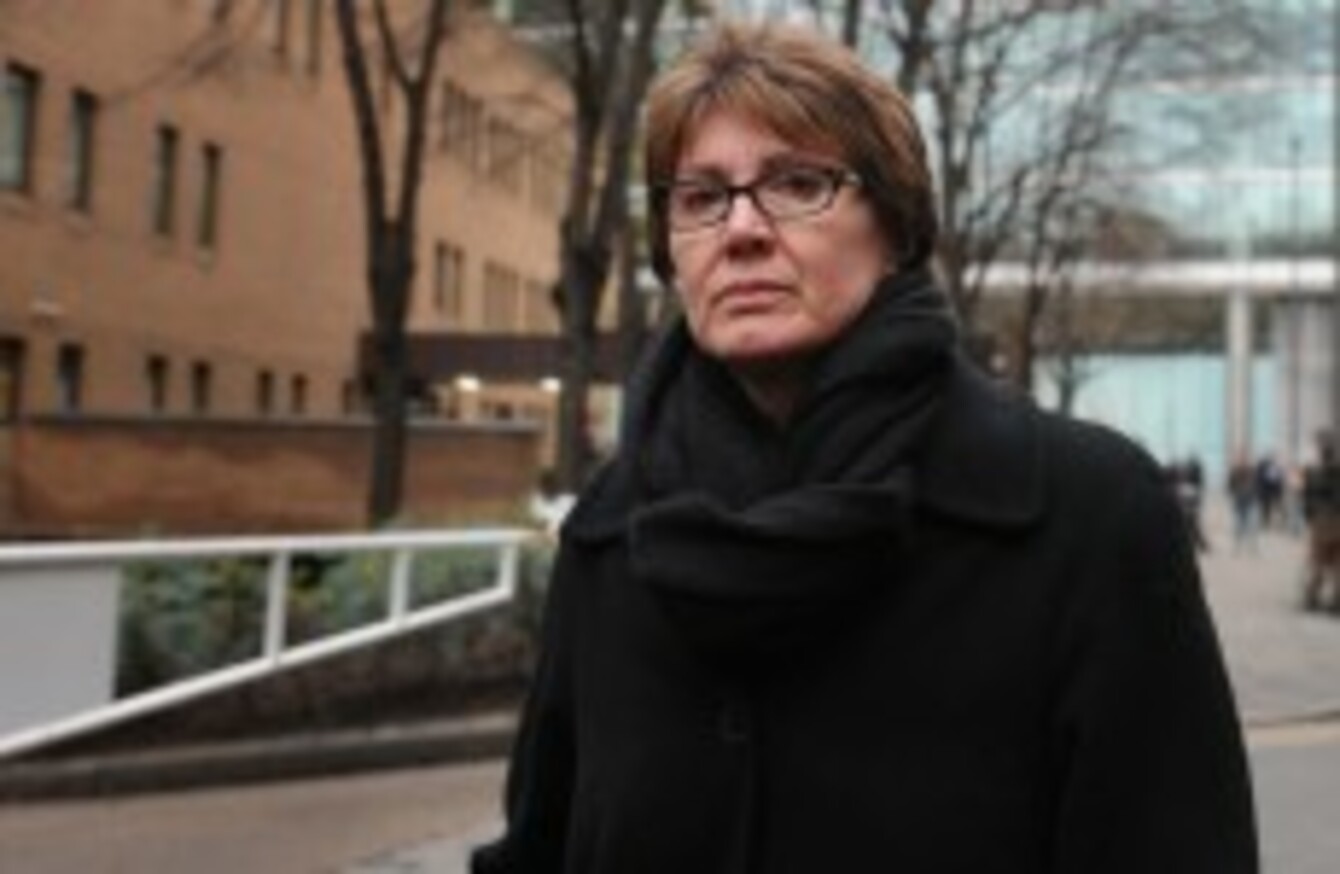 Detective Chief Inspector April Casburn leaves Southwark Crown Court, London today.
Image: Stefan Rousseau/PA Wire
Detective Chief Inspector April Casburn leaves Southwark Crown Court, London today.
Image: Stefan Rousseau/PA Wire
A BRITISH COUNTER-terrorism detective was found guilty today of trying to sell information about a phone hacking investigation to the Rupert Murdoch-owned News of the World tabloid.
A jury convicted Detective Chief Inspector April Casburn of offering the now-defunct newspaper information about a probe into whether Scotland Yard's inquiry into the illegal hacking of mobile phones should be reopened.
She was the first person to be prosecuted under Operation Elveden, the investigation into payments by journalists to public officials which is linked to the wider phone hacking probe.
Casburn, 53, who remained impassive as the verdict was given at Southwark Crown Court in London, was found guilty of one count of misconduct in public office.
At the time of the offence in September 2010, Casburn was working in Scotland Yard's counter-terrorism unit, managing the National Terrorist Financial Investigation Unit.
Payment
The jury heard that one of her team had been asked to carry out financial investigations as part of the phone hacking probe.
She rang the News of the World's news desk early one morning to offer information in exchange for payment.
Prosecutor Mark Bryant-Heron said she attempted to undermine the hacking investigation by contacting the very paper at the centre of the allegations.
"She sought to undermine a highly sensitive and high-profile investigation at the point of its launch," he told the court.
He said her conduct was "disgraceful" and the phone call was "malicious".
Casburn admitted contacting the newspaper, but denied asking for money or offering any information that was not already in the public domain.
"Annoyed"
She told the court she had made the call because she was angry at what she perceived as interference in the hacking inquiry from former Deputy Prime Minister John Prescott, a victim of hacking and a vocal critic of Murdoch.
Casburn also said she was annoyed by her colleagues' attitudes to the inquiry, and said there was "palpable excitement" over who would get to meet Hollywood actress and hacking victim Sienna Miller.
She will be sentenced at a later date.
Judge Adrian Fulford warned there was a "real possibility" she would face a prison sentence, but said he would take into account that Casburn is in the process of adopting a three-year-old child.
Speaking outside court, Detective Chief Superintendent Gordon Briggs, who is overseeing the inquiry into phone hacking, said: "It's totally unacceptable for a serving police officer to leak confidential information to journalists for private gain. In doing so they let down the public and they let down their hard-working, honest colleagues.
"To act in that way is a gross breach of public trust."
Scotland Yard said her behaviour was a "great disappointment" and added that there was "no place for corrupt officers" in the force.
"There may be occasions when putting certain information into the public domain – so-called whistle-blowing – can be justified. This was not one of them," it said in a statement.
The hacking scandal has grown in scale since a News of the World reporter and a private investigator were jailed in 2007 for hacking the voicemails of royal aides.
The tabloid denied there was a bigger problem, but when wider evidence of illegal hacking emerged in 2011 the police investigation was re-opened.
Revelations that the News of the World had hacked celebrities and the voicemail of murdered teenage girl Milly Dowler led Murdoch to shut down the tabloid in July 2011.
- © AFP 2012.