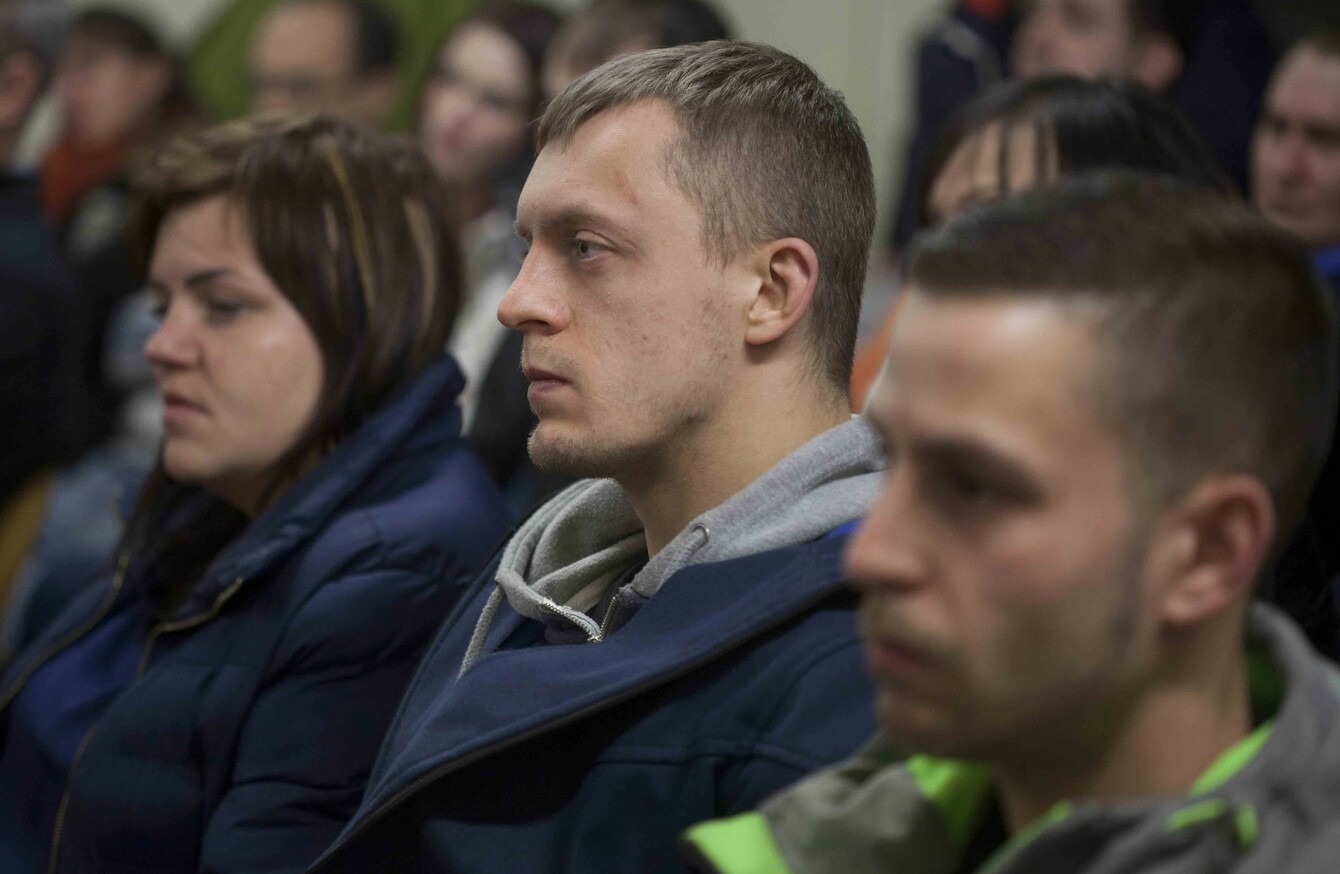 Tonight's meeting in Tyrrelstown, West Dublin.
Image: Eamonn Farrell
Tonight's meeting in Tyrrelstown, West Dublin.
Image: Eamonn Farrell
Updated 9.53 pm
RESIDENTS OF WEST Dublin suburb Tyrrelstown have held a crisis meeting after dozens of families were told that they would have to leave their homes.
This comes after debts on their properties were bought out by so-called vulture funds, a story that broke in yesterday's Sunday Business Post.
More than 100 families in Cruise Park in Tyrrelstown are set to lose their rental homes over a four-year period.
At the meeting tonight at Tyrrelstown Community Hall attended by residents and local politicians, Sinn Féin councillor Paul Donnelly called for the suspension of any eviction notices unless the tenants have alternative accommodation.
The national housing charity Threshold has committed to working with residents who are concerned about their future accommodation.
Speaking to TheJournal.ie today Funke Tobun – who lives on Cruise Park Drive in Tyrrelstown with her husband and three children aged 14, 10 and four – explained that she had been under serious strain since receiving her letter of notice two weeks ago.
"I have settled, and my children know their way around Tyrrelstown, they go to school. It is devastating to wake up and be told the house is being sold and we all have to leave and become homeless," she said.
Along with her family, Tobun will have to be out of her house by November.
She has been living in the local area for more than a decade and described the fear of having her family broken up.
"It is very stressful," she said.
My children were asking me since last week, 'mummy, why is the radio station calling you? Why is the tv station calling you?' I don't know how to explain it to them. I just tell them the house is being sold and we are being asked to leave, our contract is finished.
Construction company Twinlite built the estate and have been responsible for managing the rentals.
The notices were served after Goldman Sachs bought an €89 million loan from Ulster Bank that Twinlite had secured on the development. 
Speaking after tonight's meeting, Cllr. Donnelly said that this "mass eviction" could lead to families becoming homeless.
Furthermore the Fingal County Council housing department must immediately establish a working group to put a plan in place to deal with any homeless cases that will arise from the mass evictions of 208 families.
- With reporting by Rónán Duffy