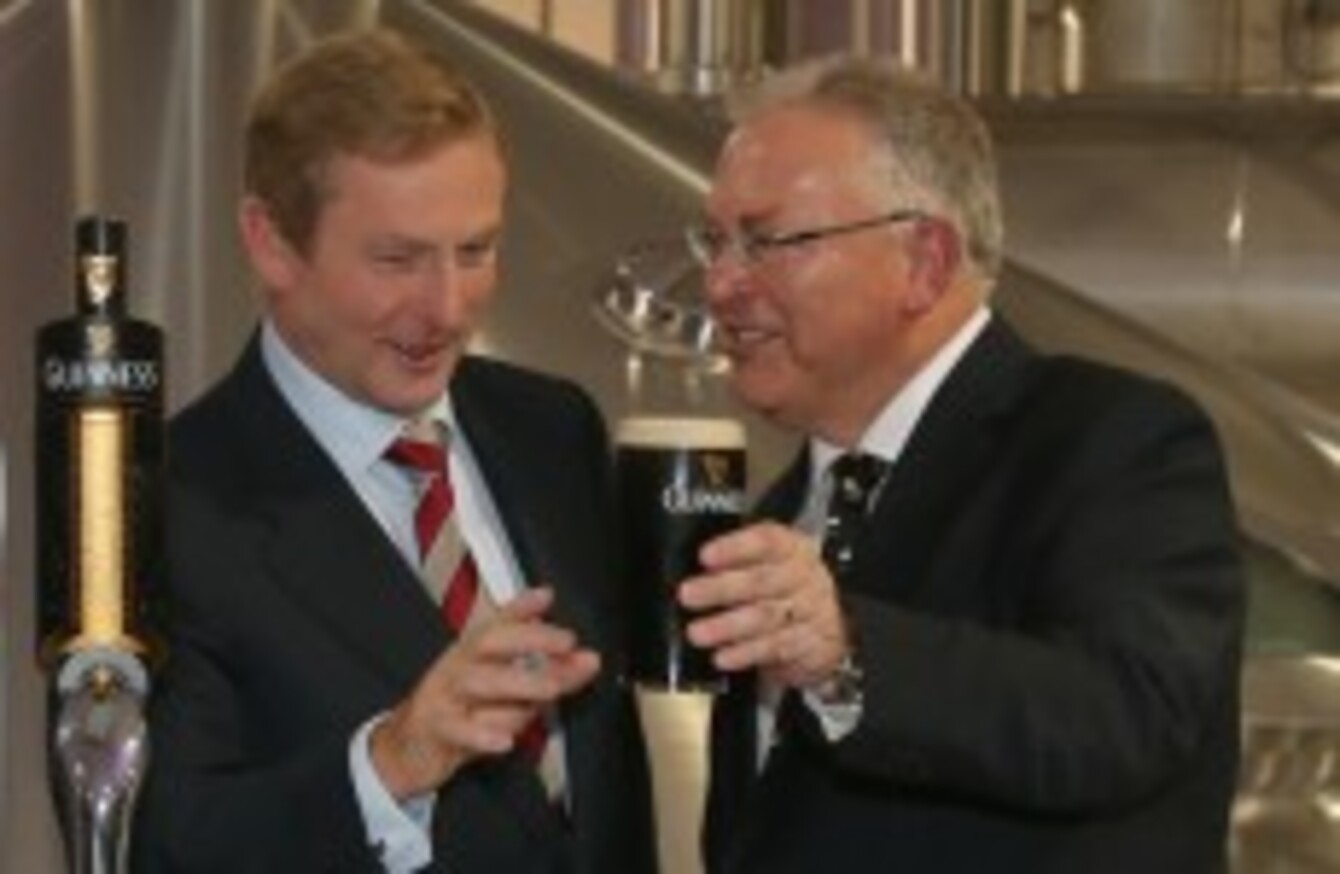 Taoiseach Enda Kenny goes for a Guinness at the opening of its new brewhouse in Dublin
Image: Niall Carson/PA Wire/Press Association Images
Taoiseach Enda Kenny goes for a Guinness at the opening of its new brewhouse in Dublin
Image: Niall Carson/PA Wire/Press Association Images
GUINNESS BREWER DIAGEO has reported a drop in its global sales despite a big take-up in its premium "reserve" brands.
The world's biggest spirits group, which also owns beers Kilkenny and Smithwick's, Bushmills whiskey and a string of other brands, suffered a 1.5% fall in sales from its existing operations worldwide over the past three months.
Its turnover in the Asia-Pacific region took the biggest hit, down 7.4%, while its sales in Europe fell 1.4%.
Diageo said its European performance suffered from low sales in Russia and eastern Europe because of the Ukraine crisis and a lack of consumer confidence there, in Germany and the Benelux (Belgium, Netherlands and Luxembourg) countries.
Sales in China plunged 20% over the three months as the company noted the "challenging trading environment" in the world's second-biggest economy.
Premium drops doing well
The only positive notes were a slight increase in its North American business, which Diageo said had been experiencing strong growth in sales of spirits and wine, and a 10% lift in sales of its reserve brands.
Diageo chief executive Ivan Menezes said the company's performance was in line with its expectations and it still forecast this financial year's overall sales to be up on the 2013-14 figures.
The company last year turned a profit of £2.7 billion (€3.4 billion in today's money) and it recently opened a €169 million expansion of a new brewhouse in its Guinness factory at St James's Gate, Dublin.
SABMiller, the world's second-biggest brewer, announced a 3% rise in worldwide revenues for the last three months on Tuesday despite it selling less drinks over the period.