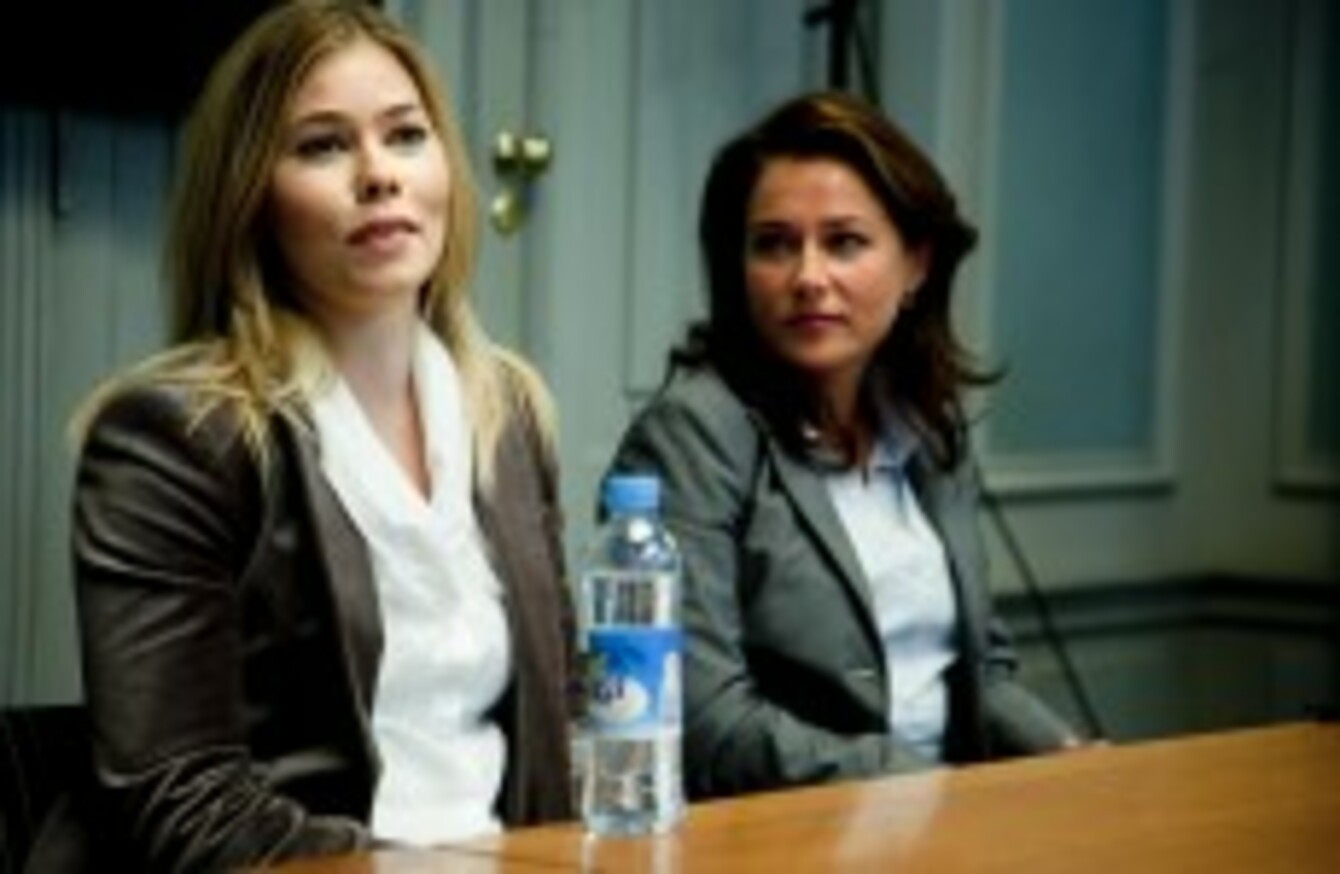 Birgitte Hjort Sørensen and Sidse Babett Knudsen, stars of Borgen
Image: UNGER ANTHON/Polfoto/Press Association Images
Birgitte Hjort Sørensen and Sidse Babett Knudsen, stars of Borgen
Image: UNGER ANTHON/Polfoto/Press Association Images
THE EINSTEIN COUPLE, producer of Danish TV hit Borgen, and the director of Game of Thrones episodes will meet with Irish technology and creative experts at a three-day event in Dublin this week.
Digital Biscuit will see talks, demonstrations, screenings, previews, product unveilings, innovative workshops and more take place at the Science Gallery from 22 – 24 January.
The organisers have invited a range of global leaders and Irish experts from the digital, technological, and creative industries to the event.
They include Camilla Hammerich (producer of Borgen), the Einstein Couple, aka Philip Einstein Lipski and Maria Einstein Biilmann (who are behind the marketing campaign for the Lars Von Trier film Nymphomaniac), and Alan Taylor (director, Mad Men, Game of Thrones).
Putting it all together
Fernanda Parente put together the programme, and said Digital Biscuit "is looking at the future of film and media making".
"It's how we're using technology to deliver a creative vision in film or a TV show," she explained.
She wanted to bring together Irish people and experts from around the world. "We think it's really good to see what other people are doing, and get inspired from other perspectives," she explained.
We have people in Ireland who are using the technology really well. It's moving so fast and each year gets faster.
This year they have a spotlight on Denmark – which has produced films such as The Hunt, and TV shows such as The Killing and Borgen – as it is "a country worth looking at".
"If you look at the size of the country and the amount of high quality hits they have produced for TV… and they are exporting content in their own language, I think we have a lot to learn from them," said Parente.
Irish creatives
Richard Glynn is a founder of Studio POWWOW. He spotted a new opportunity in the market when internet and TV converged thanks to the growth of mobile and tablet device use, and in 2012 set up Studio POWWOW.
The founders all have backgrounds in the animation industry; in June, they will release Shipantics, a game aimed at 8 – 10 year olds.
"It's a really exciting time to be a producer, to be a creative person," said Glynn.
Instead of taking the 'traditional' approach, the company is harnessing the power of technology to bring the game to a number of platforms.
"Although it's doing really well on a global scale there's a lot of threats in the animation industry," said Glynn.
The animation production industry gets a lot of its revenue from commissions, and commercial broadcasters. Their revenues are being squeezed constantly as the advertising spend gets shifted over to the internet.
This means that companies are becoming more risk averse, and not commissioning as much. So to succeed, "you had to be different and you had to try and find a more innovative and alternative way to market".
Companies have begun shifting to gaming rather than production, said Glynn. POWWOW decided that "rather than go straight to TV we'd do that through gaming".
With Shipantics, they will bring out the game first, then a web series and books, and finally they will take on TV. By that stage they will have "created a value" for the product, hopefully making it easier to sell.
"I think most or all of the animation studios are beginning to think more creatively about how they reach their end user," said Glynn.
I think we are really, really creative people in general, the Irish, and we're very entrepreneurial so I don't think any of us are short on ideas. Digital Biscuit is about the merging of technology and creativity together. I see technology as a conduit for creativity.
Tickets for all events can be bought in advance from the Digital Biscuit website.T he event it presented by the Screen Directors Guild of Ireland and is open to the public.