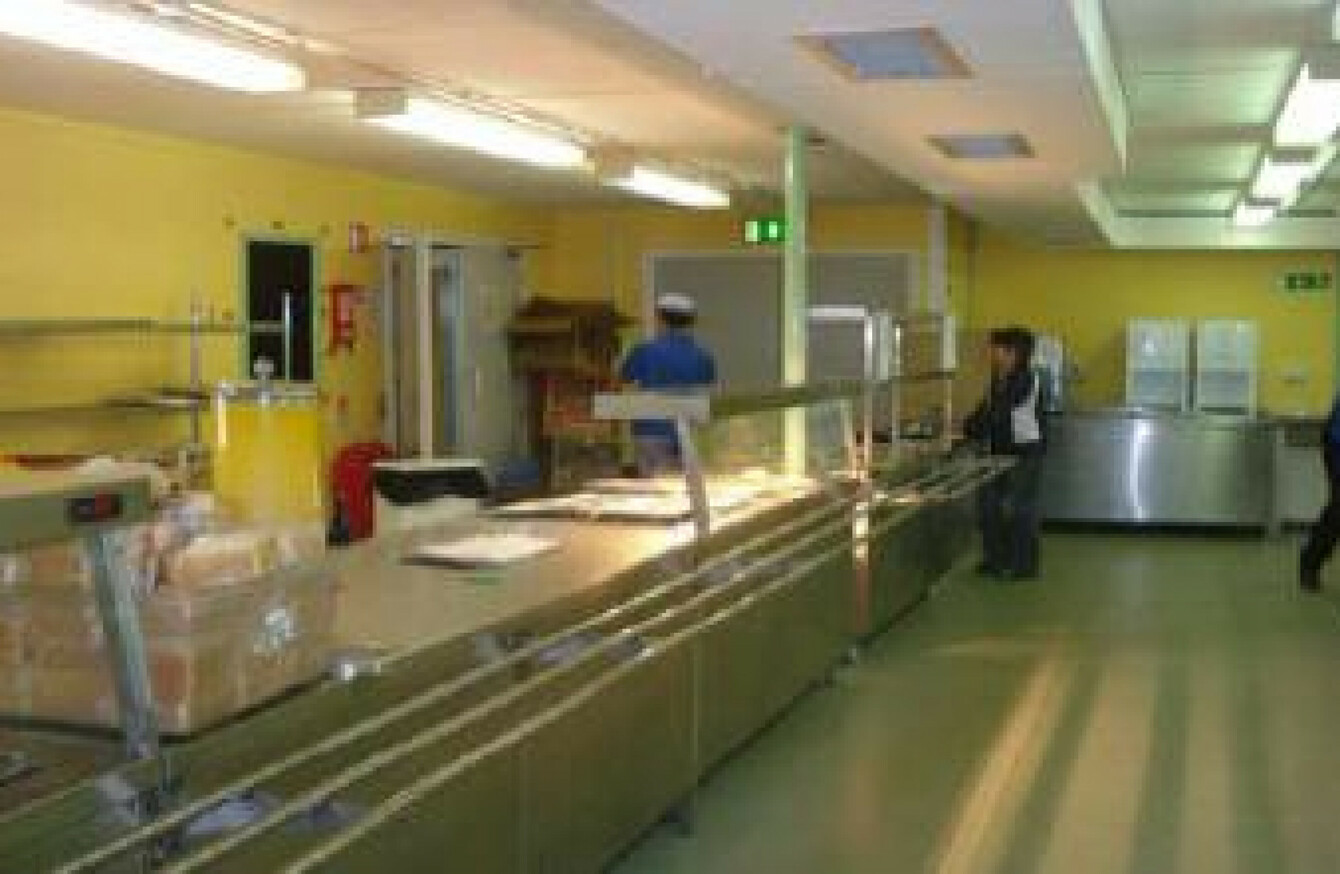 A direct provision centre canteen
Image: Reception & Integration Agency
A direct provision centre canteen
Image: Reception & Integration Agency
AN INVESTIGATION IS taking place by the Reception and Integration Agency after a mother in Direct Provision said she was refused food for her sick child overnight. 
The Justice Minister is now being asked to intervene in the case of the woman, who lives in a Direct Provision centre in county Clare. She took to social media in the early hours of this morning and stated that her son had been vomiting and had diarrhoea through the night.
She said she went with a friend to the centre's canteen to ask staff for some bread and milk in order to help the child recover. 
Speaking to TheJournal.ie the woman, who asked to remain anonymous, said that under new rules staff are no longer allowed to hand out food outside of normal canteen hours. 
She said she asked for two slices of bread at 1am and was told there was nothing staff could do until the manager came on duty seven hours later at 8am.
I didn't have bread in our room and my son was hungry after being sick for so many hours. I've never had an issue before last night. 
In frustration the woman took to social media, and a friend saw her post. She said:"He went to the shop to pick up some bread and a soft drink. He then gave staff a box of chocolates in order to convince them to allow him pass through the food at the gate." 
The post has been shared widely online, with Fianna Fáil TD Stephen Donnelly raising the matter directly with Minister for Justice Charlie Flanagan. 
Donnelly has said the incident, if accurate,  is "tantamount to a human rights violation", and has asked for a full review of what happened: 
These claims are outrageous and sickening.
My heart goes out to the mother involved.  No one, of any nationality, or legal status, deserves to be treated in this way.  All parents will tell you how stressful it is to have a sick child.  We should be supporting each other in moments of crisis and offering care to those that need it.
The mother of three has welcomed the call for a review, saying it would help other families in Direct Provision: 
It would be good if the Minister would review what happened, this is a family centre and a review could prevent something like this happening again.
Social campaigner and Council of State member Ruairí McKiernan has expressed his shock at the incident, saying:
What happened to is yet another wake-up call for Ireland to end the inhumane commercial warehousing of fellow humans languishing in the Direct Provision system.
The woman at the centre of this case has lived in Direct Provision for several years and has asked to remain anonymous in order to protect her family's privacy.
The Direct Provision centre did not want to comment on the incident and referred TheJournal.ie to the Department of Justice. 
In a statement, the Department said this evening:
The Reception and Integration Agency of the Department has advised that it has only just become aware of this incident. It is now investigating the matter and in the first instance has requested a detailed report from the contractor.