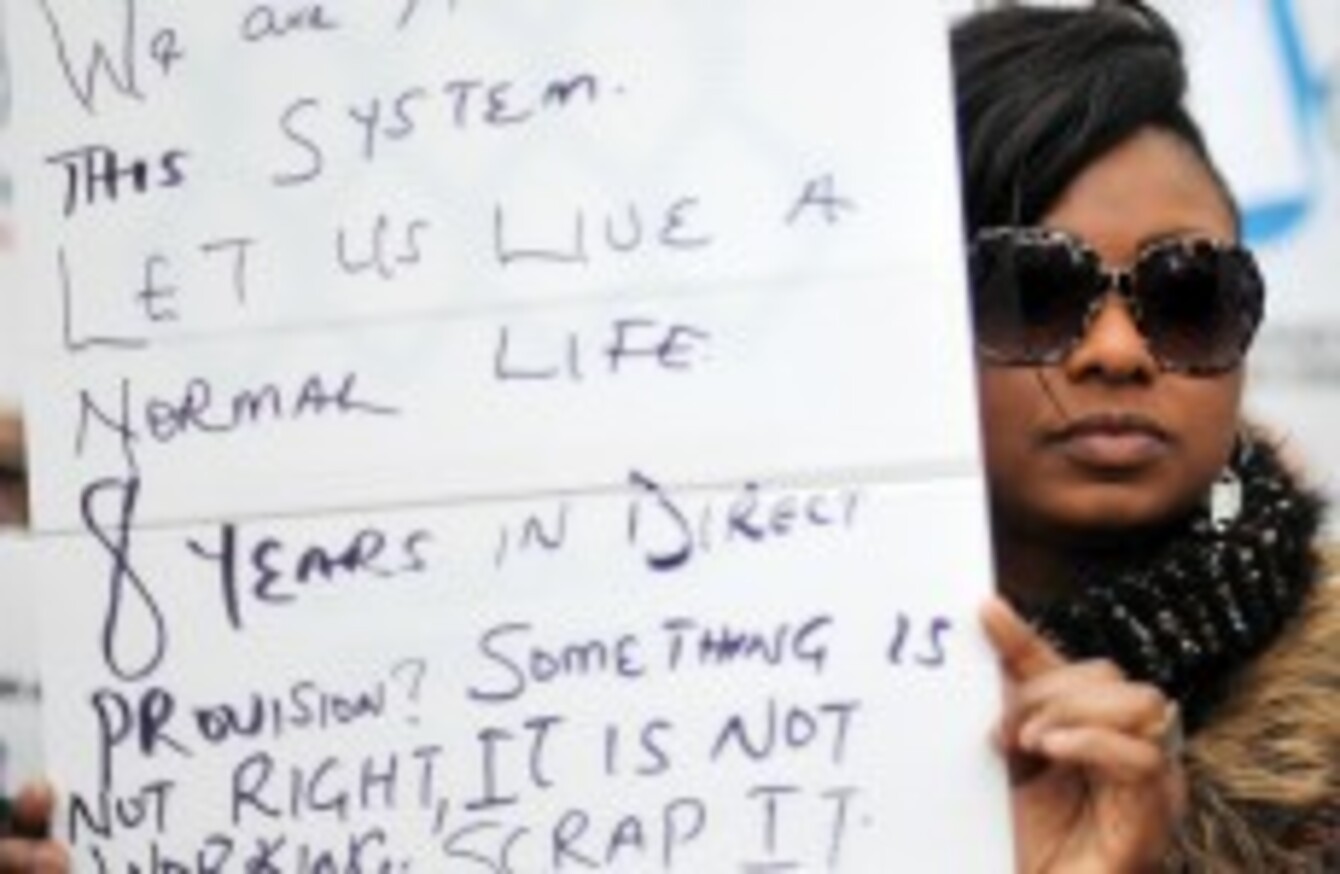 FILE: A protest against Direct Provision in Dublin
Image: Laura Hutton/Photocall Ireland
FILE: A protest against Direct Provision in Dublin
Image: Laura Hutton/Photocall Ireland
TWO ASYLUM SEEKERS were transferred to new accommodation the same day they took part in a protest outside the centre they were living in.
A local NGO said it is "appalled" by the decision.
Yesterday saw a number of residents protest outside the Mount Trenchard accommodation centre in Foynes, Co Limerick.
A garda spokesperson said there were "no issues" and no arrests at the protest.
Three residents are also currently on hunger strike.
The Reception and Integration Agency confirmed to TheJournal.ie that two residents were moved from the Direct Provision Centre yesterday.
Mediation
Today, Dorais Luimní, an NGO which works with migrants in Limerick, said it was "appalled" to hear that after the protest, two residents were transferred to different centres.
Matt Cannon, Doras Luimní's integration and training officer, and Okeremute Okeregha, Legal Officer with Doras Luimní, led the mediation at yesterday's dispute.
They said of the protest:
This type of incident is not new to the direct provision system. We have mediated resident protests in the past in Hanratty's, Limerick. It's symptomatic of larger structural issues which need to be acted upon immediately around direct provision.
Transferred
A spokesperson from Dorais Luimní said that the residents were concerned about issues such as their treatment by management, and conditions in the hostel itself.
The owner of the centre sat down and talked to residents about the issues, in a discussion that was facilitated by Dorais Luimní.
The NGO said that the owner shook hands with two residents and agreement was made to address some of the issues.
"We had issues that could be managed or fixed through mediation," said the spokesperson from Dorais Luimní.
Two residents are on hunger strike over issues to do with the Direct Provision system as a whole in Ireland, including the long wait, isolation, and inability to work.
Some of the residents have been in the Direct Provision system for 10 years.
Dorais Luimní said that one of the two transferred residents had been requesting a transfer to Cork for a long time, and was told after the protest this was to take place.
The other resident said he was transferred to a different centre in Limerick.
The Reception and Integration Agency (RIA) confirmed that it made arrangements for the transfer of two residents from Mount Trenchard yesterday.
In a statement, it said:
Those transfers were intended to respond to concerns which the residents themselves had in relation to their current accommodation as well as being in the best interests of the proper management of the centre.

RIA would point out that it is responsible for the accommodation of asylum seekers in accordance with government policy on Direct provision. RIA currently provides accommodation to 4,319 persons (as of 10 August, 2014) across 34 centres. There are 54 persons currently being accommodated at Mount Trenchard.