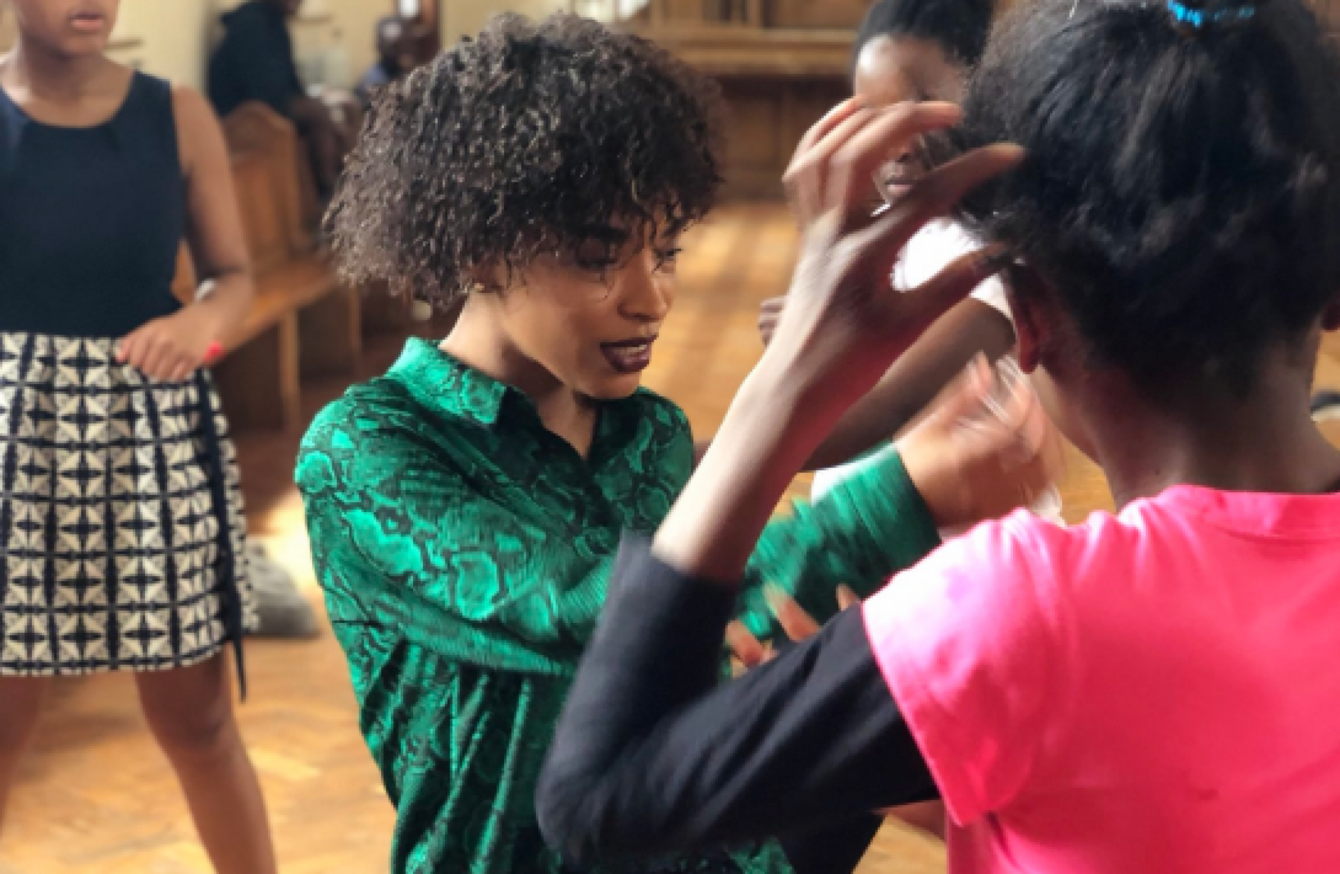 Andrea Williams teaching one of the classes, in Millstreet.
Image: Stevie Grainger
Andrea Williams teaching one of the classes, in Millstreet.
Image: Stevie Grainger
EVERY WEDNESDAY AT Nano Nagle Place on Douglas St in Cork city, a dance class takes place. It should be nothing out of the ordinary, but for those who take part in it, it's a special moment of the week.
The majority of the participants in the class are living in Direct Provision in Cork. Young teens and pre-teens, they gather to hear DJ Stevie Grainger (who's also an events promoter, music maker and writer) spin the tunes, and learn the moves taught by choreographer and dancer Andrea Williams.
As Grainger puts it, Nano Nagle Place – set up in the name of the founder of the Presentation Sisters – is "like a little oasis in the middle of the city", where the young dancers get to "express themselves with such joy and freedom". Approximately one third of the people in Direct Provision in Ireland are children – that's about 2,000 people according to the Irish Refugee Council.
The participants come from across the world – countries like Zimbabwe, Pakistan, Nigeria, Ireland, Venezuela, Brazil and Mexico. The two hours of the class are a time when they can escape from their everyday life and get creative and relax.
Those who run the classes and bring the teens from their accommodation into the city are all volunteers.
This summer, Grainger and Williams (who is from Cape Verde and has called Cork her home for a decade) ran a three-day summer camp alongside Music Generation Cork, where teens living in Direct Provision and the city mixed and met to make music. Given Cork's long musical history, it's perhaps no surprise that both music and dance are bringing people together at a time when globally it can feel like there are fractures being created between people every day. 
'We don't want them to think they're different'
"Without getting into it, everyone is aware of the Direct Provision situation being on a negative front and we wanted to do something positive," says Grainger of the reasons behind the classes. 
Grainger was called in two years ago to volunteer because of his experience of working with people from different cultural backgrounds and in particular working with teenagers. He started off with hip hop workshops, but soon noticed that when he put on music, the teens really loved getting to dance.
He called in Williams to work as the teacher "because she is the best at that in the whole country", but as she was in a full-time job at the time, she couldn't hold classes on a regular basis. Kate Wang stepped in to volunteer, and the dance crew ended up performing at that year's Africa Day.
When Wang moved on, Williams – who holds a monthly Dance It Up session for adults as well as running the Hot Sauce dance crew – took over. 
"Andrea has been amazing. They all really learn quickly, they love dance, particularly afrobeat dance which is the new sound of Africa – it's very much a pop thing," explains Grainger.
Recently, they've started going to Millstreet Direct Provision centre itself to visit the teens for classes, as it wasn't possible for all of them to make it up to Cork with their guardians on a weekly basis. "Bring the party down there," is how Grainger puts it.
He's keen to put more structure around what they do, and is working out the type of funding they might be able to access. 
"I'm trying to document what we're doing get more awareness," he explains of the tweets and Instagram posts he puts up about the events.
I'm not the best person to talk about the politics of the whole thing. But I don't want to be going down to Millstreet poking my nose around the place, telling people where they live isn't good. We don't talk to them about it because I don't want them to think they're different.
Instead, he wants to give the young people a positive space that's specially for them.
Around 20 young people meet every week for the classes in Nano Nagle Place. Most are in Direct Provision, some are former Direct Provision residents. One of the students, who's just 14, is so good that she's starting to get involved in teaching the young people herself.
Down in Millstreet, one of the children told Andrea the Direct Provision building "is beautiful but it's boring, so we have nothing to do". The volunteer who brings the children to their classes told Williams and Grainger that the young people are "so excited" every week for their classes.  
'I'm trying to get them to build confidence'
The classes have gotten more popular by the month. "I think when I started we had 10 kids and now we have more than 20 kids and there's more wanting to join us," says Williams. "It's great, and it's amazing to see how those kids, obviously some of them are still living in not so good situations, the joy that they bring when they're together… they're so grateful. They are really inspiring, they don't let the fact they are living in that situation hold them back."
Although she creates routines to teach them how to dance, she says it's not just about turning them into dancers.
"I'm also trying to get them to build confidence as well so they can start creating their own stuff," William underlines. "What I want with the kids, I don't want them to follow me; I want them to be leaders. I want them to have self confidence in themselves, that they are able to do their own dancing, write their own music, do their own stuff. They are all capable – it's just a matter of having somebody trusting them."
I think some of them they are quite shy, and when they dance they come out of their shell.
'It breaks any walls'
The children come from different cultural backgrounds, and at the recent summer camp Williams had worried about whether they would all mix easily. But her fears were unfounded. "As soon as you put music on, as soon as you start dancing, it is like there are no barriers – they just instantly connect," she recalls. 
"It breaks any walls between people and just brings people together. You just feel like we are part of the same circle of life; there is no 'you are from Mexico, you only dance to Mexican music'. The world is so big and so mixed, I don't think there should be any more separation between us.
It's great to see from those kids – they are tomorrow's adults and it's great they have that feeling in them that we are all mixed.
Grainger says his long-term aim is a "deeper dance show" that brings in some of the issues around migration, while Williams says she wants to "put up a proper show with them; a show with meaning":
"With a message to show that it doesn't matter where you come from, where your current situation is,  if you want something and you work for it, it will eventually happen."
"I think we need to create a platform that they can actually showcase their abilities. It's amazing what those kids can do," she adds.
Sometimes, the participants hold discussions, like a recent day where they talked about identity. The notion of identity is also explored in subtle ways in the dance classes. "One day I was teaching them Brazilian dance, like samba. Some of the girls are from Nigeria and I was giving them a history lesson," says Williams. "[I told them] 'I know you think samba is from Brazil,  but it came from Nigerian culture.'" She explained to them samba's roots in Yoruba culture. 
"I was explaining to them, you should be really proud of your culture. It's just so well-known in the world, you probably don't know it actually came from your country. I try to give them a sense of 'you should be proud of your culture'."
"You are a human being first of all," continues Williams. "That should be your main focus, your colour or your passport shouldn't mean [more than that]."
She says that Cork is a good place for embracing people of all nationalities: "Living in Cork 10 years now, I feel that now that I'm more involved in those things I can feel that people actually want to be part of it."
This is borne out by the support she says they are getting from other members of the community. "Me and Stevie are also getting random people texting us: 'Whatever you need for those kids, we are willing to help'. We are spreading a good message and people are getting it," says Williams.