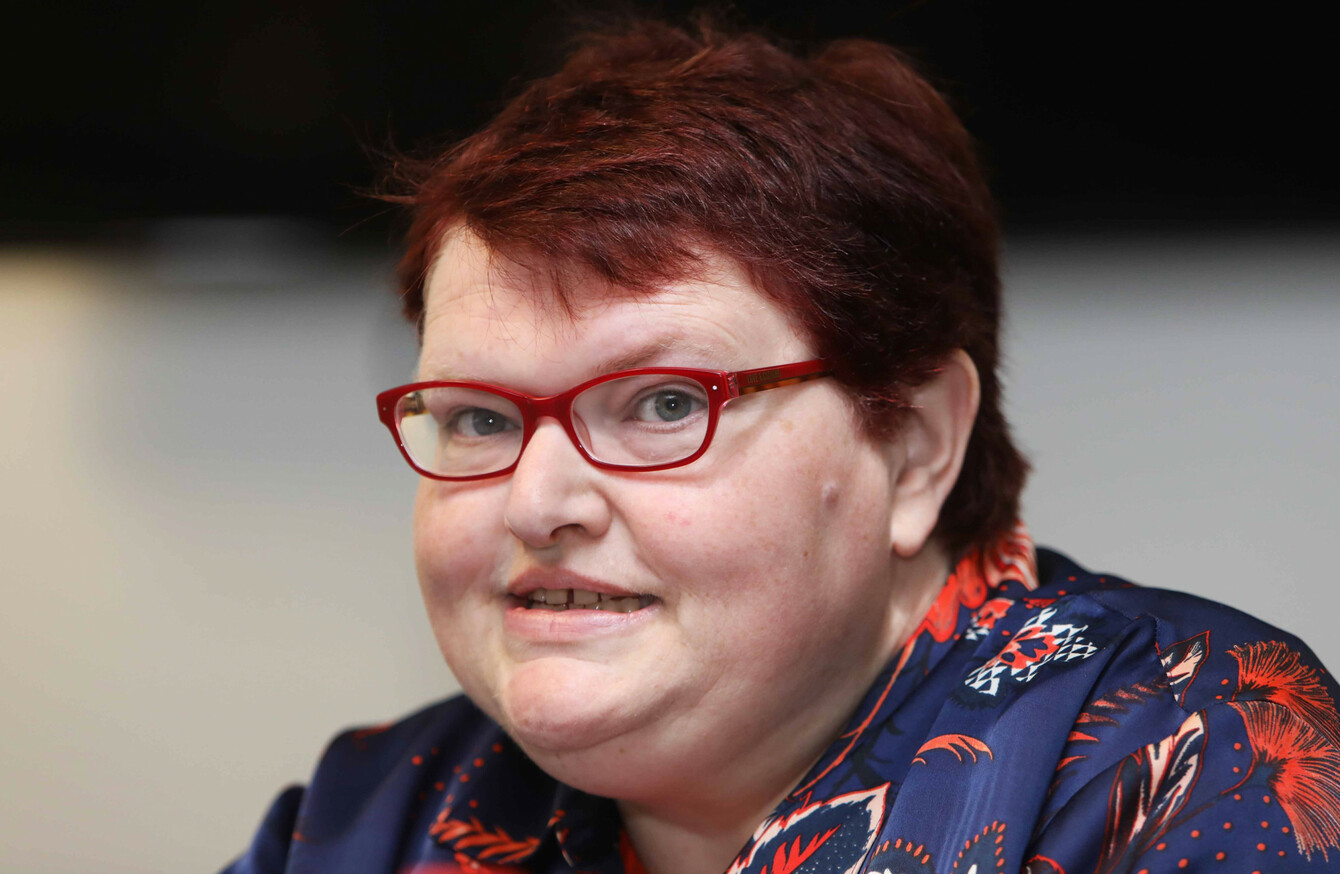 Suzy Byrne was appointed to the board of Irish Rail through the Public Appointments Service.
Image: Leah Farrell
Suzy Byrne was appointed to the board of Irish Rail through the Public Appointments Service.
Image: Leah Farrell
FIVE PEOPLE WITH direct experience of disability issues have been hired to five State boards with Minister Shane Ross pledging that each transport board will have at least one director with experience of disability.
The announcements were made today following a hiring process by the Public Appointments service.
Suzy Byrne, a longtime advocate who has been critical of disability access on public transport, was appointed to the board of Irish Rail and said today she would work on behalf of all customers.
"I think it's great to see people with disabilities in this area instead of people with experience in the area of disability because this is the UN CRPD in action, putting people with disabilities into decision-making responsibilities," Byrne told a press conference.
And also recognising that disabled people have expertise in many areas other than disability, and I'd like to encourage other people to apply for these posts when they are advertised and other ministers to recruit people with disabilities in all areas when it comes to serving on State boards, I think it's really important.
Byrne is also a regional manager with the National Advocacy Service for People with Disabilities and a co-chair of Disabled People of Ireland.
She says that the improvements she hopes to work on will apply to everyone:
I'm very much looking forward to the challenge and I know a challenge it will be. And also to coalescing with colleagues on other boards as well to exchange information, so that we can really bring about improvements in the system, not just for disabled people, because I don't know if there are consumer reps on the transport boards, so we will be representing lots of people, not just people with disabilities.
As well as Byrne's appointment to the board of Irish Rail, four other board appointments were made with each individual having experience of working with disability issues:
Diarmuid Corry – Bus Éireann
Kevin Kelly – NTA
Elaine Howley – Dublin Bus
Liam O'Rourke – CIÉ
Details of each appointee and their qualifications for the roles are listed on the website of the Department of Transport, Tourism and Sport.
Relevant experience of disability issues was listed as a requirement when applications were sought for the directorships earlier this year.
Remuneration for the NTA position was listed as €11,970 and €12,600 for the board positions at Irish Rail, Bus Éireann and Dublin Bus.
An information booklet said that the roles would require the directors to attend between 10-11 board meetings per year and that 1-2 days' preparation would be required for each meeting.
#Open journalism No news is bad news Support The Journal

Your contributions will help us continue to deliver the stories that are important to you

Support us now
The appointments will be for an initial period of three years.
Speaking upon the announcement of the appointments today, Transport Minister Shane Ross said that he has heard first-hand accounts from people with disabilities about the difficulties they face accessing public transport.
"I decided that no matter how well intentioned able-bodied directors or politicians may be in seeking to remedy these difficulties, ultimately their efforts would be no substitute for the voices of people with disabilities themselves being heard in the boardroom," Ross said.
For too long, people with disabilities have been restricted to expressing their views and needs in the media. From today, those voices will be heard at the very top of the State boards overseeing the provision of our country's public transport system.
In thanking Ross for her appointment today, Byrne said that she wished to make it clear that she was not selected directly by the minister.
I want to thank the minister very much for the appointment and also clarify, minister, that you definitely had no hand in this appointment other than appointing me, because a lot of people said you wouldn't have appointed me if you had.
"So I can confirm I came through the PAS, I thought it was time to put up or shut up and to apply because I would be well-known for my public commentary with regard to public transport and services generally."