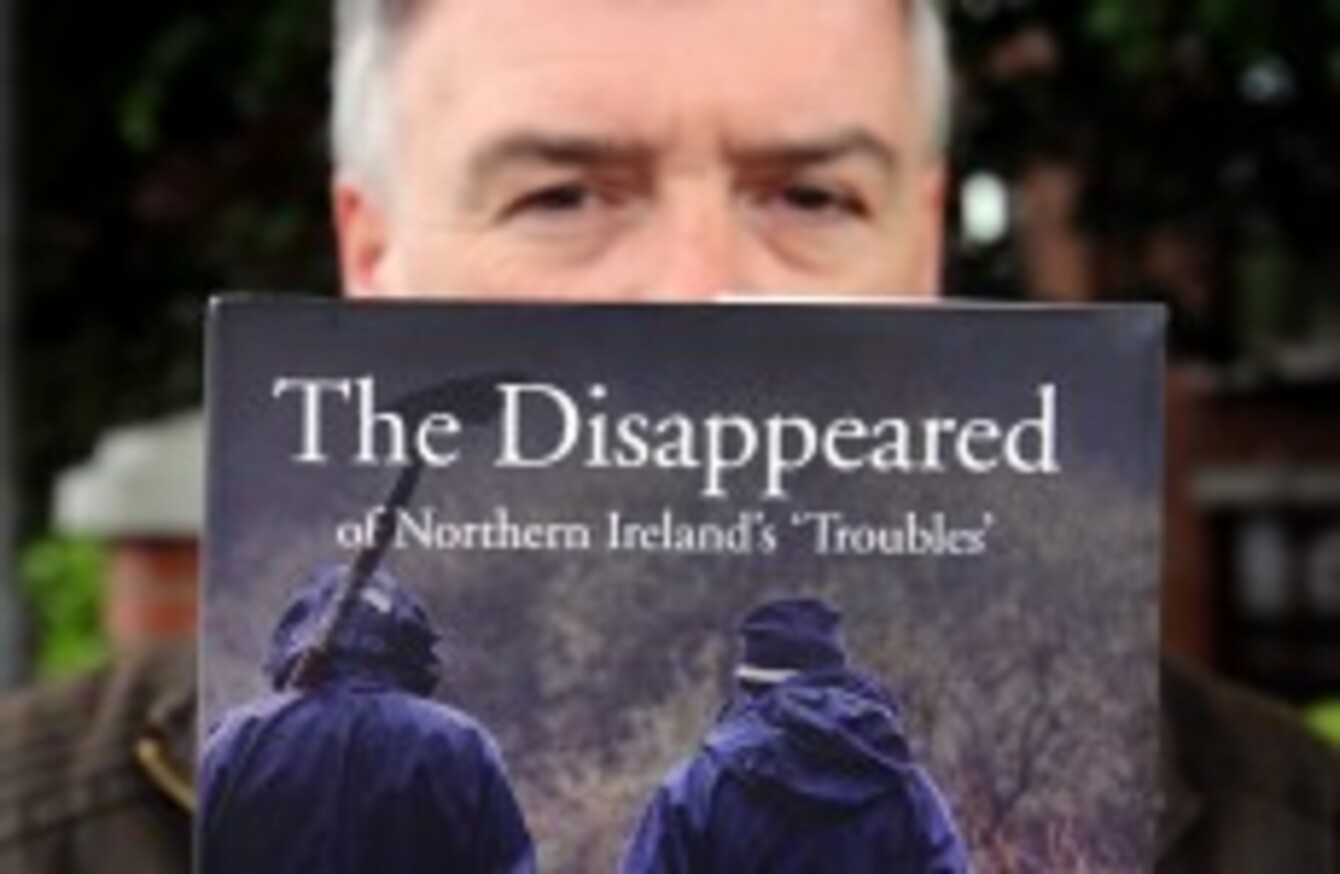 Kieran Megraw, brother of one of the Disappeared, Brendan Megraw with a book about the families' experiences.
Image: PA Archive/Press Association Images
Kieran Megraw, brother of one of the Disappeared, Brendan Megraw with a book about the families' experiences.
Image: PA Archive/Press Association Images
Updated 10.45pm
THE REMAINS FOUND in Meath last month have been confirmed as those of Brendan Megraw, one of the so-called 'Disappeared'.
The fresh search marked the fourth attempt to find the body of the Belfast man since The Troubles.
The 23-year-old newlywed was abducted from his home in the city when his wife was expecting their first child in April 1978.
He was never seen again but is known to have been murdered and buried by the IRA. The paramilitary group claim he admitted to being a British provocateur and Military Reaction Force undercover agent.
Last night, his family said that he had been "alone for nearly 40 years"
"Now we can bring him home and lay him to rest with our mum and dad."
In a statement this morning, Justice Minister Frances Fitzgerald said she hoped the discovery would "allow another chapter to be closed in the tragic saga".
For a family to be bereaved but denied the opportunity to bury their loved one is a trauma that is hard to imagine. I want to express my sympathy to the Megraw family at his time.
Megraw was one of 16 people who became known as the Disappeared in Northern Ireland. All killed during the Troubles and whose remains were buried and not found.
The Independent Commission for the Location of Victims Remains (ICLVR) was set up by the British and Irish governments, tasked with finding the bodies once peace was achieved on the island.
Through its agents, it receives confidential information which is only used for the purpose of locating the victims' remains. It cannot disclose the identity of an informant to police or to the victim's family.
The agency was established in 1999 and issues various appeals to people with information to come forward.
In a statement issued earlier this year as PSNI detectives questioned Gerry Adams over the contents of the Boston Tapes, its Commissioners stressed the confidentiality given to its informants.
"The work of the ICLVR is entirely information driven and is focused solely on recovering the remains of the victims for the sake of their families.  All information that is given to the ICLVR to help us recover those victims can only be used for that purpose," it said in a strong statement.
It also confirmed that "the strict confidentiality which is enshrined in law by both governments has never been breached nor will it".
The ICLVR describes informants as the "vital lifeblood" of its work.
"The families of the Disappeared cannot rest until the remains of their loved ones are recovered."
Fitzgerald reiterated her confidence in the ICLVR today, stating that the government will continue to support its work.
Of the 16 Disappeared, the Provisional IRA admitted to carrying out 13 murders. The INLA took responsibility for one and no attribution has been given to the remaining two.
To date, 10 victims have been recovered, including the most well-known, Jean McConville.
The governments are now looking for the six remaining men.
Joseph Lynskey was a former Cistercian monk from the Beechmount area of west Belfast. He went missing during the summer of 1972 and his remains have never been recovered. The IRA finally took responsibility for his death in 2010 with a statement from the organisation's spokesperson. He said Lynskey was executed and buried in an unmarked grave.
Another man who disappeared during 1972 was Seamus Wright. An asphalt layer from Belfast, he was 25 years old and married when he went missing in October. Despite extensive searches undertaken by the Commission in the Coghalstown area, his remains have yet to be located. The IRA publicly accepted responsibility for his death in 1999. His sister has spoken about the searches, saying there are strong concerns that previous digging in the area may have disturbed his grave.
#Open journalism No news is bad news Support The Journal

Your contributions will help us continue to deliver the stories that are important to you

Support us now
In a similar case, Kevin McKee also went missing from Belfast in October 1972 and is thought to be buried in Coghalstown.
His sister, Philomena, was a young girl when he went missing. She told the BBC in 2010:
When they took Kevin away, they should have taken my mother away too because we were left with nobody.
"Kevin was one of the named ones that was shot by the IRA because he was a tout.
"This is what we've been told. Since then it's just been a nightmare because it's the past reborn all over again."
Columba McVeigh was just 17 years old when he was abducted and killed in October 1975. He had been working as a painter in Dublin and had only returned to Northern Ireland a few days earlier. Although at least six extensive searches, based on information received, have been carried out in Monaghan his remains have yet to be recovered.
His family continue to deny IRA claims that he had confessed to being an informer.
Captain Robert Nairac was an officer with the Grenadier Guards on a tour of duty in Northern Ireland when he was abducted in Armagh in May 1977. He was 29 years old. Although his remains were never recovered, a man was convicted of his murder the same year. The deceased received a posthumous George Cross.
Newry resident Seamus Ruddy was a 33-year-old teacher of English in Paris, France when he disappeared in May 1985. In December 1995, the INLA admitted responsibility for his death. In February 1999, information emerged to suggest that his body was buried in Rouen, France, but despite searches having been carried out his remains have not yet been recovered.
Anyone with information on the Disappeared can contact the ICLVR on 00800 555 85500, by writing to ICLVR, PO Box 10827, Dublin 2 or via the website www.iclvr.ie.
Updated 4 November, 7am; First published 25 August