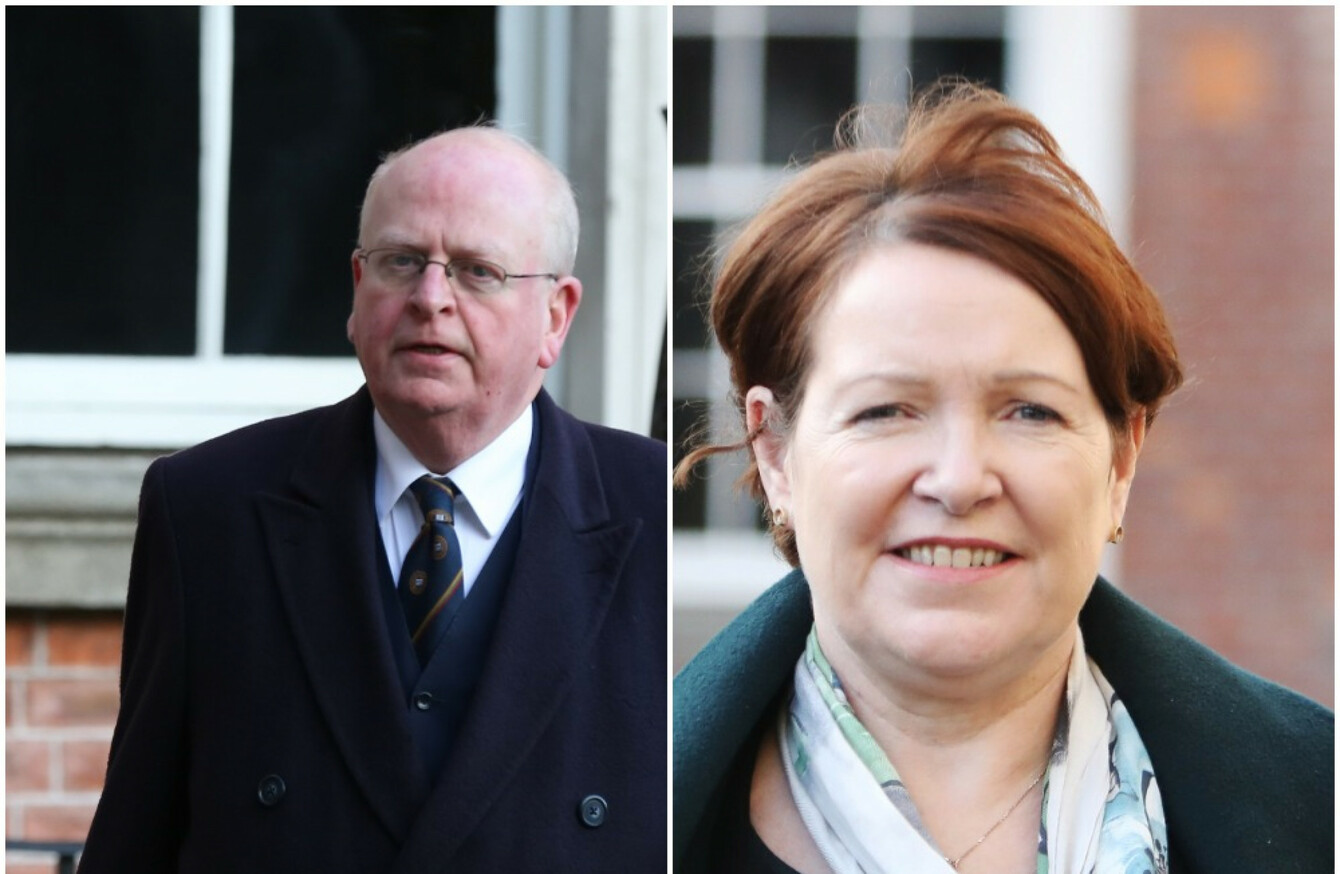 Maurice McCabe's counsel Michael McDowell (l) and Nóirín O'Sullivan
Image: Leah Farrell/Rollingnews.ie
Maurice McCabe's counsel Michael McDowell (l) and Nóirín O'Sullivan
Image: Leah Farrell/Rollingnews.ie
FORMER GARDA COMMISSIONER Nóirín O'Sullivan is obviously very well prepared for her appearances this week at the Disclosures Tribunal.
On her way in to Dublin Castle yesterday, a jovial O'Sullivan signed a copy of Mick Clifford's book A Force for Justice, a book about Maurice McCabe, for a member of the public on the way in.
No matter how – or how often – the questions were posed to her, O'Sullivan was composed and consistent in her accounts.
"Just to put it in context, chairman"… "it was about getting to the truth"… "an impossible dilemma"… "never about the man"… "his attitude changed"… "I have no recollection".
One or more of these phrases were said by O'Sullivan at every turn, as she told the Tribunal that she fully and wholeheartedly supported Maurice McCabe and that her legal strategy to challenge his motivation and credibility at the O'Higgins Commission was not at odds with that.
Not only that, she said that in challenging his motivation, "there was never a suggestion" that Sergeant McCabe acted out of bad motives.
Even when her testimony of the same event clashed with evidence given by other people – namely her "eyes and ears" at the O'Higgins Commission Chief Superintendent Fergus Healy – she maintained that it was simply her recollection of events rather than the other person getting it wrong.
This is a commissioner that is blaming nobody and is nice about everybody. There were certain things she could remember quite clearly, and other events that she had no recollection of at all.
On occasion, counsel for Tribunal Kathleen Leader and Michael McDowell, counsel for Maurice McCabe, would ask O'Sullivan a question a second or third time.
On other occasions, she would answer a question by repeating the same thing several times in quick succession.
McDowell, especially, was constantly probing for cracks in the narrative that O'Sullivan was creating of a commissioner passionate about getting to the truth of all these matters, who supported her officers and who wanted to restore the public's faith in An Garda Síochana.
At one point, he accused her of telling a "dark lie" when she said that former commissioner Martin Callinan retired because of McCabe's allegations.
At another crucial moment, the Tribunal heard that the draft of a letter from O'Sullivan to Minister Frances Fitzgerald in May 2016, which was in effect a note designed to keep her in her job, was called "last chance saloon.docx".
O'Higgins Commission
The O'Higgins Commission was set up to look into allegations made by Sergeant McCabe of malpractice, misconduct and corruption in the Cavan-Monaghan division.
The gardaí's legal team at the commission represented Nóirín O'Sullivan and a number of senior officers about whom McCabe had made allegations.
Before the commission got under way in May 2015, O'Sullivan never met with her counsel at all. That was Healy's job, to relay information to commissioner and convey her instructions to counsel.
After a number of consultations with the senior gardaí involved in these matters, the legal team advised that certain background matters be put to McCabe, and namely his motivation and credibility for making these allegations be questioned.
O'Sullivan was told this advice by Healy, and gave her go-ahead for this line to be taken.
According to her version of events, challenging McCabe's motivation was a simple matter of getting to the facts.
She said a version of the following on numerous occasions at the Tribunal over the previous two days: "And from the outset that is what we were doing, was testing the evidence and the validity and veracity of all of the allegations that were made.
What had changed and what had led Sergeant McCabe to conclude that all of these incidents combined amounted to corruption and malpractice on behalf of individual members of An Garda Síochána.
Leader said yesterday that this was a "unique interpretation of motivation".
McDowell sought to poke and prod further into this yesterday.
"Hypocritical"
Yesterday, it was put to O'Sullivan on several different occasions in a number of ways that her legal team went against her instructions at the O'Higgins Commission.
She says that she never instructed her counsel to question the integrity of McCabe.
Colm Smyth SC, for O'Sullivan, however told Mr Justice O'Higgins that he had indeed been given instructions to do just that on day two of the commission on 15 May 2015. He would later clarify on day 29 of the commission on 4 November 2015, that his instructions were not to challenge McCabe's integrity.
It was put to her that Mr Justice O'Higgins, in the early days of the commission, asked counsel if its instructions were to challenge McCabe on the basis that "he made these allegations not in good faith but because he was motivated by malice or some such motive", and that counsel said "that is the position, judge".
O'Sullivan, however, maintained that her instructions were always to get to the facts of the matters in hand, and that she never sought to challenge McCabe's integrity or instruct that he acted out of bad motives.
Given that it appears her counsel acted the complete opposite way to this, did this mean that she believed they acted wrongly? Did she believe that Healy did not accurately convey her instructions to counsel?
Not so. She told the Tribunal: "I think they did what they were instructed to do."
McDowell asked her the question in a number of different ways, pointing out the apparent contradictions, but she stood firm.
He later remarked that O'Sullivan has "a very laudable habit of not being willing to criticise anybody".
This question posed to her is another example where she refused to offer any blame:
McDowell: "Do you accept now that your counsel told Mr Justice O'Higgins that Sergeant McCabe was acting for improper motives?"
O'Sullivan: "I have seen the transcripts of day two. But as I say, the matter was clarified on day 29… and therefore I believe the matter was clarified before Mr Justice O'Higgins."
#Open journalism No news is bad news Support The Journal

Your contributions will help us continue to deliver the stories that are important to you

Support us now
"Hypocrisy"
This explanation did not satisfy McDowell. After a brief interruption to Tribunal proceedings where someone sought to talk over the witness and counsel, he sought further clarification from O'Sullivan.
How was Sergeant McCabe supposed to feel, he asked, when on day two of the O'Higgins Commission, he hears that his boss has given instructions to challenge him on the basis he was acting out of improper motives.
This came after a year of public support from Nóirín O'Sullivan, who sought to reassure McCabe that she would address any concerns he had.
McDowell said: "If he actually thought that counsel on your instructions was accusing him of being malicious, of acting in bad faith…  and that that was being put to him on your personal instructions, do you think he would have some reason to doubt as to whether all of this talk about supports in Mullingar and nice HR talk in relation to him was wholly insincere and wholly hypocritical?"
The unflappable O'Sullivan's voice noticeably rose when she answered.
She said: "Well firstly, Mr McDowell, it was not nice HR talk, it was not hypocritical and it was not insincere. Sorry, Mr McDowell, if you allow me finish, please.
I invested significant time and significant energy and significant thought in terms of what structures could be put in place to support Sergeant McCabe all throughout 2014 and 2015.
There was nothing insincere, there was nothing hypocritical and there was nothing of nice, soft HR talk about that.
So, at a time when I was running the organisation as commissioner of An Garda Síochána facing some of the most significant national and international challenges ever faced, if anybody thinks that was hypocritical of me or that I was doing it for some other rationale or reason other than to show Sergeant McCabe support, well they are very mistaken.
McDowell put it to her that she hadn't really answered the question at all.
O'Sullivan then reverted to a couple of lines that she rolled out the previous day, namely that she was aware that Sergeant McCabe's "perception may be changed" by her actions and that she faced an "impossible dilemma".
Her remaining answers saw her repeat previous statements of never saying McCabe acted in bad faith, and that day 29 had seen Smyth withdraw the integrity challenge.
Good faith
And with that, Nóirín O'Sullivan finished her second day of evidence.
Inconsistencies in what she is saying have been well flagged, but no knockout blow has been struck.
She stuck to her narrative of the busy commissioner who was working to restore public faith in the gardaí all while overseeing the safety of the State, and will surely do so again when she finishes her evidence today.
When Mr Justice Charleton rose for the day, and just like yesterday, O'Sullivan made a beeline for Maurice McCabe on her way out of George's Hall.
She was all smiles as a few words were shared.
O'Sullivan was then stopped by the man who previously interrupted proceedings. "Oh that was you who said that," she said. "They were good points."
Even outside the witness box, Nóirín O'Sullivan was well able to keep her composure.