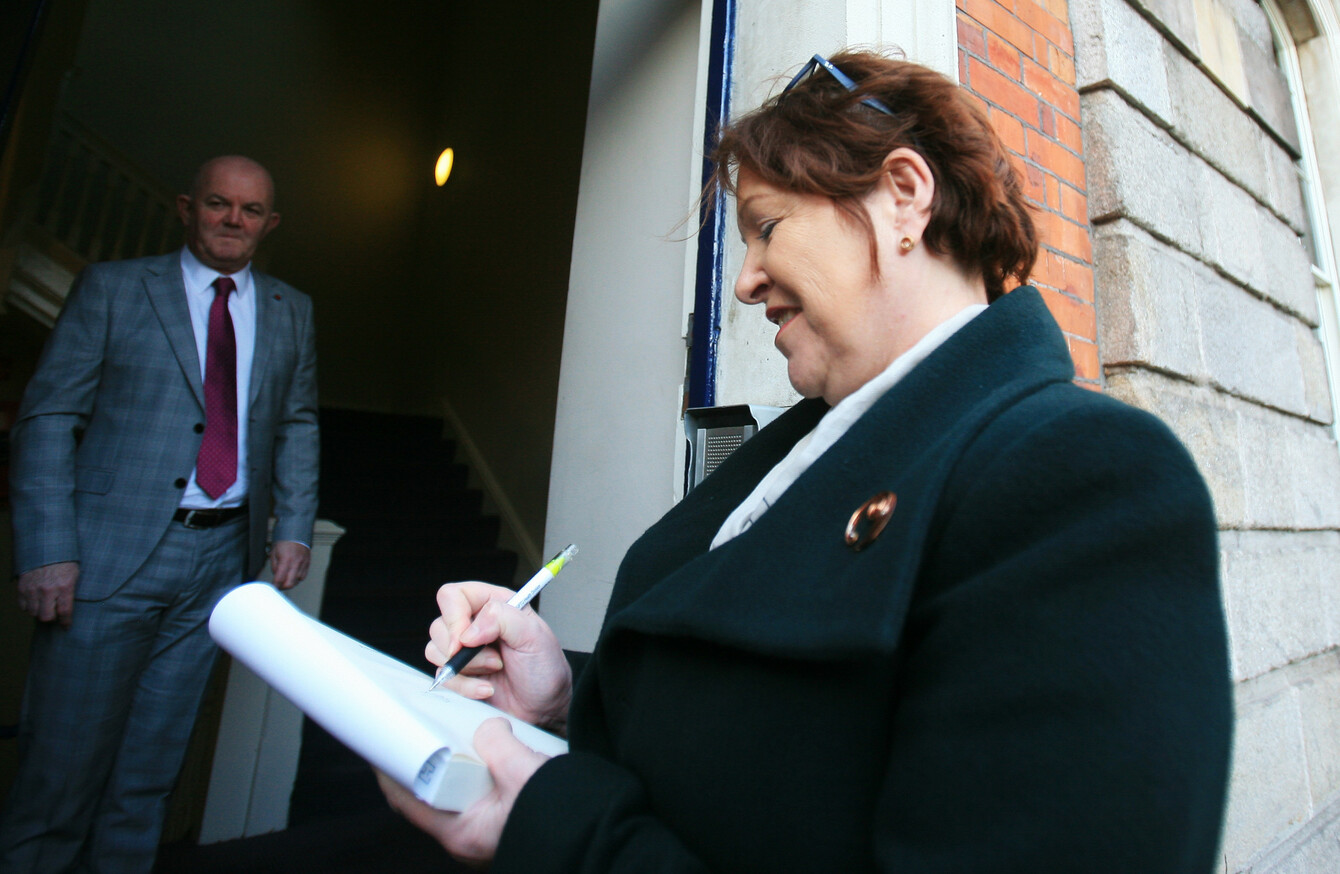 O'Sullivan signing a copy of the book "A Force for Justice" on the way into the Tribunal this morning.
Image: Leah Farrell/Rollingnews.ie
O'Sullivan signing a copy of the book "A Force for Justice" on the way into the Tribunal this morning.
Image: Leah Farrell/Rollingnews.ie
Updated 4.48pm
NÓIRÍN O'SULLIVAN has denied drafting a speech for then-Minister for Justice Frances Fitzgerald in an email to her which included the line "I wish to state, here and now, that I have full confidence in the commissioner".
Today, the Disclosures Tribunal continued hearing evidence from the former commissioner and focused on the fallout from the O'Higgins Commission report and the media coverage that followed.
The O'Higgins Commission looked into allegations made by Sergeant Maurice McCabe about malpractice and corruption within cases dealt with by the gardaí in the Cavan-Monaghan division.
At this commission, O'Sullivan says she followed the advice of her legal team and instructed them to challenge Maurice McCabe's credibility and motivation.
Despite this, she has repeatedly told the Tribunal that she never believed that McCabe made the claims out of "malice" or out of "bad motives".
"It wasn't insincere"
O'Sullivan was cross-examined by Michael McDowell SC, for Maurice McCabe, this afternoon.
In answering his questions, she often repeated phrases that she had used yesterday. She again referred to choosing her legal strategy as an "impossible dilemma" and saying that challenging McCabe's motivation "was not about the man" but the allegations he was making.
Towards the end of proceedings, however, McDowell put it to O'Sullivan that her instructions to her counsel involved saying that McCabe was "acting out bad faith" and out of "improper motives".
This was borne out by McCabe seeking to resign his position as sergeant in the traffic corps in Mullingar in the immediate aftermath of this happening at the O'Higgins Commission.
McDowell said such a stance was hypocritical, given that her previous public stance was to support whistleblowers and accommodate them in any way possible.
"I can understand perfectly well from a human perspective how Sergeant McCabe may have felt," she said. O'Sullivan said she couldn't understand how McCabe "believed in any way he was under threat from me".
Her voice then got louder when she said: "It was not hypocritical. It wasn't insincere.
I invested significant time, significant energy and significant thought into supports for McCabe. There was nothing of nice, soft, HR talk about that. I wouldn't have invested time from myself in providing direct support to Sergeant McCabe if I was being in some way hypocritical… If anyone thinks that was hypocritical of me, they're very mistaken.
McDowell put it to her that having heard her counsel on days 2 and 3 of commission (15 and 18 May 2015), "accusing him of malice, [and] of being a person without integrity… that he would think all of those actions were hypocritical".
O'Sullivan replied that this position was clarified on day 29 (4 November 2015) at the commission, and that her counsel admitted he'd been incorrect to say his instructions were to attack McCabe's "integrity".
She added: "McCabe's perspective may have been different. He may not have understood the legal cut and thrust".
She maintained she never gave any directions to attack McCabe's integrity but also persisted that she never found any fault with her legal team or her go-between with them Chief Superintendent Fergus Healy.
"I think they did what they were instructed to do," she said. "I don't believe that [Healy] failed."
McDowell retorted that Healy "didn't succeed in conveying your instruction that his integrity shouldn't be challenged".
In another aside, on whether anyone had resigned or left the force, because of McCabe's allegations, O'Sullivan mentioned former commissioner Martin Callinan.
McDowell shot back: "That is what I thought you were driving at, and I have got to suggest to you that that is a dark lie?"
O'Sullivan said it was a matter for Callinan why he retired but that he also faced allegations of corruption from McCabe.
Ms D allegation
It doesn't directly link to this module of the commission, but Nóirín O'Sullivan was asked today about what she knew about the HSE/Tusla error that was put on Maurice McCabe's file.
Last summer, the Tribunal heard that these allegations of a far more serious assault were mistakenly attributed to McCabe due to a "copy and paste" error.
It also heard that documents containing this error were given to the commissioner.
O'Sullivan had "no recollection" of seeing the false accusations. She did not dispute she had sight of the referral from Tusla in 2014, but did not recall reading them.
She also agreed that no documents to correct the false allegation were ever given to her.
'Political football'
Much of her evidence this morning focused on the ensuing media fallout from the O'Higgins Commission, when numerous outlets began to report on her legal strategy at the commission.
O'Sullivan said that she felt under tremendous personal pressure from the ensuing media coverage.
She said: "I was being put into a position that my role was being politicised in a way that was unacceptable to me.
Over that weekend (14 May 2016) and in the days ensuing, the deliberate and selective leaks being put into the media were designed to do the maximum damage to me and my reputation.
O'Sullivan said that the issue also had become a "political football" and she was put under pressure from many sides to step down.
She described numerous contacts with the Department of Justice at this time, and how she sought to reassure Minister Frances Fitzgerald that she had followed proper procedures.
In an episode of RTÉ's Prime Time on 17 May 2016, Fitzgerald was asked a number of times if she had faith in the garda commissioner and refused to say if she did.
O'Sullivan said: "If she could not express confidence in me I had a really serious position to look at in terms of my own position."
The following day, ahead of Leaders' Questions in the Dáil, O'Sullivan sent Fitzgerald an email.
In it she said: "I understand you have to make a statement, I enclose a draft for your consideration."
That draft from O'Sullivan is written as if it is Fitzgerald who is talking.
It closes with the line: "I wish to state, here and now, that I have full confidence in the commissioner."
Under questioning from Tribunal counsel Kathleen Leader, it was put to O'Sullivan that she was "clearly drafting a statement for the minister".
O'Sullivan, however, denied this. She said that she was simply "setting out factual material that the minister could choose to use, that would put to right inaccurate reportage". She also said she was drafting the statement for herself to set out this factual material.
In any case, Fitzgerald neither expressed confidence or went along with O'Sullivan's suggestion to release the legal advice that the garda commissioner had received on the second day of the O'Higgins Commission in 2015.
O'Sullivan said she felt under pressure and was in a "vortex" with all the media coverage, and calls for her to step down.
"Last chance saloon"
After a meeting with the Tánaiste the following week, she says she set about drafting a letter to Fitzgerald that would explain her position in the fullest way possible and reassure that she had not done anything wrong, as the media reports were suggesting.
This letter to the Fitzgerald went through several drafts before completion. O'Sullivan admitted today that there was input from officials within Fitzgerald's own Department of Justice with help to draft the letter.
She said that it wasn't the case that these officials were writing the letter for her, but that the "objective again was for the purpose of completeness that nothing was left out" and that "[the minister] would have the fullest knowledge possible".
O'Sullivan said it was necessary to have that completeness. She said: "I very much felt that my reputation and also my job as commissioner of An Garda Síochana was dependent on that letter."
The Tribunal also heard that one of these drafts, sent by a figure in Garda HQ, bore the name "last chance saloon.docx".
The Tribunal will continue tomorrow, with counsel for Maurice McCabe, Michael McDowell SC, continuing to cross-examine Nóirín O'Sullivan.