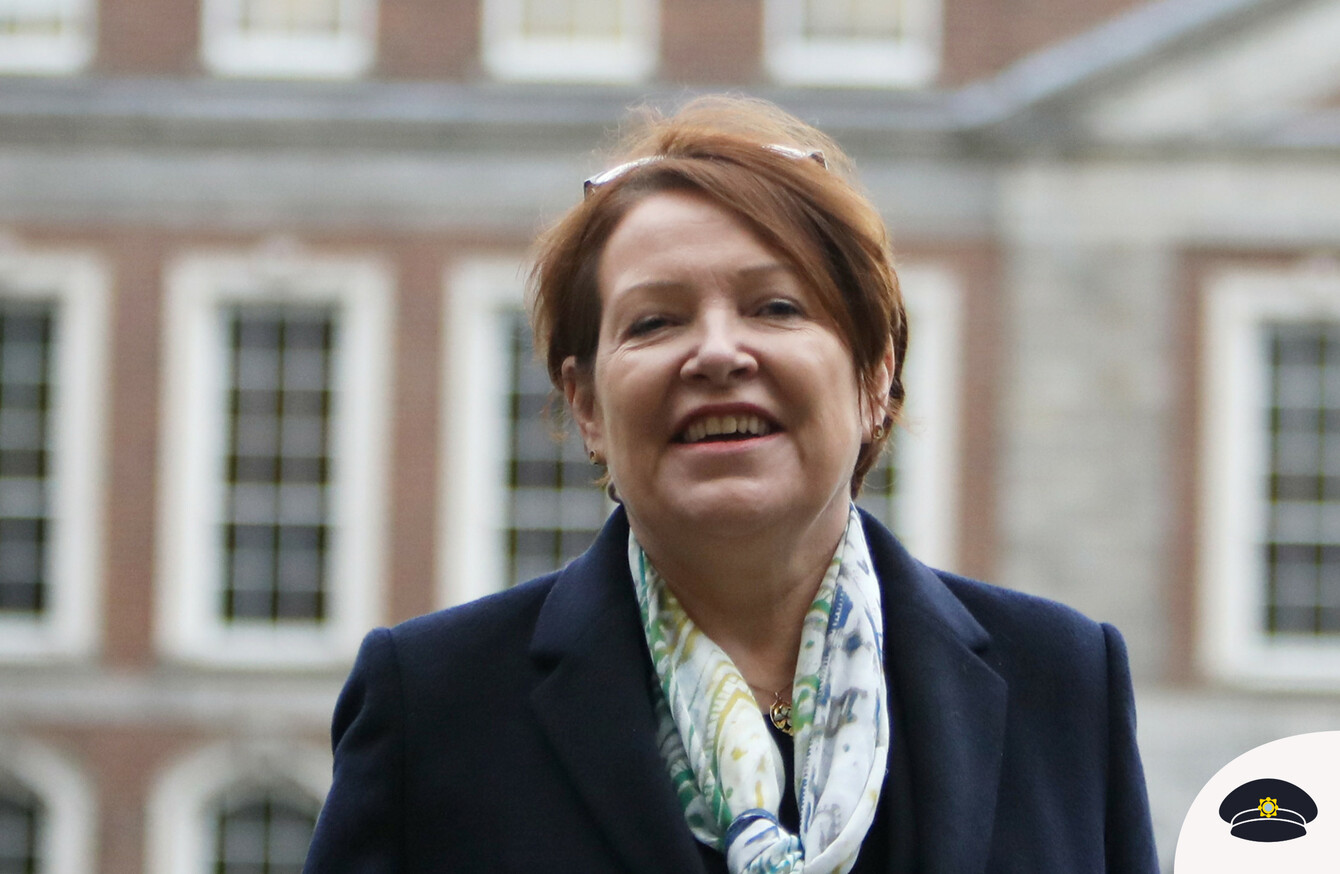 Image: Leah Farrell/Rollingnews.ie
Image: Leah Farrell/Rollingnews.ie
Updated 5.00pm
FORMER GARDA COMMISSIONER Nóirín O'Sullivan has told the Disclosures Tribunal that she was faced with an "impossible dilemma" when it came to choosing her legal strategy against garda whistleblower Maurice McCabe.
The Tribunal is currently looking at whether Nóirín O'Sullivan's legal team used "unjustified grounds" to challenge McCabe's credibility at the O'Higgins Commission, which began in 2015.
That commission looked at allegations made by McCabe regarding garda malpractice and corruption in the Cavan-Monaghan division.
Counsel for O'Sullivan challenged McCabe's motivation for making the allegations in the first place and the Tribunal is hearing from the former garda commissioner, herself, on how it came to be that this strategy was adopted.
Motivation
Nóirín O'Sullivan said this afternoon that adopting this legal strategy was a "dilemma" on whether or not to challenge McCabe, given the support that she had previously offered to him.
She said: "I was absolutely committed to supporting McCabe in the workplace. His evidence would have to be tested.
I was very aware it may change Sgt McCabe's perception of me. I had to assure supports were still continued. It was an impossible dilemma.
She spent a great deal of time talking about the instructions given to challenge McCabe's motivation at the commission, and disagreed with Tribunal counsel Kathleen Leader in a number of instances.
"Did you think you were authorising questioning of McCabe's motivation?," Leader asked.
O'Sullivan said that she didn't think of motivation in the legal sense. She said she considered motivation to mean what led McCabe to conclude that the allegations he raised amounted to malpractice and corruption.
"I never considered Sergeant McCabe was acting out of anything but proper concerns," O'Sullivan said.
Leader then asked: "That leads to the question, if you only thought he was acting out of proper concerns, why question motivation at all?"
O'Sullivan reiterated that challenging these issues was tied up with getting an "understanding of what were the reasons/basis on which Sergeant McCabe believed that these issues led to corruption".
Leader put it to O'Sullivan that she was using a "very unique interpretation of motivation".
Getting to the truth
Nóirín O'Sullivan told the Tribunal that the O'Higgins Commission was an opportunity to "get to the truth" of the matters that dated back many years.
She said: "I felt this was a forum that we could once and for all establish the facts. Once we did that, we could restore confidence in An Garda Síochana by dealing with the issues."
O'Sullivan described the unsatisfactory manner in which the gardaí prepared for this commission, outlining how both the first and second liaison officers appointed to deal with the matter had to be relieved of their duties.
"I felt it was unsatisfactory the pace at which we were going," she said.  "I appointed Chief Superintendent [Fergus] Healy. He had to step into the breach at a time when there was a lot of pressure on us."
Regarding the instructions she would have given in initial preparations for the O'Higgins Commission, O'Sullivan told the Tribunal she understood it was all about "getting to the truth of the matter to establish relevant facts".
She said the existence of these issues for some time led to a "political narrative" that An Garda Síochana was corrupt, and that investigations had deficiencies.
I wanted to get to the crux of the matter. I wasn't sure what I'd be facing into coming out of the commission… My understanding was that yes we were dealing with the individual incidents. [And] what parts of each of those incidents led Sergeant McCabe to conclude there was corruption and malpractice, and testing that.
Department of Justice
O'Sullivan was also asked about her contacts with officials from the Department of Justice.
On 15 May 2015, when a row over the legal strategy was erupting at the O'Higgins Commission, she called two senior officials in the department that afternoon.
One was Secretary General Noel Waters, and the other was Deputy Secretary General Ken O'Leary.
Waters had already given evidence to the Tribunal. He couldn't recall what was said during that phone call.
The former garda commissioner said she didn't "remember specifics of that phone call" but would regularly discuss various issues with Waters.
The call to Waters was made just two minutes after Chief Superintendent Healy made her aware of the row at the O'Higgins Commission.
"I believe I may have said to him an issue had arisen in relation to the O'Higgins Commission," O'Sullivan said.
She also couldn't clearly recall the conversation with O'Leary. Although he has not yet given evidence to the Tribunal, he has provided a detailed note on his recollection of the phone call.
He said that O'Sullivan asked him if "anything occurred to [him] which she might need to be mindful of in addressing this [McCabe] issue with her legal advisors". He told her she should take more time to consult with her legal team.
O'Sullivan said she certainly spoke to O'Leary but didn't remember having such a "detailed conversation". She remembered speaking about other matters but O'Leary had no note of this.
Leader then put it to her: "What I'm saying to you is it's very hard to believe you were discussing other matters when you don't remember what was being said and he has a detailed account."
Support
O'Sullivan had begun giving evidence by describing the approach she took to dealing with garda whistleblowers, and specifically Maurice McCabe, when she took on the role of acting garda commissioner in early 2014.
The issues related to McCabe were "very topical" when she was appointed, she said. O'Sullivan said that at this time public confidence in An Garda Síochana was at an all time low and she wanted to reassure the government, the gardaí and the Irish people that she was the person to bring through necessary reforms.
She said it was imperative to restore confidence as members of the gardaí felt they were "punch drunk from being pilloried" in the media and elsewhere.
She described picking up the phone to ring McCabe in May 2014. She said: "I took it upon myself to make contact directly with McCabe in an attempt to address his issues. In that conversation I reiterated I was committed to supporting him in the workplace.
I made it an imperative to support people who had the courage to speak up in the workplace. I was setting the tone from the top… I told McCabe that each and every one of the issues would be fully addressed in a transparent way and as speedily as possible.
O'Sullivan said that she asked McCabe if he was getting all the supports that he needed, and she said that he "assured" her he was. These supports included offering the services of an independent mediator, and someone within the gardaí nominated by McCabe to look into his claims.
Earlier, the Tribunal heard from Chief Superintendent Healy while he was getting cross-examined.
He has maintained, and this was tallied with earlier evidence from Solicitor Annmarie Ryan, that he had told O'Sullivan that her legal team wanted to hold a consultation with her to clarify instructions over the first crucial weekend at the O'Higgins Commission in May 2015, after a row that Friday over their use of the strategy to challenge McCabe.
Healy said that the commissioner was otherwise engaged, but her counsel told the Tribunal that she will dispute being asked to attend such a consultation that weekend.
The Tribunal will continue with further evidence from Nóirín O'Sullivan tomorrow.