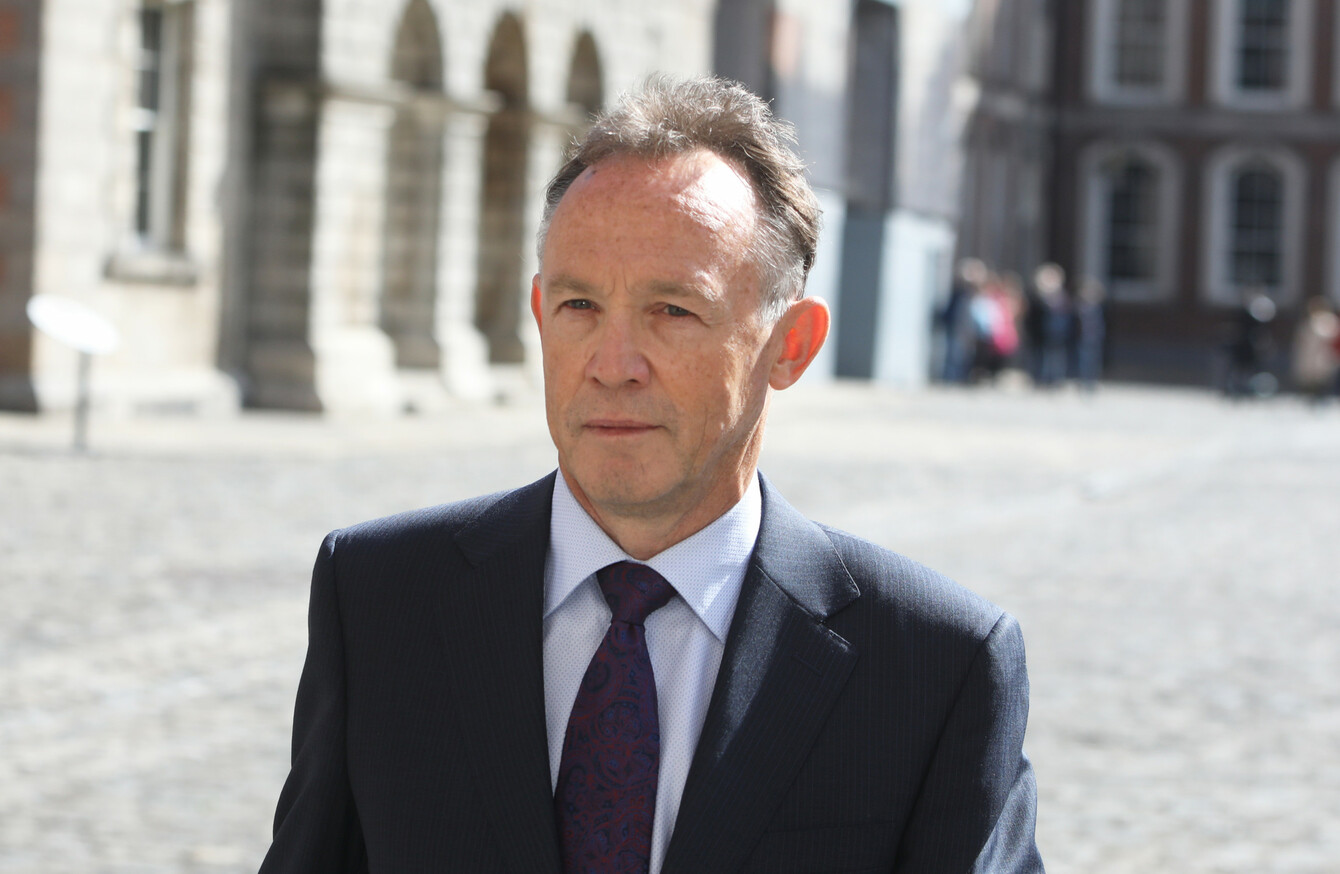 Image: Leah Farrell/Rollingnews.ie
Image: Leah Farrell/Rollingnews.ie
Updated Jun 14th 2018, 4:17 PM
RTÉ JOURNALIST PAUL Reynolds has strongly defended a number of broadcasts he appeared on at the Disclosures Tribunal today, and said that they weren't unfair to Maurice McCabe.
Appearing for a second day at Dublin Castle, the crime correspondent said that his reporting on the leaked copy of a report commissioned by the government went through the "full rigours" of the RTÉ editorial process with an emphasis on not appearing biased towards either McCabe or the senior gardaí.
The Tribunal is currently looking into the claims from Superintendent Dave Taylor that he orchestrated a smear campaign against Maurice McCabe at the behest of former commissioner Martin Callinan.
Today, the Tribunal was also examining another term of reference which asks it to investigate whether Nóirín O'Sullivan, using briefing material prepared in Garda Headquarters, influenced or attempted to influence broadcasts on RTÉ on 9 May 2016.
Reynolds had got his hands on a number of leaked copies of the O'Higgins Commission report, an inquiry which looked into claims from Maurice McCabe concerning garda failures and corruption, primarily in the Cavan-Monaghan district.
The O'Higgins report upheld a number of McCabe's complaints, but did not uphold the most serious ones that five senior gardaí – including Callinan – were corrupt.
Reynolds reported a number of times that day, both on RTÉ radio and TV. Excerpts of his radio appearances were played yesterday afternoon, while the TV broadcasts were played this morning.
'We would have reported that'
The journalist said today that the only thing that made it into his broadcasts were the actual contents of the O'Higgins report itself, and that he wasn't influenced by anything else in drafting the copy and scripts.
He said: "The reports were put through the full rigours of the RTÉ editorial process, it went right up to the top and back down."
Reynolds' news reports mentioned a number of aspects from the lengthy O'Higgins report, including that Maurice McCabe acted out of "genuine and legitimate concerns" but that a number of his allegations of corruption against senior officers were "unfounded".
Emails between senior editorial staff at RTÉ and Reynolds were read out today at the Tribunal. In one from chief news editor Ray Burke, he suggested rewriting some of the top paragraphs because "it is certain that you and RTÉ News will be subject to suspicion that we are favouring the gardaí and therefore biased against McCabe".
It was put to Reynolds that his reporting on the matter could be viewed as skewed towards favouring the gardaí. He retorted: "I can report what was in the report. If the report had found Callinan guilty of corruption, we would have reported that."
'Told a lie'
In one of the broadcasts, Reynolds makes the point that the O'Higgins report notes that McCabe "told a lie" to a superior officer. There is indeed a section of that report that notes that McCabe told an "untruth".
Prior to the RTÉ News at One on 9 May 2016 that very same day, solicitors for Maurice McCabe sent in a legal letter to the broadcaster.
The solicitor called the content of the broadcast "utterly unfounded, incorrect and grossly defamatory" to McCabe. It added: "It appears that Reynolds has the report and has taken a briefing from interested parties… with a view to destroying the reputation of Sergeant McCabe."
In his protected disclosure in October 2016, McCabe wrote: "I am now satisfied, on impeccable authority that those RTÉ broadcasts were planned and orchestrated by the commissioner, Nóirín O'Sullivan, personally using briefing material prepared at Garda Headquarters."
Reynolds said that he reported on what was said in the O'Higgins report and had never personally accused McCabe of telling a lie. He added:
We said he acted out of legitimate concerns… We said he was due a debt of gratitude… I went further and said if it wasn't for him, none of this would have come out.
On why he opted for the word "lie" instead of "untruth" in his broadcast, Reynolds said that he and other RTÉ editorial staff "wrestled" with the matter before opting to use it. He said that when he looked up untruth in the dictionary, the word lie was next to it.
Reynolds said it was the job of a journalist not to regurgitate the kind of language used in press releases, and explain things in a clear way to the public.
He said that while McCabe may not have been happy with his news reports on the O'Higgins report, Garda HQ weren't either. He said his job was to report on the facts of what was in the report.
Reynolds said: "I know McCabe was deeply unhappy with it. I know Nóirín O'Sullivan was unhappy with it. So be it."
He added that O'Sullivan had twice walked out of interviews with him, adding: "I think it's a lazy, unfair assumption to say I'd be soft on people. My record speaks for itself that I will ask the hard questions when they need to be asked."
"In the ether"
When later pressed on his awareness of the rumours going around about Sergeant McCabe, Reynolds said: "I knew this was around in the ether. It wasn't being openly discussed, but people knew knew about it."
He said he never gave it any credence because he was aware the DPP had investigated and exonerated McCabe.
It was put to Reynolds that a false allegation was arising again against McCabe almost a decade after the fact, and that it would have damaged the whistleblower nonetheless.
He replied: "I'm here today because people made false allegations against me. It'll probably be talked about for the next 10 years.
I have the greatest sympathy for Sergeant McCabe… But I didn't receive any negative briefing and I wasn't party to any of that stuff.
The former editor-in-chief of Independent News and Media, meanwhile, has told the Tribunal that he didn't hear any of the rumours that were allegedly heard in media circles about Maurice McCabe.
Stephen Rae also rejected an assertion that the publications he oversaw were pro-gardaí in the Maurice McCabe affair.
He said: "I would say it's completely untrue. 98% of the content we carried would have been – if you will – pro-McCabe."