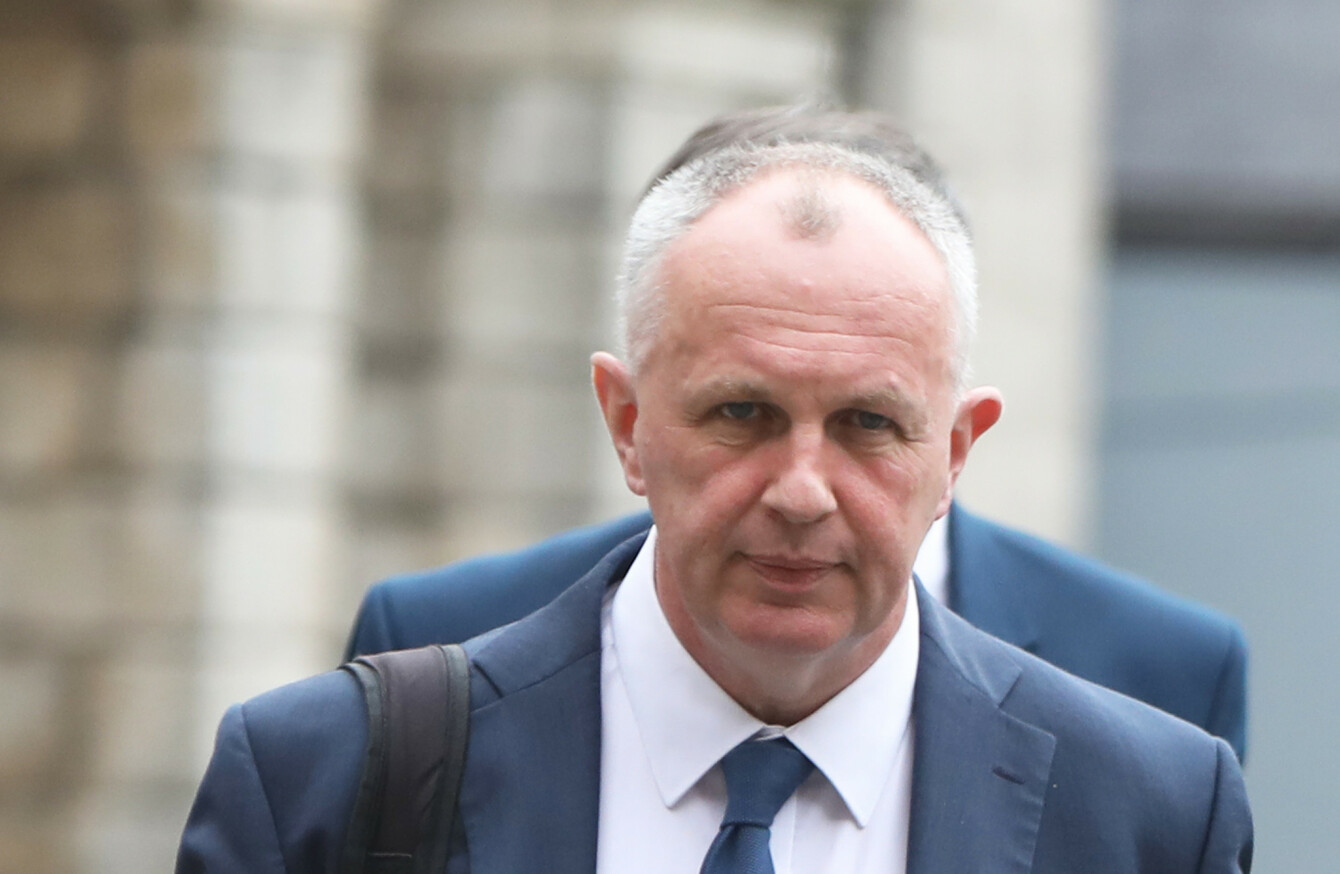 Mick Clifford arriving at Dublin Castle this morning.
Image: Leah Farrell/Rollingnews.ie
Mick Clifford arriving at Dublin Castle this morning.
Image: Leah Farrell/Rollingnews.ie
Updated 7.31 pm
A JOURNALIST FOR the Irish Examiner has told the Disclosures Tribunal that a source familiar with politics told him back in 2014 that "you know your man McCabe is supposed to be a kiddie fiddler".
The Tribunal is currently looking at allegations that there was a smear campaign run against garda whistleblower Maurice McCabe by senior gardaí.
In recent weeks, we've already had the former editor of a Sunday newspaper claim that the current head of a daily newspaper told her that McCabe was a "paedophile".
We've also had a journalist say that former garda commissioner Martin Callinan told him Maurice McCabe had done "horrific things… the worst kind".
And giving evidence at Dublin Castle, Mick Clifford said that he heard the rumours going around McCabe at least three times in 2014 and that former garda press officer Superintendent Dave Taylor told him that there was an "obsession" with Maurice McCabe at senior garda level.
Clifford said he checked it all out, and knew McCabe had no case to answer as he was exonerated of any wrongdoing from a previous allegation of sexual abuse that had been made in 2006. He said his editor Tim Vaughan also came to him and told him about the rumours that year.
Taylor, meanwhile, has alleged that he was ordered by Martin Callinan to smear Maurice McCabe to the media and that Nóirín O'Sullivan knew about it.
Clifford told the Tribunal that Taylor filled him in on this when they met in around August or September 2016, and told him that either Callinan or Garda HQ in general was "obsessed" with Maurice McCabe and the issues he was raising.
Clifford said Taylor told him his relationship with Nóirín O'Sullivan deteriorated rapidly after Callinan stepped down.
Clifford also said that Taylor told him that he had his phones confiscated because O'Sullivan wanted to hide evidence of the smear campaign. Taylor has since told the Tribunal, however, that evidence to support his claims would not be found on those phones.
Clifford, in his book A Force for Justice about McCabe, had sections related to Dave Taylor.
He said he told Taylor "I'm doing this book, there's one part I want to check with you" for factual accuracy.
Clifford said today: "If there was anything factually incorrect in what Taylor had said, I was relying on him to point it out to me."
Taylor responded to Clifford a few days later with only one correction, in connection with a matter separate to McCabe.
The extract of the book that Taylor gave the go-ahead to contained a section describing how he would send texts to journalists smearing Maurice McCabe.
At the Tribunal, however, Taylor has said he didn't send texts to journalists smearing McCabe, and only ever did it in person.
That creates a conflict there between what it appears he gave the okay to Clifford to publish, and what he actually told the Tribunal. Similarly, McCabe has told the Tribunal that Taylor did say he sent texts smearing the whistleblower to the media.
Clifford maintained today that texts were a central "thesis" to what Taylor told him about the smear campaign, but couldn't say definitively if Taylor explicitly said sending texts to journalists.
Later today
Former Irish Examiner editor Tim Vaughan told the tribunal he first became aware of allegations when he overheard "snippets of a conversation" on the Dublin-Cork train, with a reference to "abuse" or "abused".
Vaughan said he thought this was towards the end of 2014 and he said that he later spoke to a source who was familiar with Dublin media circles, and was asked did he know there were rumours about Sgt McCabe.
Vaughan said his contact did not have further details. Mr Vaughan said as a result he decided to speak to journalist Clifford, who was leading the Examiner's coverage.
Clifford said earlier that he told his editor there was no basis for the rumours.
"I didn't get a briefing from anybody, negative or positive," Vaughan said. "I didn't take it seriously because I considered Sgt McCabe a man of integrity".
Vaughan also said that there was a point of view that it should be okay for the journalist to acknowledge the source of a story if the source had waived privilege.
Vaughan said this "could be a dangerous path to go down", with unforeseen consequences.
"Protecting sources is at the heart of journalism and once you start pulling on that thread it starts unravelling and you have no way of knowing where it goes," he continued.
Vaughan said a source could be under duress, or a second source might also be revealed, and there could be potential problems in relation to future contacts who would be reluctant to come forward.
Other journalists
Newstalk courts correspondent Frank Greaney said he had "professional dealings" with Supt David Taylor, who was garda press officer when he was working as a journalist with 98FM.
"He never mentioned Maurice McCabe whether it was in a negative light or otherwise," Greaney said.
#Open journalism No news is bad news Support The Journal

Your contributions will help us continue to deliver the stories that are important to you

Support us now
RTÉ journalist John Burke said that the Garda Press Office would give formal on-the-record replies to queries, but not off-the-record material. Burke said he did not receive any off the record briefings from Supt Taylor.
Burke said that State bodies should do their business in public, and he would be wary of off-the-record briefings from State bodies. He said he was not aware of any allegations of sexual assault made against Sgt McCabe until made public in media reports.
Burke sad he was "mystified" as to why he appeared on a list of journalists Supt Taylor said he briefed about Sgt McCabe.
Burke said if he had heard such an allegation, the first thing he would have done would have been to ask Sgt McCabe or his representatives about it.
"The fact I did not speaks for itself," Burke said.
Burke said that after Supt Taylor was transferred out of the press office, the superintendent contacted him and they agreed to meet for a coffee in Dublin city centre.
"We met for a coffee, but nothing ever really came of it," Burke said.
List
The Tribunal is also scheduled to hear evidence from RTÉ crime correspondent Paul Reynolds.
He is one of a number of journalists named by former garda press officer Superintendent Dave Taylor. It's Taylor's assertion that he gave these journalists negative briefings about McCabe on the orders of Callinan.
Taylor's account has been criticised by counsel at the Tribunal for lacking detail as, in the case of Reynolds and others, he was not able to say where or when he smeared McCabe to them or details of how they reacted.
In a statement to the Tribunal, Reynolds has already indicated that he never got such a negative briefing about McCabe from Taylor.
The claims of Taylor will be put to the RTÉ journalist, similarly to how others named by Taylor will be in the coming weeks.
Later in the week, we're due to hear from other well-known journalists such as Conor Lally, Mick O'Toole and Paul Williams.
- With reporting by Gerard Cunningham
For a daily update on the Tribunal in a digestible format, you can sign up to receive our email here.