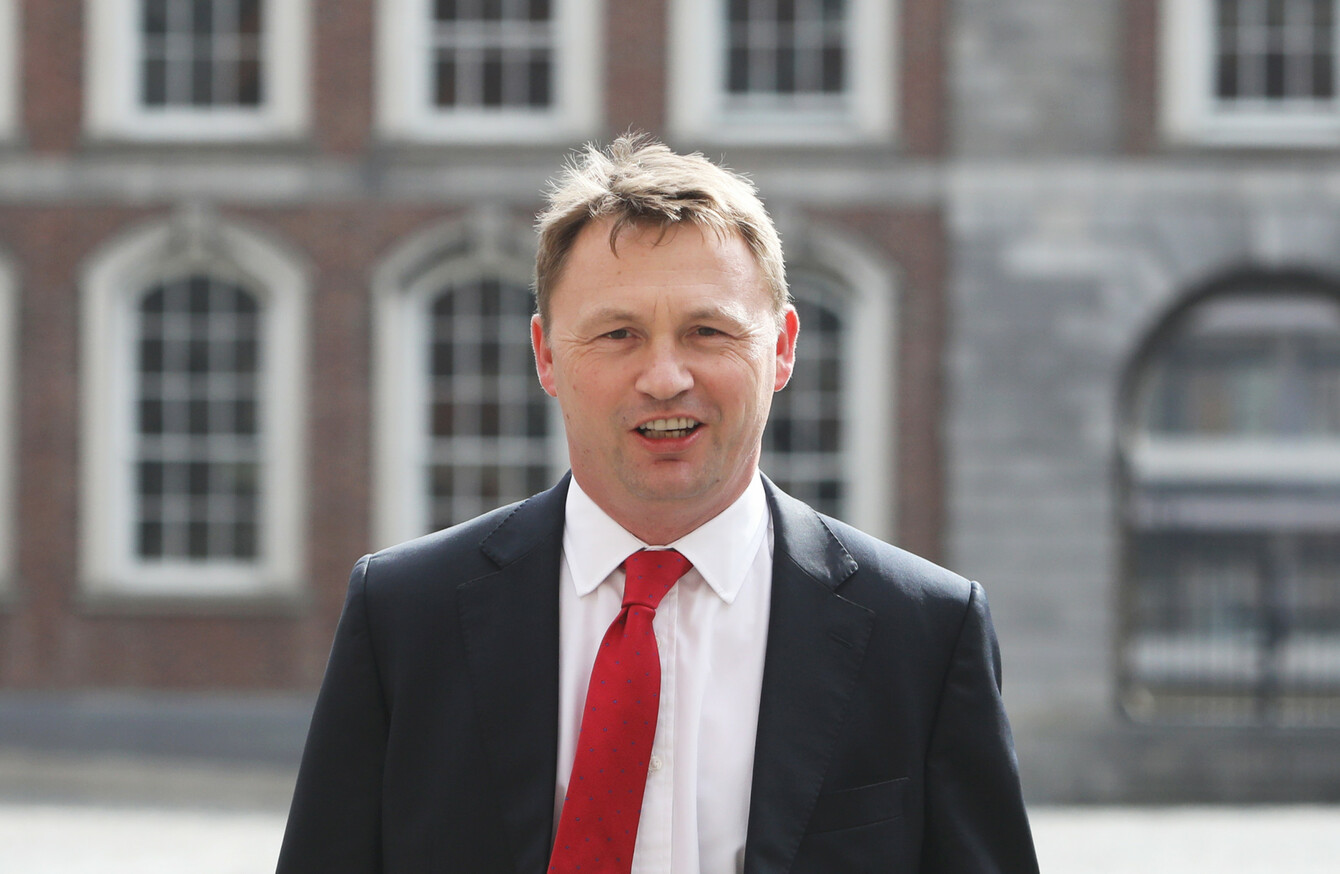 Sebastian Hamilton of the Irish Daily Mail.
Image: Leah Farrell/RollingNews.ie
Sebastian Hamilton of the Irish Daily Mail.
Image: Leah Farrell/RollingNews.ie
Updated at 5.45pm
TWO SENIOR NEWSPAPER editors have told the Charleton tribunal that they were not given negative briefings or smears about garda whistleblower Sergeant Maurice McCabe.
The tribunal is looking at allegations by former garda press officer Superintendent David Taylor that he was directed to smear McCabe. Former commissioners Martin Callinan and Nóirín O'Sullivan deny there was any smear campaign.
Irish Mail on Sunday editor Conor O'Donnell told the tribunal that in early 2014 journalist Debbie McCann went to her news editor Robert Cox saying there was "an allegation of sexual impropriety" against McCabe.
Cox then reported this to O'Donnell, who authorised McCann to approach the D family.
The DPP had previously directed no prosecution saying there was no evidence of an offence disclosed following a garda investigation into an allegation by Miss D in 2006.
McCann called to the D household, spoke to Miss D's mother, and learned the family was not willing to speak to a reporter.
O'Donnell said that McCabe was identified to him by Cox, but he was not told the identity of the D family, and did not know Miss D's father was a garda officer. O'Donnell said he had no knowledge of any reporter being negatively briefed.
"We had a duty to investigate it, and we did. Nothing came of it, and we printed nothing," O'Donnell said.
O'Donnell said he did not discuss the story with Irish Daily Mail group editor Sebastian Hamilton. Journalist Alison O'Reilly told the tribunal last week that she was informed by McCann that Hamilton stopped the story.
O'Donnell said that he did not know who McCann's source was for the story. He agreed with Michael McDowell SC, representing McCabe, that the source was most likely a garda source.
Irish Daily Mail group editor Sebastian Hamilton said that O'Donnell as editor of the Irish Mail on Sunday had editorial independence and would not need Hamilton's approval to run a story.
"We trust our editors to do their job, and they do their jobs extremely well," Hamilton said.
I never heard any negative story, was not aware of any negative story at any point about McCabe beyond what appeared in public.
Hamilton said that he did not believe he should be compelled as a journalist to discuss who he met or talked to and said journalists had a duty of confidentiality to protect their sources.
"I would regard this, and I think most journalists would, as a duty we owe to the profession of journalism and to press freedom to not reveal sources," Hamilton said.
Hamilton said that the account given by O'Reilly was not logical, and that she had a grievance against her employer and was bringing a legal case against the newspaper.
Hamilton said that O'Reilly had described an interview with Miss D which everyone accepted could not have taken place.
Tribunal chairman Peter Charleton said the tribunal was set up in February 2017, and it took until July 2017 for the Daily Mail to talk to tribunal investigators "while at the same time you're thundering in your editorials".
"All I can say is that from the beginning I was concerned about any breaches of journalistic privilege," Hamilton said.
"Extremely surprised"
Irish Times security and crime editor Conor Lally told the tribunal he was "extremely surprised" to be included in a list of journalists press officer Supt Taylor said were briefed negatively about McCabe.
"I was extremely surprised to see from the opening statement of counsel to the tribunal that my name was given by Supt Taylor as a journalist to whom he had given a negative briefing about Sgt Maurice McCabe," Lally said in a statement to the tribunal.
Lally said that in the course of his career he "took great care not to become too close to An Garda Síochána or anybody else so as to preserve the independence and integrity of my journalism".
Lally claimed privilege when asked to identify his own mobile phone number to tribunal investigators, and said he was concerned that if he began to answer questions on particular conversations he might have had, it could lead to sources being identified.
"No member of the garda ever, past or present, negatively briefed me about Sgt McCabe," Lally said.
Lally said he became aware around 2011 that there was "a historical complaint" made against Sgt McCabe. On making inquiries, he learned from "a source independent of An Garda Síochána" that the case was "thrown out" by the DPP.
Even from the outset it was clear to me this had gone absolutely nowhere.
#Open journalism No news is bad news Support The Journal

Your contributions will help us continue to deliver the stories that are important to you

Support us now
Lally said the information was given to him as an "explainer" of Sgt McCabe and nobody was saying Sgt McCabe was "a bad guy".
Lally said the rumour resurfaced in 2013 or 2014, when it was "doing the rounds in journalistic circles".
"It was a dead piece of information from the off," Lally said.
Lally said that around the time of Public Accounts Committee hearings in January 2014, other journalists seemed to have the same information he did, and he remembered thinking "I'm not the only one who is aware of this".
Lally said he spoke often to Supt Taylor. "It sounds bizarre but I don't recall ever having a conversation with him [Taylor] about Maurice McCabe," Lally said.
I value my independence very much. I don't get close to An Garda Síochána, I'm not close to Garda headquarters.
Lally said he did not recall reading a series of articles written by journalist Paul Williams about Miss D in 2014.
Michael McDowell said that the stories reported by Williams "escalated from an interview with Miss D, to the matter being raised with Micheál Martin, to the matter being raised with an Taoiseach".
"I have no specific recollection of reading them at the time. That's not the same as saying I was unaware of them," Lally said. He said that after four years he could not recall which stories he might have read.
Lally said that when he interviewed Miss D in 2017, it was to get her side of a story of how a Tusla copy and pasting error in handling her information led to an investigation into Sgt McCabe and his family.
Lally said that the abuse allegation against Sgt McCabe was "completely out of bounds".
"The minute you start talking about it you were perpetuating and spreading a really nasty rumour about Sgt McCabe for which there was no evidence," he said.
Lally continues his evidence tomorrow.