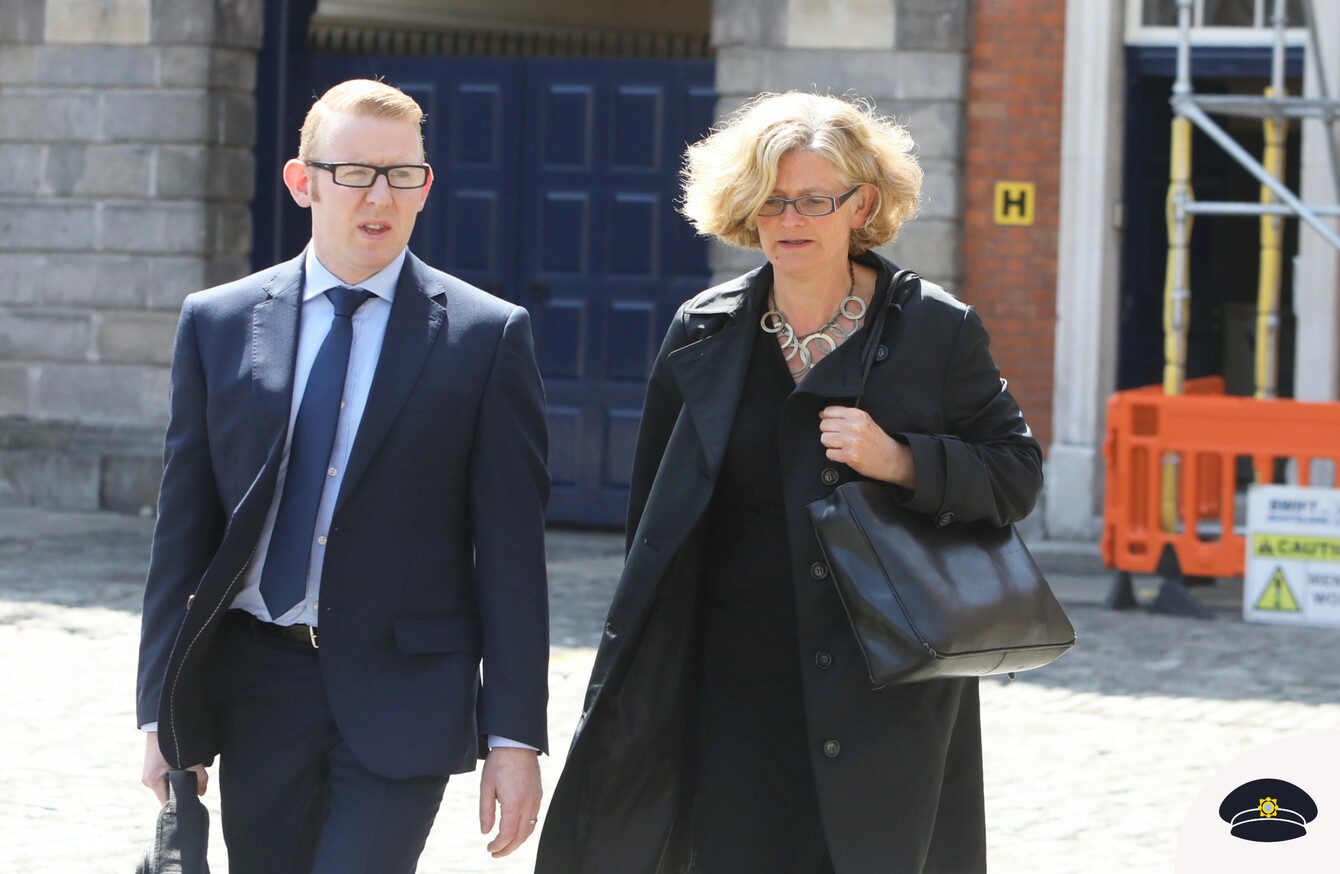 Pictured is Fiona Ward after giving evidence on the second day of public hearing at the Disclosures Tribunal in Dublin Castle.
Image: Leah Farrell
Pictured is Fiona Ward after giving evidence on the second day of public hearing at the Disclosures Tribunal in Dublin Castle.
Image: Leah Farrell
THE CHAIRMAN OF the Charleton tribunal has said that he needs to know when gardaí discovered that a false allegation of sexual abuse containing incorrect information was "a silly error that was a denigration of someone's reputation".
The tribunal is examining claims that allegations of sexual abuse were used as part of a campaign to smear and undermine the reputation of garda whistleblower Sergeant Maurice McCabe.
Mr Justice Peter Charleton said he also needed to find out how information about the false allegation was passed on from Bailieboro garda station in Co Cavan to senior officers in Sligo and in Dublin.
And he needed to hear how an "idiotic follow-up" occurred in September 2015 where Tusla, the child and family agency, wrote to Sergeant McCabe telling him his children were at risk.
The tribunal chairman said: "I need to know how the garda reacted to this matter. Did they say 'oh he's at it again'. Did they say it's absolute nonsense?"
Mr Conor Dignam SC, for the Garda Commissioner, said that in 2013 Supt Leo McGinn, believing it to be a new allegation, felt the report warranted investigation by a unit external to the division.
However, he said ultimately no external investigation was carried out. Mr Dignam said the evidence would show that quite rapidly in June and July it became apparent to Chief Supt James Sheridan, the senior garda in the division, that there was an error, and in fact the allegation was a repeat of the 2006 matter which had already been investigated, and that it required no further investigation.
Ms Fiona Ward, a director of counselling with RIAN, a free counselling service under the remit of the HSE, continued her evidence before the tribunal for a second day.
She outlined how after incorrect records were sent to gardaí by HSE Child & Family Services in error in 2013, she wrote to the chief superintendent of the Cavan-Monaghan division where Sergeant McCabe was based asking that the incorrect records be returned for destruction.
On behalf of Sergeant McCabe, Michael McDowell SC asked if anyone in the agency discussed whether Sergeant McCabe was "owed the small civility of telling him that his reputation was being shredded in private as a result of gross incompetence."

Contact
Ms Ward said that because they had not been in touch with Sergeant McCabe about the allegations, they did not need to contact him.
"I absolutely can see the gravity and severity of the error for Mr McCabe and apologise," Ms Ward said.
Mr McDowell said it appeared that the Tánaiste had been informed in 2015 about the allegations, "but nobody bothered to tell Sergeant McCabe about it."
"I wasn't aware of that," said Ms Ward.
"My understanding was that the information was corrected. I had no information that the incorrect information was still in circulation. I was shocked to learn that."
Mr McDowell also said that the description of the original allegation had been characterised in a number of ways over time, from "humping" in an original statement, and subsequently to "molestation and inappropriate touching", and then to "dry humping".

Report
On 9 June 2014, Chief Supt James Sheridan wrote to Ms Ward to ask for clarification on whether the allegation was new or related to a previous report, and how the error had occurred and was discovered.
Ms Ward said that while the information was new to Child Protection Services, it had already been reported to gardai in 2006.
The tribunal heard that Insp Pat O'Connell spoke with Ms Ward later in June 2014 seeking clarification, and had asked if it was "a typographical error /cut and paste" which led to the incorrect
information being sent out.
Ms Ward said she confirmed this was the case. She agreed with tribunal barrister Pat Marrinan SC that this was the first time the "cut and paste" explanation was suggested.
#Open journalism No news is bad news Support The Journal

Your contributions will help us continue to deliver the stories that are important to you

Support us now
"I was using the words he was using. It was an easy way to explain it but it wasn't accurate," she said.
She said she was aware of who Sergeant Maurice McCabe was from news reports at the time.
But she said she was not suspicious that "something maybe was a bit amiss here, that it was a coincidence that these errors had happened".
"You didn't get the impression that improper use was being made of this material?" Mr Marrinan asked.
"On the basis of the interactions that I had, no," said Ms Ward.
If procedures put in place for face to face meetings in 2012 had been followed, the "catastrophic error" would have been identified at a much earlier time, Mr McDowell said.
He said someone would have noticed the allegation had "escalated from rubbing during a game of hide and seek to a criminal offence which carried a sentence of life imprisonment", he said.
Guidelines recommending regular face to face meetings between the Child Protection Service, Social Work Teams and gardai to clarify all ongoing cases were issued by the HSE in December 2012.
Ms Ward said volume of work and the difficulty arranging meetings between different agencies meant that meetings were heard on a case by case basis instead.