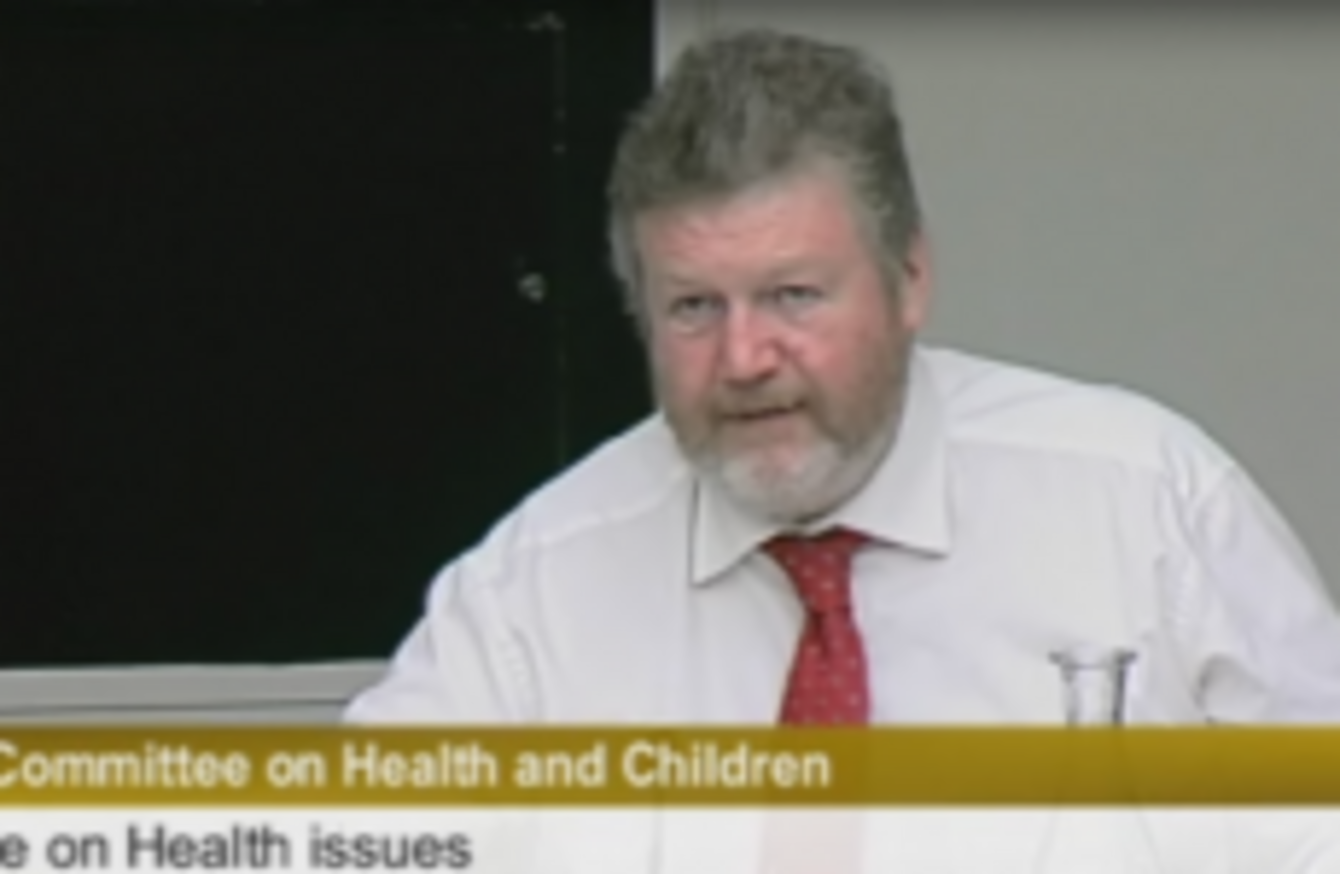 James Reilly
Image: Oireachtas TV
James Reilly
Image: Oireachtas TV
Updated: 1.05pm
HEALTH MINISTER JAMES Reilly has confirmed that his department is looking into making Epipens more widely available following the death of Emma Sloan last December.
The 14-year-old suffered a fatal allergic reaction in Dublin city centre after accidentally eating satay sauce containing peanuts.
Her mother, who addressed the health committee on the issue last month, was unable to get an Epipen from a chemist as she did not have a prescription.
Reilly extended his "deepest sympathy" to the Sloan family, but said that it would not be appropriate for him to comment on the case further as the Pharmaceutical Society of Ireland is currently "undertaking a statutory investigative process related to events on the night Emma died".
"Let me say first of all that my Department is currently examining the feasibility, taking account of policy and patient safety considerations, of amending Prescription Regulations, to facilitate wider availability of adrenaline pens in emergency situations.
My Department plans to conduct a consultation process which will serve to inform a policy decision on the matter.
Reilly said that there "are complex considerations to be considered to ensure that patient safety is fully protected".
"These include for example, the identification of the category of persons designated to administer the auto-injector. This would involve a register in order to clearly identify the individuals who have an entitlement to supply or administer the adrenaline auto-injector."
The minister said he supported making Epipens more widely available "where it is safe and appropriate".
Reilly also spoke of his dissatisfaction at the way junior doctors are treated. He noted that HSE compliance with 24-hour shift targets had increased from 43% in the first quarter of 2013 to 93% this March.
However, he noted that more needed to be done and questioned why junior doctors are sometimes asked to work 36-hour shifts, making them more prone to make mistakes that could put patients and their careers at risk.
"We don't let lorry drivers work more that 8 hours a day," Reilly added.
Discretionary medical cards
Also during the committee meeting, it was confirmed that up to 15,000 discretionary medical cards will be returned by next week, the Oireachtas Health Committee has been told.
Laverne McGuinness, the Director General of the HSE, said that 10,000 cards will have been returned by tomorrow, with any remaining cards sent out by next week.
Last month, the Government announced that around 15,000 people with acute or life-long medical conditions, who lost their discretionary medical card or GP visit card through a review carried out between 1 July 2011 and 31 May 2014, would have them returned.
The u-turn came after a public outcry over the issue. Junior health minister Alex White noted that work in this areas is "proceeding at a very considerable pace".
White added that the Government remains committed to introducing both free GP care for under 6s and over 70s. He described the latter as "a public health priority group".
"There's a meeting of minds [in Labour and Fine Gael] in relation to that," he added.
Medicinal cannabis
White also confirmed that he is set to sign off on medicinal cannabis for MS sufferers within days.
McGuinness shared a number of HSE figures, relating to the twelve months to April 2014, during the discussion:
The Health Service has seen an increase in new Emergency Department attendances (+3% or 11,353 people). The numbers admitted as inpatients from Emergency Departments has increased by 783 (+1%) when compared to the same period last year. Admissions through Medical Assessment Units have risen by 1,101 – which is 10% higher than in 2013.

Trolley numbers are down 8.8% when compared to same period last year. The month of April 2014 compared to April 2013 shows a 19.8% reduction in patients waiting for a ward bed.

Elective admissions in April 2014 were 5% lower (-1,771 people) than April 2013 values and day care attendances were 2% lower (-5,644 people).

The percentage of patients waiting less than 8 months for an inpatient or day case procedure is commensurate with April 2013 values. At the end of April 90% (41,463) adults were waiting less than 8 months for a planned procedure and 4,462 (10%) were waiting over 8 months.

Outpatient attendances are 26% ahead of target with 1,071,808 attendances for the first four months of the year.

During the first three months of the year the National Ambulance Service (NAS) responded to over 72,226 emergency calls, an increase of 4.5% compared to last year.

On average, the NAS has also received an increase of 1,000 calls per month
Beyonce & Jay Z (yes, really)
Senator John Crowne was among those to thanks Reilly for his service to the Department of Health and say he hoped he would remain in the position after the pending Government reshuffle.
Crowne described Reilly him as a reforming minister would had been dealt "a lousy hand" and come under "ferocious pressure" in terms of cutbacks.
In one of the more original contributions to the discussion, Crowne said he feared the Department of Health was now run as "a branch office of the Fine Gael election campaign", presided over by "Beyoncé and Jay-Z-style entourage".
Reilly concluded the meeting by  "commending the men and women in our health service who do such a sterling job".
Committee Chair Jerry Buttimer wished both Reilly and White well "this afternoon or tomorrow or whenever [the reshuffle] comes".
Originally published: 11.25am