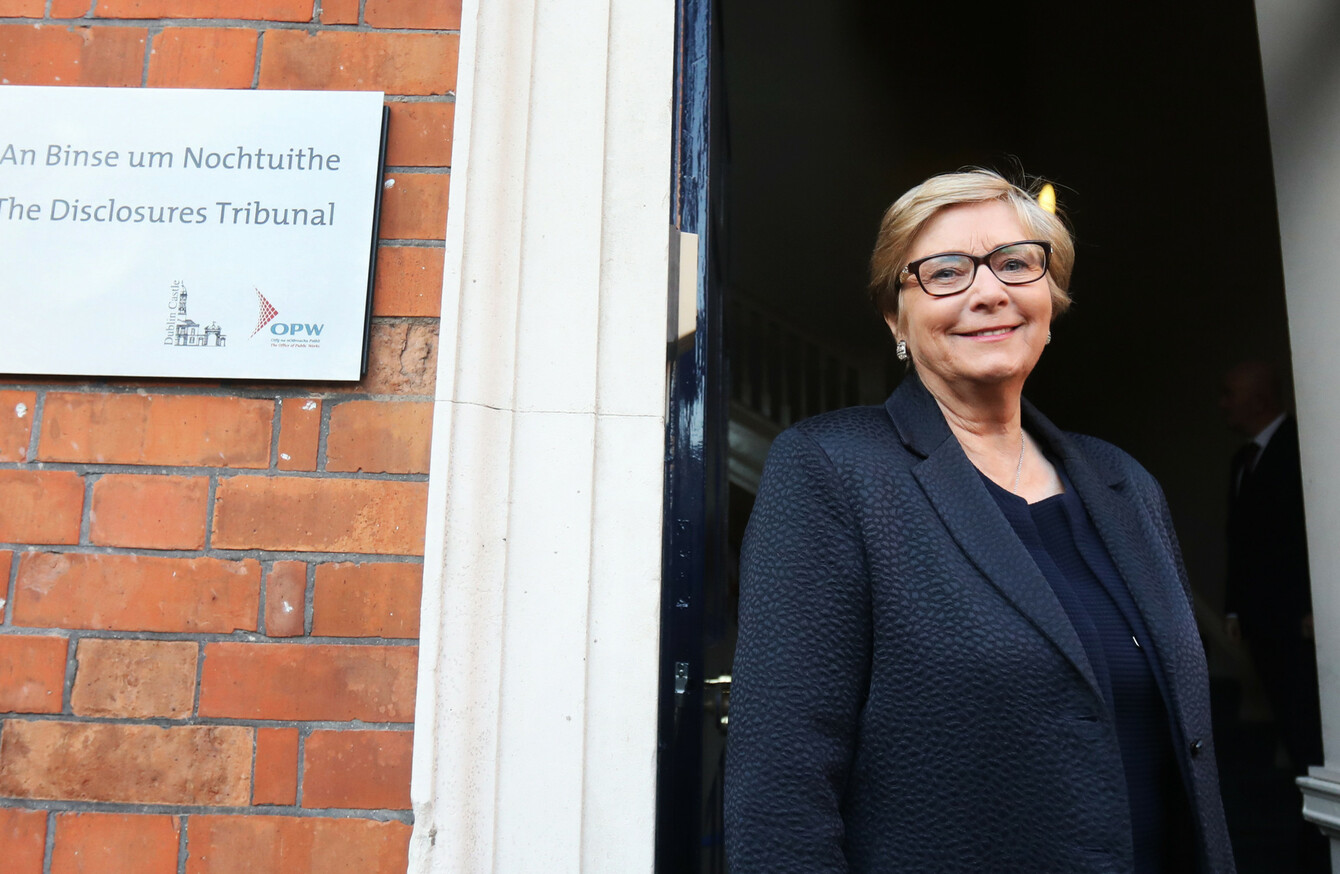 Image: Leah Farrell/Rollingnews.ie
Image: Leah Farrell/Rollingnews.ie
Updated 5pm
THE DISCLOSURES TRIBUNAL has heard that former Minister for Justice Frances Fitzgerald did not think an email forwarded to her informed her of the garda commissioner's legal instructions despite containing the lines "the Garda Commissioner's authorisation had been confirmed".
The Tribunal is currently examining whether then-commissioner Nóirín O'Sullivan used unjustified grounds to challenge Maurice McCabe's credibility and motivation at the O'Higgins Commission.
It is also tasked with looking at contact between the gardaí and relevant government departments on this matter.
Reaching out to McCabe
In the witness box this afternoon, former Tánaiste Fitzgerald was asked about her contacts with Maurice McCabe, Nóirín O'Sullivan and what she thought about the legal strategy being taken at the O'Higgins Commission.
The Tribunal heard of a series of meetings and correspondence between the minister and McCabe in 2014 and 2015.
She said she became aware of the Ms D allegation of sexual assault against Maurice McCabe in April 2014, and that case was to be part of an independent review mechanism to be set up.
Fitzgerald said she received a letter from Maurice McCabe in October 2014 asking to meet. "I thought it was important to hear first-hand what his experience had been," she said.
Over the course of an hour-and-a-half, Fitzgerald said McCabe told her of the impact and fallout his whistleblowing had on him and his family.
In a further letter in February 2015, she said that McCabe had said "work was pretty impossible" and that he was facing a number of problems at his post in Mullingar.
Fitzgerald wrote to the Commissioner O'Sullivan to ask what supports had been put in place for McCabe, and how his issues could be addressed. She received a detailed response.
She was asked by counsel for the Tribunal today: "Did you consider at all whether the commissioner might – as alleged – have taken a different view in private as she did in public?"
"No, I didn't," she replied.
In her reply to Fitzgerald, O'Sullivan said: "Sergeant McCabe has been assured that his welfare and well-being are paramount in all actions that I have, and continue to take regarding his position."
In a mail dated 25 March 2015, McCabe personally thanked Fitzgerald for her intervention and said that she had helped to make a difference for him in his work life.
"It's great to be able to say for the first time in years I am happy going to work," he said at the time.
Two months later, he would learn that the garda commissioner had directed her legal team to challenge his credibility and motivation at the O'Higgins Commission.
"Did not inform on strategy"
So, on day two of the commission, an enormous row erupted between counsel for McCabe and counsel for O'Sullivan, when the latter's instructions were made clear.
Behind the scenes, figures within the Department of Justice and Attorney General's office were informed that this was happening.
An email explaining what was going on was sent by senior civil servant in the department, Michael Flahive, and it was forwarded to Fitzgerald's private secretary. This forwarded note asked the secretary to inform the minister.
Fitzgerald said that she wouldn't agree that this email informed her about O'Sullivan's legal strategy.
The email contains the following lines: "Counsel for the Garda Síochána has raised as an issue in the hearings an allegation made against Sergeant McCabe which was one of the cases examined by the independent review mechanism (IRM).
Presumably the Garda Síochána are raising the matter on the basis, they could argue (and Sergeant McCabe would deny), that it is it potentially relevant to motivation…. the Garda Commissioner's authorisation had been confirmed (although I understand separately that this may be subject to any further legal advice).
Context
In the Dáil in November, Leo Varadkar said: "I spoke to the Tánaiste who told me that she had no hand, act or part in this decision and that she was not aware of it until after the fact around the time it entered the public domain."
This entered the public domain in May 2016, on the back of media reports arising from transcripts from the O'Higgins Commission which showed O'Sullivan's barrister saying that his instructions were to challenge McCabe.
However, emails from her then-private secretary showed that Fitzgerald "noted" this email forwarded to her around 15 May 2015 about the row that was erupting between McCabe's lawyers and lawyers for O'Sullivan at the O'Higgins Commission.
"Did you not ask yourself what is going on?"
Fitzgerald maintained that it was not within her remit to interfere in the workings of the commission, and that the responsibility lay with Mr Justice O'Higgins to handle matters at the commission.
The email also closed by saying the minister had no function in relation to these matters.
She was asked by Tribunal counsel that, given her previous support of McCabe and her support for whistleblowers in general, if this email would have alarmed her.
It was put to her:
Did you not ask yourself what is going on? What is the commissioner doing down there with this?
She reiterated that she had no role in an independent commission, and that it wouldn't have been appropriate to get involved. She said she made a "conscious decision" not to get involved.
She would go on to add that she wasn't aware deputy secretary general Ken O'Leary spoke to O'Sullivan on the phone that day, and only became aware when that detail came to light at the Tribunal.
Fitzgerald added that did she not speak to Nóirín O'Sullivan, her departmental advisors or her political advisors about this email at the time.
Gsoc
Giving evidence to the Tribunal this morning, senior civil servant in the Department of Justice Martin Power said that he believes Fitzgerald would have been made aware of a number of emails related to McCabe around the same time a row was erupting at the O'Higgins Commission.
Power was also asked about an email sent by Gsoc on 21 May 2015 referencing the Ms D complaint of sexual assault against McCabe. It said: "Gsoc feels the Minister should be informed of the progress of the investigation, and you may wish to bring this correspondence to her attention."
A complaint had been made to Gsoc by Ms D in April 2014 about the gardaí's handling of the complaint made against McCabe.
Power originally could not say when the minister would have been informed about this email, but said that it would have happened at some stage.
But, after a near-one hour adjournment of the Tribunal, documents submitted by the Department of Justice last summer show that Fitzgerald was informed of Gsoc's report that day.
It was also put to Power by Michael McDowell SC, for Sergeant Maurice McCabe, that it would have immediately been clear that the two emails (15 May and 21 May) were related.
At around 11am, Power wouldn't say if he knew at the time that they were related but, after the further documents were put to him, he now said he could, and that this link was apparent.
McDowell said: "Was it forgetfulness an hour ago that you couldn't see any link?"
Power answered that he wasn't "trying to be unhelpful" and "simply didn't recall at the time" when asked first, but could now remember having seen copies of the correspondence sent between various officials at the time.
Documents sent by Department of Justice officials in the following week make clear they were aware of the link between the 15 May email detailing the O'Higgins Commission row, and the Gsoc letter on 21 May which detailed the Ms D allegation.
Power also explained that an email sent by Fitzgerald to nawaters@justice.ie would not have reached Secretary General Noel Waters because there was a typo in his email address.
She was attempting to forward on correspondence from Nóirín O'Sullivan when details of her strategy at the O'Higgins Commission were put in the public domain in May 2016.
Power said that Fitzgerald would have immediately received an email bounce back to say that her email was not delivered to Waters.
The Tribunal will continue to hear evidence from Fitzgerald tomorrow.