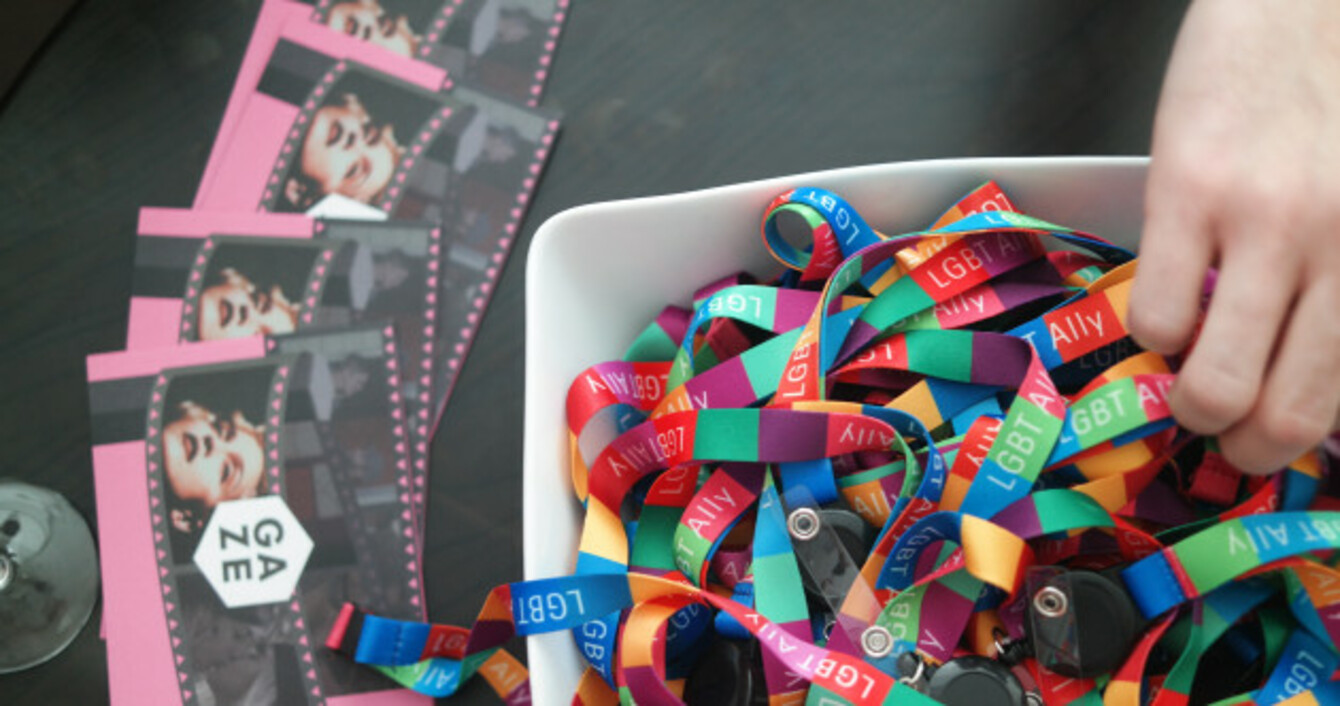 Image: Accenture
Image: Accenture
"YOU CAN'T DISPUTE that diversity equals innovation."
Dozens of companies across Ireland are beginning to launch diversity networks and campaigns for their employees, but it's not just to tackle the growing demand for inclusion – these companies have realised that diversity and inclusiveness are vital in the hunt for talent.
TheJournal.ie spoke to industry professionals to find out why diversity programmes and policies have become such an intrinsic part of some recruitment drives.
Group HR manager of Enterprise Rent-A-Car Ireland, Leslee O'Loughlin, told TheJournal.ie how being a workplace with active diversity networks and policies is vital for attracting the best talent in the market.
Having these programmes in place widens the scope of available high-skilled workers because many job seekers from minority groups are eager for a sense of inclusiveness in their workplace.
"Why would you not include people from a different demographic, whether that be LGBT, disability, whatever? That is so important in terms of bringing in talent," O'Loughlin said.
Again, I don't think you can dispute that diversity equals innovation.
According to research from Stonewall (an LGBTQ rights charity in the UK), LGB employees comfortable being out in the workplace are 67% more likely to be satisfied with their sense of achievement.
Meanwhile, trans employees who are comfortable disclosing their gender identity are 77% more likely to be satisfied with their job security.
Innovative diversity programmes
Enterprise Rent-A-Car Ireland integrates diversity and inclusion in an unconventional but effective way – by putting all new employees through a diversity training programme upon recruitment.
"All new joiners go through anti-harassment and discrimination training. They will understand that we have a zero-tolerance policy on discrimination," group HR manager of Enterprise Rent-A-Car Ireland, Leslee O'Loughlin, told TheJournal.ie. 
"In the training, we communicate that it is a safe space. We want you to be honest with your ideas and your thoughts because if you don't tease out your unconscious biases in those forms you don't really have the opportunity to create change agents."
Founded in 1957 in the US, Enterprise Rent-A-Car now operates in over 30 countries, with 7,200 locations around the world.
"When you're promoted again to a senior management position, it's a two-day, really intensive, diversity training course and you have to go through that multiple times," O'Loughlin said.
By having this intensive diversity training at the beginning of a staff member's career in the company, it filters out those who may not wish to be part of an inclusive workforce. What Enterprise is therefore left with is nothing but staff who are welcoming of all their co-workers, regardless of their background.
For the most part, it really does weed out people who maybe don't want to be part of that culture of inclusiveness.
Like most other major multi-national organisations that are leading the way with inclusion, Enterprise works with NGOs to ensure best practice. For example, the company collaborates with the Association for Higher Education Access and Disability (Ahead) to give opportunities to people with disabilities.
O'Loughlin said that having a well-versed range of people in the company breaks down the stigma that some employees may have had.
"Maybe you would have been unfamiliar with working with somebody who may be blind, or a wheelchair user, so you wouldn't necessarily have had that exposure," O'Loughlin said.
However, I find that when our employees at Enterprise start working with somebody who might be just like them but may be a wheelchair user, it sort of opens their mind, opens their experiences.
Networking
Echoing the words of O'Loughlin in relation to the importance of partnering with NGOs to ensure diversity policies are effective and ethical as possible, Margot Slattery of Sodexo Ireland said that the company teamed up with Stonewall to "make sure the company is adhering to best practice".
Slattery sits on Sodexo's global LGBTQ leadership team and has featured on the Financial Times list of OUTstanding LGBTQ Top 100 business leaders from 2014 to date. Sodexo Ireland is part of the French-owned Sodexo Group, the world's largest multi-services group.
With offices in Belfast, Dublin and Cork, Slattery said that the company's 2,300 employees work remotely across all 32 counties in Ireland. LGBTQ people scattered across rural Ireland have a significantly smaller pool of support resources available than those in cities.
But by teaming up with Stonewall, Sodexo Ireland launched its own internal LGBTQ network – Pride – for its staff members. Having a network available to not just LGBTQ staff, but allies alike has become a "key way to engage staff when they're off-site".
Sodexo makes it known to all potential newcomers to the company that no matter where they are located, the LGBTQ network is available for everyone to engage with for support.
"We're trying to make sure that they can feel that sense of belonging. They know they're not alone. They know that they're part of a group and that they have people to help them," Slattery said.
"It really helps people who are at different stages. Some people really want to talk and be open but some people are less so. Wherever you're at, there's something for you," she said.
Over the past few years, with the help of NGOs such as the Gay Lesbian Equality Network (Glen), the ESB has developed a number of diversity programmes for parents, LGBTQ people and people with disabilities.
Last year, it launched BeMe@ESB – the company's LGBTQ and allies network, similar to that of Sodexo's. The ESB also works with Ahead to enhance its disability networks and policies.
[image alt="2354-094" src="http://cdn.thejournal.ie/media/2017/10/2354-094-296x197.jpg" width="296" height="197" class="alignnone" /end]
The ESB also provides a diversity and inclusion programme in every induction briefing for its new staff.
#Open journalism No news is bad news Support The Journal

Your contributions will help us continue to deliver the stories that are important to you

Support us now
"People looking to join ESB are really impressed with the range of initiatives that we have in place," Bernie O'Connor, Diversity and Inclusion Specialist at ESB said.
"It's one thing expecting this but it's arriving on the doorstep on day one and you're being told that this is ESB's commitment."
'The journey isn't hard'
Each company that TheJournal.ie spoke to had one uniform message to others: that diversity and inclusiveness are vital in ensuring that all staff are as happy and comfortable as they can be in the workplace.
"I understand that some companies might not have the same time and resources as others, but whatever they can do they should do. It's really important, in the hunt for talent, to be actively involved and to be open," Slattery said.
Accenture Ireland – a management consulting company – also has an LGBTQ network, with 40% of its staff force signed up for it.
Peter O'Reilly, Accenture's LGBT network lead, told TheJournal.ie that he has worked with a number of companies who are starting their journey into creating a diverse workspace and that the following two pieces of simple advice are essential.
"Firstly, you need leadership support [from NGOs] and you need to understand why this is important," he said.
"Secondly, you need something at grassroots [level]. Whether you set up a network, or you have a committee, you need LGBT people who are grouped together and can make recommendations to the company."
If you have those two things the journey isn't that hard.
Rounding off, ESB's O'Connor said that the benefits of diversity policies and networks in the workplace could simply be "for one person who is struggling, or one person who will leave the job because they don't see it as an inclusive organisation".
"We can talk about diversity inclusion forever but it's actually about putting steps in place, taking action and being brave."
See here for more information on equality laws and rights in the workplace.