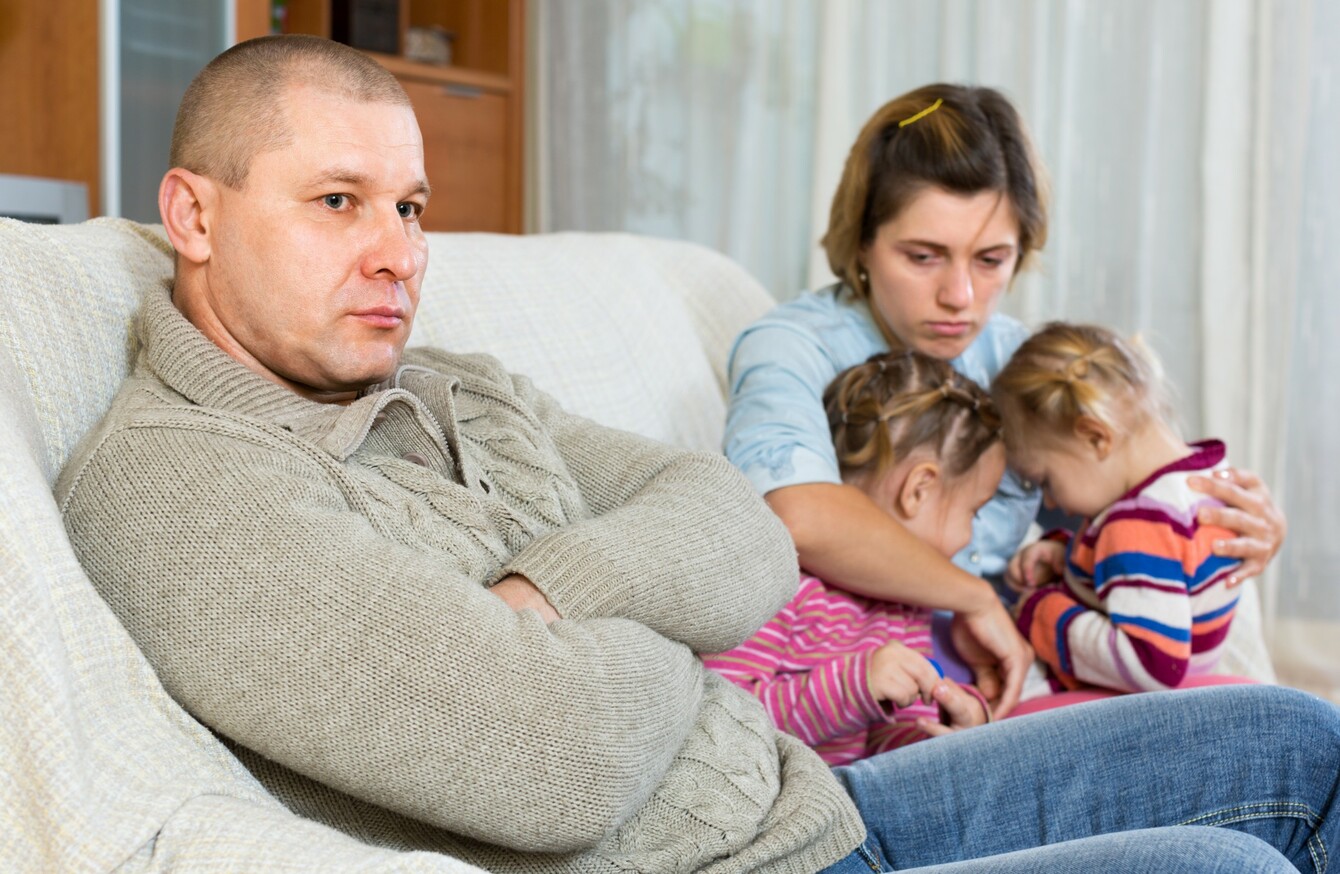 Image: Shutterstock/Iakov Filimonov
Image: Shutterstock/Iakov Filimonov
DIVORCED PEOPLE ARE much more likely to be admitted to hospital for psychiatric illness than their single, married or widowed counterparts, according to new figures from the Health Research Board.
The Activities of Irish Psychiatric Units and Hospitals 2015 report shows that 17,860 people were admitted to hospital for psychiatric care last year, a small increase from 17,797 in 2014.
Overall, the numbers of new cases continues to rise, both year-on-year and over a 10-year period.
Over half (58%) of all admissions were for single people.
Married persons accounted for a quarter of all admissions, while widowed people and divorced people comprised 4% each, representing their smaller portion of the population.
However although divorced people accounted for only 4% of all admissions, they had the highest rate of all admissions – at 759.9 per 100,000.
Married persons had the lowest rate of all admissions, at 261.9 per 100,000.
How divorce affects people
Bernadette Ryan, psychotherapist with Relationships Ireland, told TheJournal.ie that her experience is that men can feel very isolated after divorce.
"Separation and divorce is a very difficult time for people, as it's not just a single event, it's a process – and that process can be very wearing.
In my experience, men can become quite isolated after separation and divorce.
"They are usually the ones that leave the family home, they are usually the ones who have to move into some accommodation that is not suitable for children."
As in previous years divorced persons also had the highest rate of first admissions at 201.7 per 100,000, while married persons had the lowest rate, at 99.3.
The problem with isolation 
Ryan added that women might be economically worse off after divorce, but socially find it easier to maintain relationships.
Statistically, worldwide women end up economically much worse off than men through separation and divorce.
"And it's not to say women can't be isolated too, they can be overwhelmed by the work that goes into caring for children, for example.
But women tend to connect more with others, they tend to reach out for support.
"Men don't tend to do that, they can become isolated and are prone to depression.
Recently, though, I've noticed a lot more fathers who are coming along, they would be separated if not divorced.
"The emphasis is on the relationship being over, but they will always be the children's father.
Parenting role
"Men can find themselves pushed out of the parenting role. Our advice would be to reach out, to realise there are always lots of men in the same situation.
They go through the same grieving process as a death, but there's no funeral, no corpse, in fact the other person can be walking around looking great, with someone on their arm.
#Open journalism No news is bad news Support The Journal

Your contributions will help us continue to deliver the stories that are important to you

Support us now
"Self-care is very important in all of this, and therapy can be a big part of that."
Overall, the report from the Health Research Board found that first admissions increased last year by 172, from 5,942 in 2014 to 6,114 in 2015.
And the 2015 figure is 9% higher than the number of people who presented for psychiatric illness for the first time in 2006.
The 18-19 age group
There was a 12% decline in total admissions over 10 years, however, mainly down to a 20% drop in re-admissions.
The report also found:
The 18–19 year age group had the highest rate of first admissions, at 287.0 per 100,000
Depression, schizophrenia, mania and alcoholic disorders were the main diagnoses for admissions
Involuntary admissions accounted for 12% of all and 13% of first admissions,  unchanged from 2014
People aged 20-24 had the highest rate of admissions of all age groups at 577.7 per 100,000
Depression remains the most common diagnosis for all admissions.
Dr Graham Love, chief executive at the Health Research Board said: "This report provides essential data to inform decision-making in relation to planning for mental health services."
In line with the policy to close older psychiatric hospitals, admissions to psychiatric hospitals and continuing care units continue to decrease, dropping by half between 2006 and 2015.
Admissions to general hospital psychiatric units increased by 3% and admissions to independent private and private charitable centres increased by 12% in the same period.