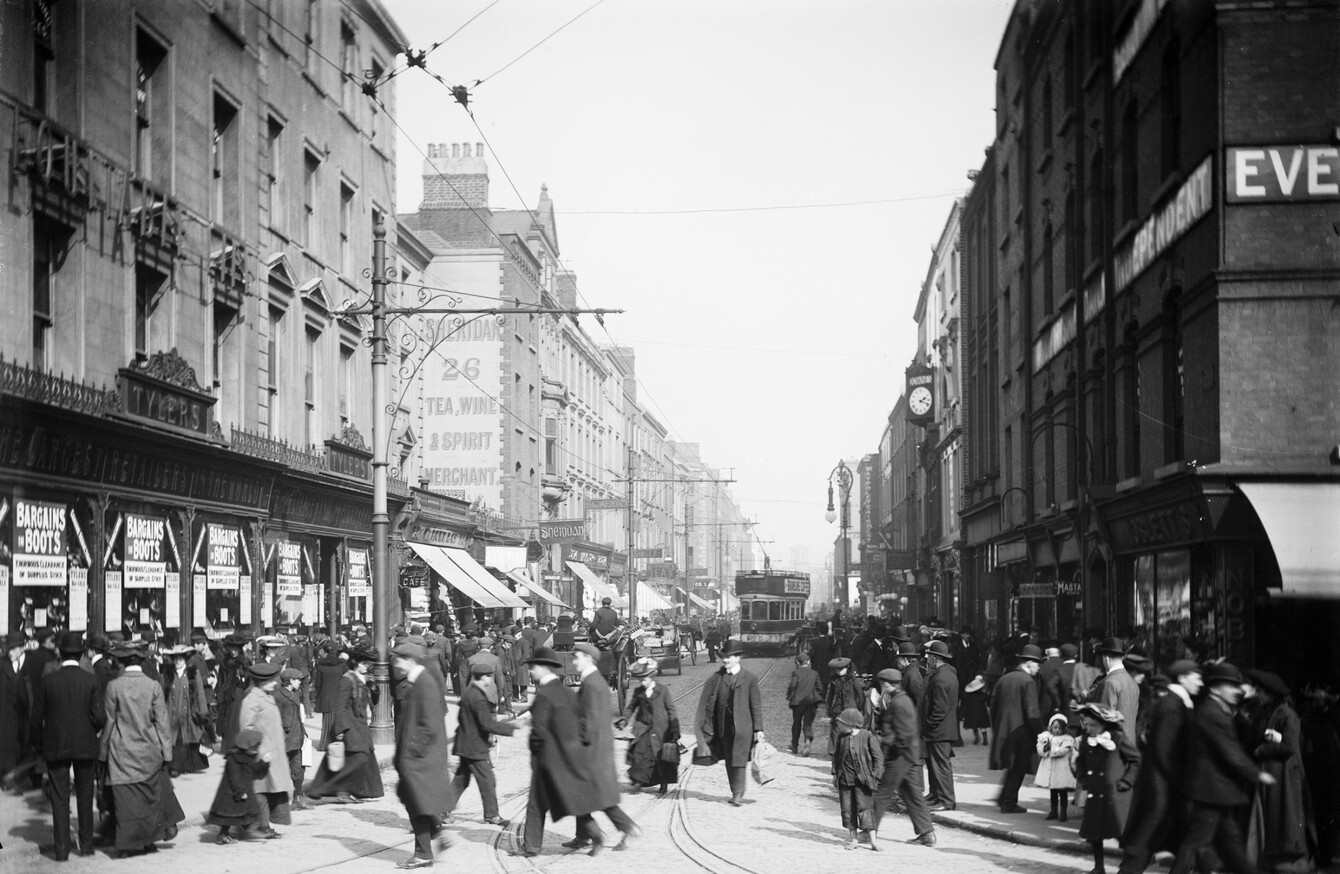 Image: Courtesy of the National Library of Ireland/Find Our Past
Image: Courtesy of the National Library of Ireland/Find Our Past
MAURICE GLEESON MB is a London-based doctor during the day, but when he's not working the Irishman is delving deep into his family's history, using DNA.
He's gearing up to speak at the Back to Our Past event at the RDS next weekend, an event set up for those who want trace their family's past.
While people generally know that genealogy involves delving through the documents – marriage, death and birth certificates for example – that make up a person's life, the advent of DNA has changed things immensely.
But it's still an area that is developing and growing, as Gleeson told TheJournal.ie.
DNA is set to be a dominant topic during the upcoming Back to Our Past show, and Gleeson – who describes himself as a genetic genealogist – will be talking about recent cases of where DNA helped to identify soldiers who were killed in World War One.
Journey to the past
It all started for Gleeson after his mum passed away in 2005. His father had been researching the family tree on and off for about 30 years, so he decided to help him – and "very quickly became addicted to the whole thing", he laughs.
While his father had researched back to the middle of the 1800s, Gleeson was then able to use the internet to push back the family tree by another generation. About two years into it, he discovered DNA testing as a way of getting more information about his family's past.
Gleeson was so taken by genealogy the he went on to run several specific DNA projects, including the Spearin Surname Project, Farrell DNA Project, Gleason/Gleeson DNA Project, Irish Caribbean DNA Project (iCARA) and the Ireland mtDNA Project.
For Gleeson, DNA testing "comes with a government health warning".
"You never really know what you are going to find, so there have been people who have done the DNA test and have found a very close match who turns out to be an adopted individual who is related via their grandfathers, or even their parents, so that can be a bit of a surprise, to find a half sibling you never knew existed. Some people find out they are not who they think they are, they were adopted themselves and they don't match their parents."
"If you don't like skeletons, don't go opening closets," warns Gleeson. "Luckily there weren't any skeletons in my closet but I was able to go back on one of my ancestral lines by an extra 200 years." With his Spierin line, he was able to jump back to the 1600s, while with another line he was able to find cousins in Australia who the family had not seen since the 1880s.
Types of DNA testing 
There are a number of companies offering DNA testing, which usually involves taking a cheek swab and mailing it away. The cost is on average around $100.
The tests can test the three main DNA types – yDNA (which traces the father – father – father line and so is most often used as you can track people through surnames); mitochondrial DNA (the mother line); and autosomal.
"Autosomal is the most popular and that helps you connect with cousins with whom you have a common ancestor within the last 200 years or so," explains Gleeson.
The major caveat is that if your cousin is not on the DNA database the company uses, then you won't be linked up, so these DNA tests are very dependent on who else has signed up. You could potentially search for relations and come up with nothing.
Gleeson says the interest in DNA genealogy has been increasing in Ireland, and he's come on board to help adoptees find their birth family. One woman, he says, was able to be reunited with four half-siblings she never knew existed.
The soldiers of World War 1
DNA is also being used to identify the soldiers lost in recent – and not so recent – wars.
There are currently 330,000 soldiers still lying under the soil of the western front. A number of years ago, a mass grave of 250 soldiers was found at Fromelles, and DNA testing was used to identify more than half of them, says Gleeson.
DNA was described at the time as being "one part of the puzzle" in identifying the men, and indeed for people searching for their family history, DNA is just one part of a puzzle.
#Open journalism No news is bad news Support The Journal

Your contributions will help us continue to deliver the stories that are important to you

Support us now
It's dependent on many factors, particularly how many other people have signed up to also get their DNA tested and put into a database. Official documents such as birth certificates or death certificates are often essential in proving exactly where someone's family emerged from.
But DNA testing is giving people another angle on looking back into their past.
Gleeson pointed out, for example, that people might not think they have a relative who fought in World War 1 – but by volunteering a DNA sample, they could uncover that they in fact do.
Irish in the Caribbean 
He also is involved with the Ireland-Caribbean project, and has been working with people in Birmingham trying to trace their Caribbean roots.
In addition, Gleeson is trying to get a project started in Montserrat, and possibly in Barbados and Jamaica, "to answer the question: is there an Irish genetic footprint still detectable in these Carribean islands?".
If anyone is interested in tracing their family history, he advises them to join the international society of genetic genealogy, which has no members fee. He also points out that such research can have a positive impact on people's lives.
"For the average person, doing their ancestry and finding new ancestors and learning more about their lives gives you a deeper sense of rootedness," says Gleeson. "And I think also sometimes we get inspired by what we find out about our ancestors and the times that they lived through and finding an ancestor who lives through a particular time spurs our own interst in researching that part part of local history."
Another big element for Gleeson is the sense of community he gets from meeting other people researching their family tree.
It is a very large community of like-minded people and there's a huge amount of social life involved with these particular groups. I think it opens up new social avenues as well, and that's certainly what happened with my dad – because even before the DNA we were reconnecting with cousins he hadn't seen in years.
One cousin – who he hadn't seen in 60 years – even handed him a package of letters written by his mother (Gleeson's grandmother) 90 years before.
Back to our Past, the genealogical and family history show, returns for its seventh year from Friday 21 to Sunday 23 October 2016 at the RDS in Dublin.