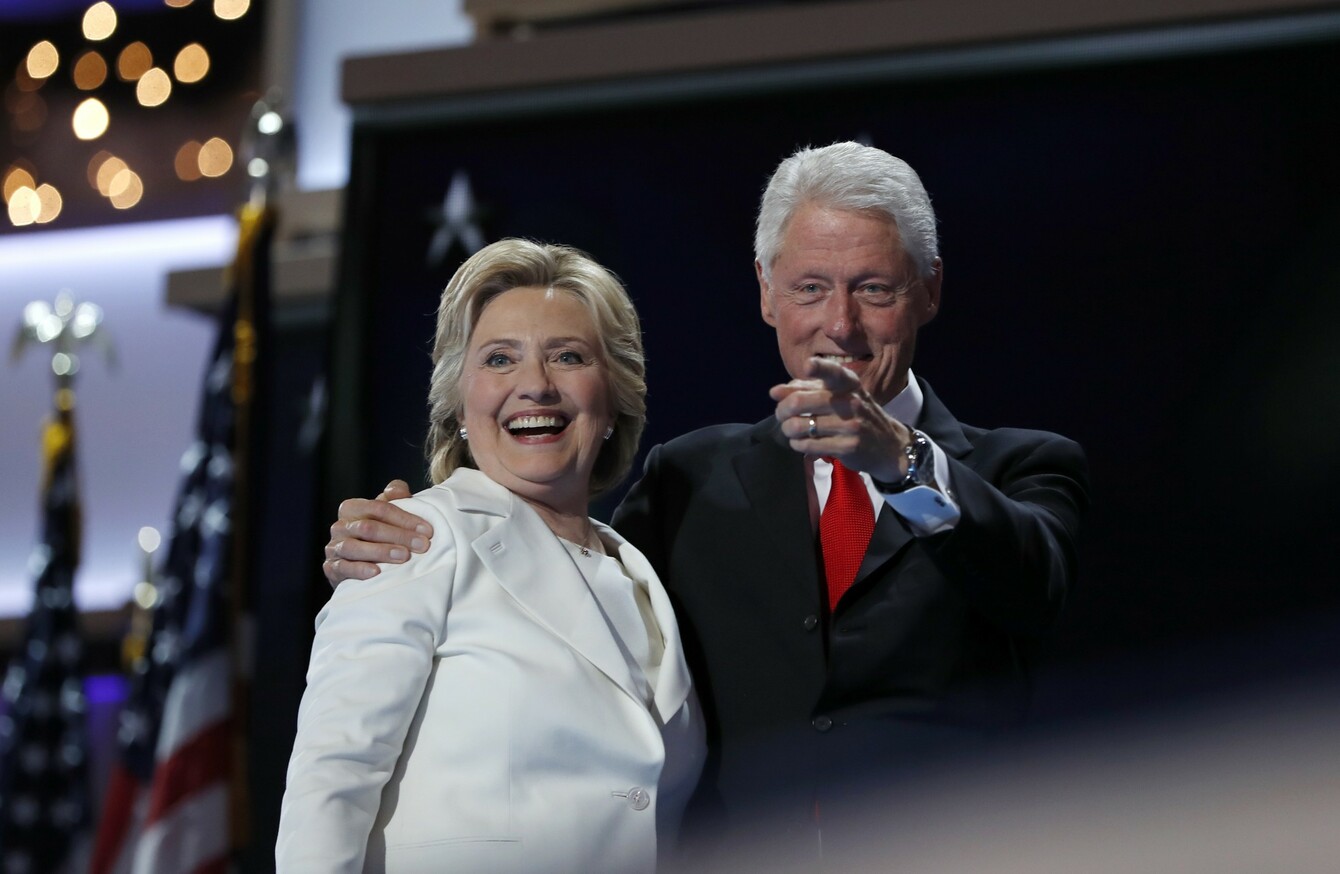 Democratic presidential nominee Hillary Clinton with her husband Bill.
Image: Carolyn Kaster
Democratic presidential nominee Hillary Clinton with her husband Bill.
Image: Carolyn Kaster
THE US DEMOCRATIC Party have been targeted by yet another cyber attack, just days after Donald Trump urged Russia to hack into Hillary Clinton's emails.
Hillary Clinton's campaign confirmed that an analytics program it used was breached in an earlier intrusion.
Last week, a hack on Democratic National Committee servers resulted in an embarrassing leak of emails that revealed how party leaders sought to undermine Bernie Sanders, Clinton's rival for the party nomination, which she accepted this week.
Clinton's campaign has blamed Russia for hacking the emails, which were made public by WikiLeaks, avowed opponents of Clinton's Democratic nomination.
Snowden
Edward Snowden, a former US Government employee who released a valuable cache of National Security Agency documents and now lives in exile in Russia, has publicly criticised the strategy of WikiLeaks founder Julian Assange.
WikiLeaks responded as you might expect.
The Kremlin has dismissed allegations that it would interfere in the elections of another country as absurd, despite admitting planing, two years ago, to invade and annexed parts of Ukraine after its pro-Russian president was deposed.
But President Barack Obama – and the FBI – has refused to rule out the possibility that Russia is trying to sway the presidential election in favor of Republican Donald Trump.
Clinton's campaign said Friday the hack on the DNC had accessed an analytics data program that it used.
The program was maintained by the DNC, campaign spokesman Nick Merrill said in a statement.
Our campaign computer system has been under review by outside cyber security experts.
"To date, they have found no evidence that our internal systems have been compromised."
Multiple political entities
Meanwhile, the Democratic Congressional Campaign Committee (DCCC) said Friday it was the target of a "cyber security incident."
"The investigation is ongoing," spokeswoman Meredith Kelly said in a statement.
Based on the information we have to date, we've been advised by investigators that this is similar to other recent incidents, including the DNC breach.
She added that the DCCC was working to enhance its network security and "cooperating with the federal law enforcement with respect to their ongoing investigation".
The Federal Bureau of Investigation said it was working to determine the "accuracy, nature and scope" of reports of cyber intrusions "involving multiple political entities."
#Open journalism No news is bad news Support The Journal

Your contributions will help us continue to deliver the stories that are important to you

Support us now
In a statement, it said:
The FBI takes seriously any allegations of intrusions, and we will continue to hold accountable those who pose a threat in cyberspace.
More leaks on the way
WikiLeaks founder Julian Assange indicated that more Clinton campaign leaks were forthcoming.
"We have more material related to the Hillary Clinton campaign," he told CNN on Friday.
Those are extremely interesting. We will see what will come of them in due course.
He refused to say how WikiLeaks obtained the leaked emails, but pointed to reports that the DNC had previously been told its systems had been compromised by hackers. He said:
The DNC and the RNC have been Swiss cheese in terms of their security.
Despite criticism that he is helping to sway the election towards Donald Trump, Assange defended the leak, saying it was "true information."
If we don't understand what our institutions [are] doing we have no hope to reform them whatsoever.
US Secretary of State John Kerry raised the DNC hack with his Russian counterpart Sergei Lavrov in Laos earlier this week.
"Secretary Kerry has noted that we've been concerned about Russia's activity in this space for quite some time," said White House spokesman Eric Schultz on Friday.
I suspect that won't be the last time they have a conversation about this.