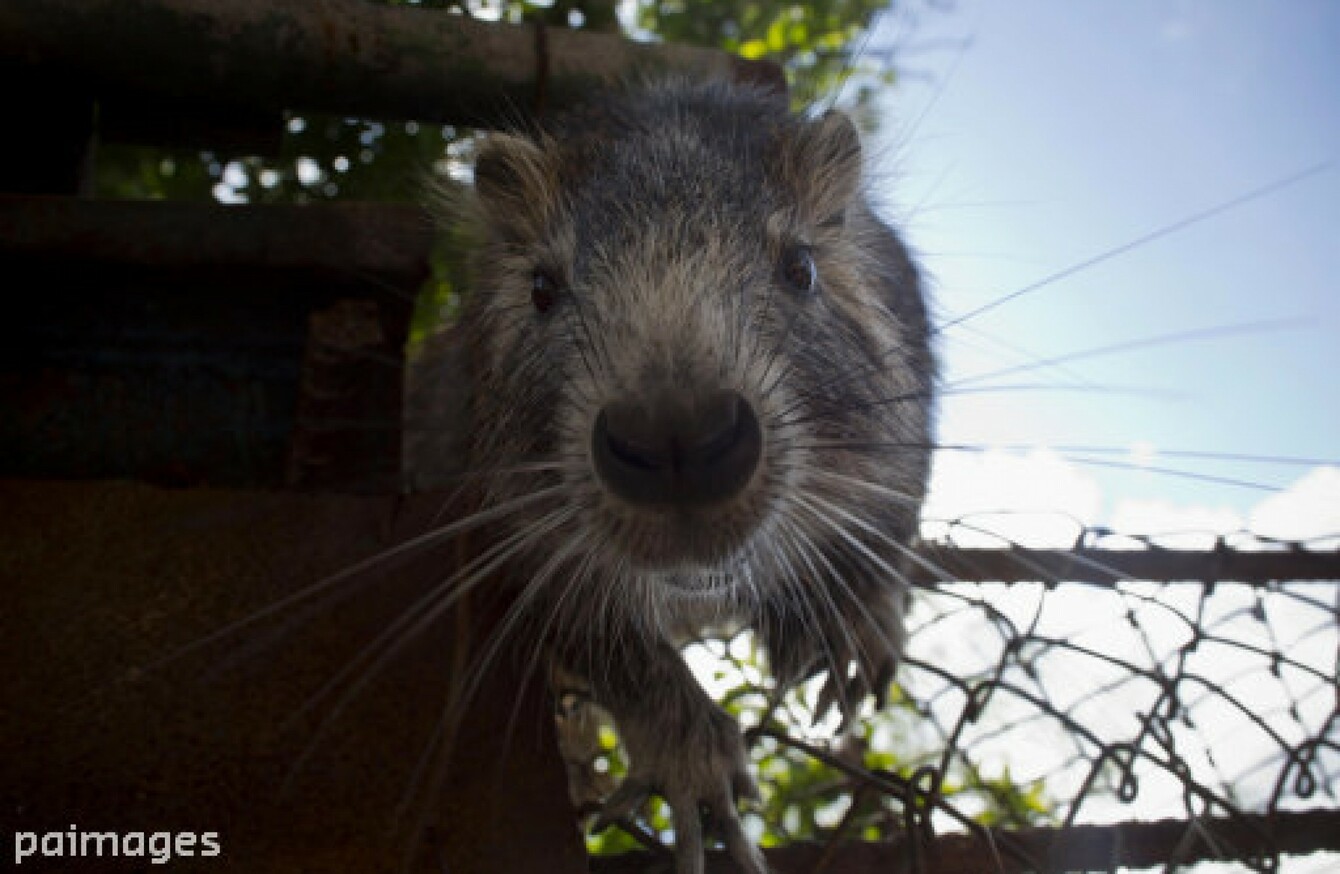 Image: Ramon Espinosa/Associated Press
Image: Ramon Espinosa/Associated Press
JUST WHEN YOU thought it was safe to go back outside, there have been reports today of a plague of 'super rats' set to infest Ireland over the winter months.
Indpendent.ie and The Irish Sun ran stories this morning about giant rats becoming a growing problem here.
The rats are said to be big and numerous, with reports that they are even becoming resistant to rat poison.
"Rats are in certain incidences becoming immune to the actual poisons that are being used," Trevor Hayden, managing director of Complete Pest Control, told TheJournal.ie
"There's actually studies starting to confirm that. But if you talk to any pest controller, they'll tell you that they're putting down poison and still have the rats."
Bigger, badder rats
Mild winters and wet summers mean that more rats are moving indoors to houses and staying put all year. Also, let's not forget the rat infestations that came about as a result of the Luas Cross City works.
Hayden said that rats are now surviving longer, and as a result are eating more and growing much bigger.
"They are definitely getting bigger," he said.
"An average rat for us – nose to bum – now would be 12 inches. We have gotten rats up to 18 inches, not including the tail."
Hayden is advocating for a new initiative, the Campaign for Responsible Rodenticide Use in Ireland (CRRU), which is trying to get people to use rat poison responsibly.
CRRU are trying to stop people from using too much poison in order to prevent secondary poisoning to other wildlife as a result.
Should we be worried?
With news of the reports, people took to Twitter to express equal parts concern and disbelief:
But before you go throwing out all your cheese and buying industrial grade rat traps, there is more than one school of thought on whether we should be really worried.
Michael Loughlin, a pest control consultant and also a member of CRRU Ireland, told TheJournal.ie that there was no evidence yet of any increased resistance in rats to poison.  
"There's no evidence that I am aware of, of rats being more resistant to rodenticide (poison)," he said.
There is a pilot study currently underway in Ireland that is testing the genes of rats, and until the results are in Loughlin said that we can't really know if they are growing more resistant.
From strictly anecdotal evidence, Loughlin said that he sees no reason to be alarmed.
"Working closely with some of the pest control companies in Ireland – there appears to be no resistance at the moment."
That seems okay, but what about giant rats?
"There's alway going to be a range of rats of various sizes" said Loughlin.
"Some people are going to spot larger rats that obviously have had a favourable diet. Anybody who sees a rat never sees a small rat – they always see a huge rat."
So there you have it, while giant super rats may be a problem in the future, there's no reason to panic just yet. Or is there?
"We do a lot of rat jobs every day around Dublin," said Trevor Hayden.
"We're definitely seeing an increase in bigger rats."