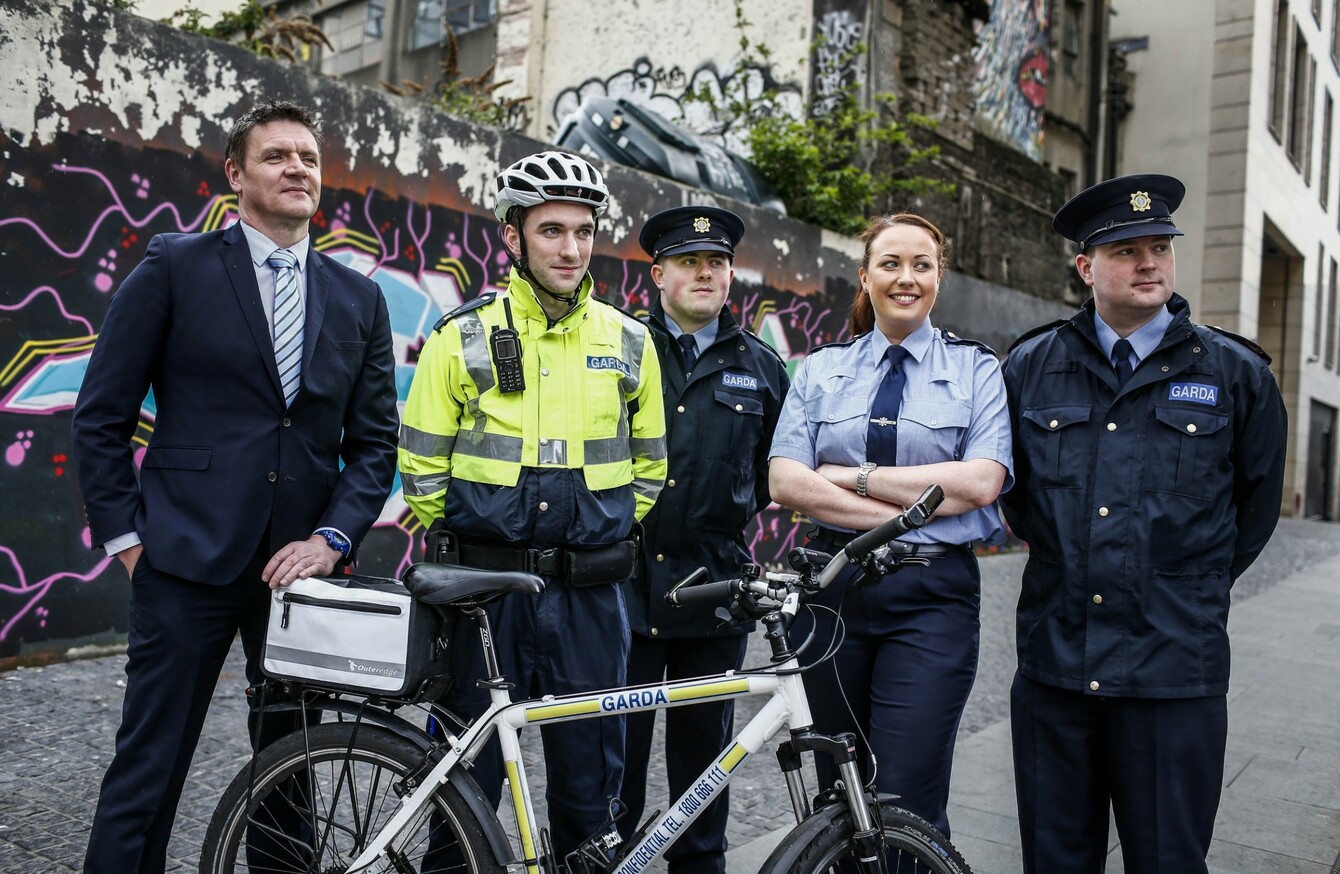 Image: Conor McCabe
Image: Conor McCabe
A DEAF COUPLE suffer a break in. A sight-impaired woman discovers someone targeted her house. A man spends his days selling drugs in Dublin city centre. A heroin dealer is said to be targeting a city park.
All of these crimes, and the impact they have on the people living in Dublin's city centre, are explored in a new documentary to be aired on RTÉ tonight.
The series, called The Guards, brings viewers to the frontline of policing in Dublin city centre, showing how gardaí often do dangerous work every day.
"It is a cat and mouse game," one man, who concealed drugs inside his body, tells the camera.
"You have to send it where the sun don't shine. It's either that or get caught with it," he says of his actions.
Stop me dealing – no. I'm after getting caught, so I'm going to have to deal with that. That's life for me, it's the only way I know how to survive. I can't work, I can't get a job.
The new breed of dealers
The first episode shows how the gardaí are tackling the drugs trade in the north inner city, and the burglaries, thefts and assaults that arise out of drug use.
"The new breed of drug dealer, they grew up in the good times, where they've got everything," says one sergeant, Ciaran Whelan during the episode.
You have to wonder – what is wrong with them?
CCTV footage of attacks on the public and gardaí is also shown – such as one where a man is mugged and his head stamped on while he is unconscious.
The documentary shows how Whelan's unit has begun targeting a list of drug dealers, which in turn has had an impact on violence in the city centre. However, it also shows how drug use and violence can move around the city centre as different areas are targeted.
There are about 840 – 850 addicts per day who come into Dublin's city centre to get treatment from clinics, which in turn creates business for drug dealers, says Detective Superintendent Pat Leahy in the documentary.
"With so many homeless hostels in the north inner city centre, a lot of them are kicked out at half eight in the morning, and they do what they do, whatever it takes to survive," says Superintendent Whelan.
The two-part series also looks at the role of community-based policing and how gardaí interact with a range of communities in Dublin, such as calling to burglary victims.
"A lot of what you see daily is a lesson on how not to live your life, because you see the effects of drug addiction," says Garda Declan Reynolds, of Store Street garda station.
The gardaí also detail in the show how they have been attacked, punched, and kicked during the course of their work.
"You nearly expect that something is going to happen," says one garda.
It shows how some dealers will go to any lengths to hide their drugs and outwit the police, putting drugs in their mouth or other bodily cavities. Gardaí are seen surveilling and pursuing known drug dealers in the city centre, watching as they deal drugs on street corners during the day.
The film was made over a period of two years by RTE's Barry O'Kelly and Zucca Films. It is the first documentary of its kind to gain exclusive access to garda operational units.
Episode one of The Guards is broadcast on RTÉ2 tonight at 9.55pm. The series will conclude with a second episode tackling public order, street crime and policing large scale events on 24 May.