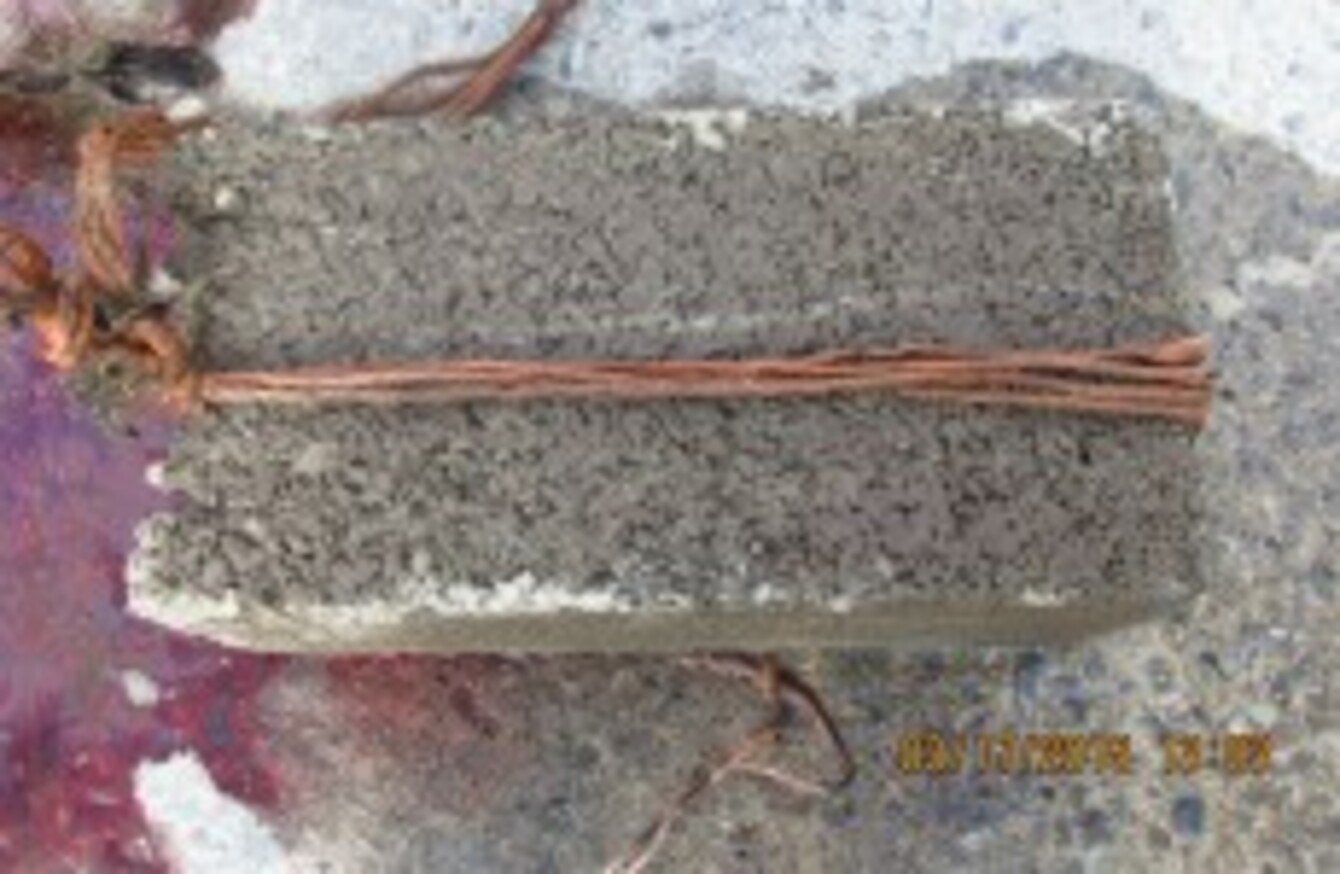 Warning: This article contains an image of a dead dog that may be disturbing
A DOG WITH a brick tied around its neck has been pulled from a river in Co Mayo.
The photographs were shared by the North West SPCA in Ballina, and are distressing to see.
The graphic photographs show a dead dog with a large cement brick tied to a rope that is around its neck.
Gruesome
Speaking to TheJournal.ie, Cathy O'Hora of North West SPCA said she took the photographs of the gruesome sight.
She said that a man called them to say he and a friend had pulled the dog out of the water.
It is believed the dog – which is not microchipped – was a young labrador/collie cross.
"I've assessed it as being a year-old male," she said.
Our vet agreed with me. It didn't happen yesterday – it must have been put in there for a few days before that. We're just determined that we are going to try find whoever did it. We're going to be posting up a reward for information. We would just like to find the person responsible.
She said that "aside from the absolute cruelty to that dog, for someone to consider doing that is appalling and it is completely unnecessary when there are groups like us  - we take in dogs".
The North West SPCA does not have the funds to pay for an autopsy to determine if the dog was dead or alive when it was put into the river.
O'Hora said there has been a huge response to the Facebook post, making the group "quite hopeful of getting some answers". It has been in contact with the gardaí over the incident.
O'Hora said that there are too many dogs and cats in Ireland, and people "are not taking their responsibility seriously".
Reward
The Animal Rights Action Network, ARAN, has offered a €1500 reward to hunt down the person responsible for the dog's death. North West SPCA is going to add €500 to this.
ARAN said it has received a "deluge" of calls from "outraged members of the public" in response to the horrific case.
It says the reward is being offered for information leading to the arrest and conviction of the person or persons responsible.
"It is imperative that any community faced with a violent act such as this take measures to find the culprit or culprits responsible and bring them to justice," said ARAN's John Carmody.
Anyone with information is urged to contact the gardaí in Ballina, the Ballina SPCA, or ARAN. The North West SPCA can be found on Facebook.
Graphic image
The below image of the dead dog was captured by the North West SPCA.
It may be disturbing for some readers so caution is advised.