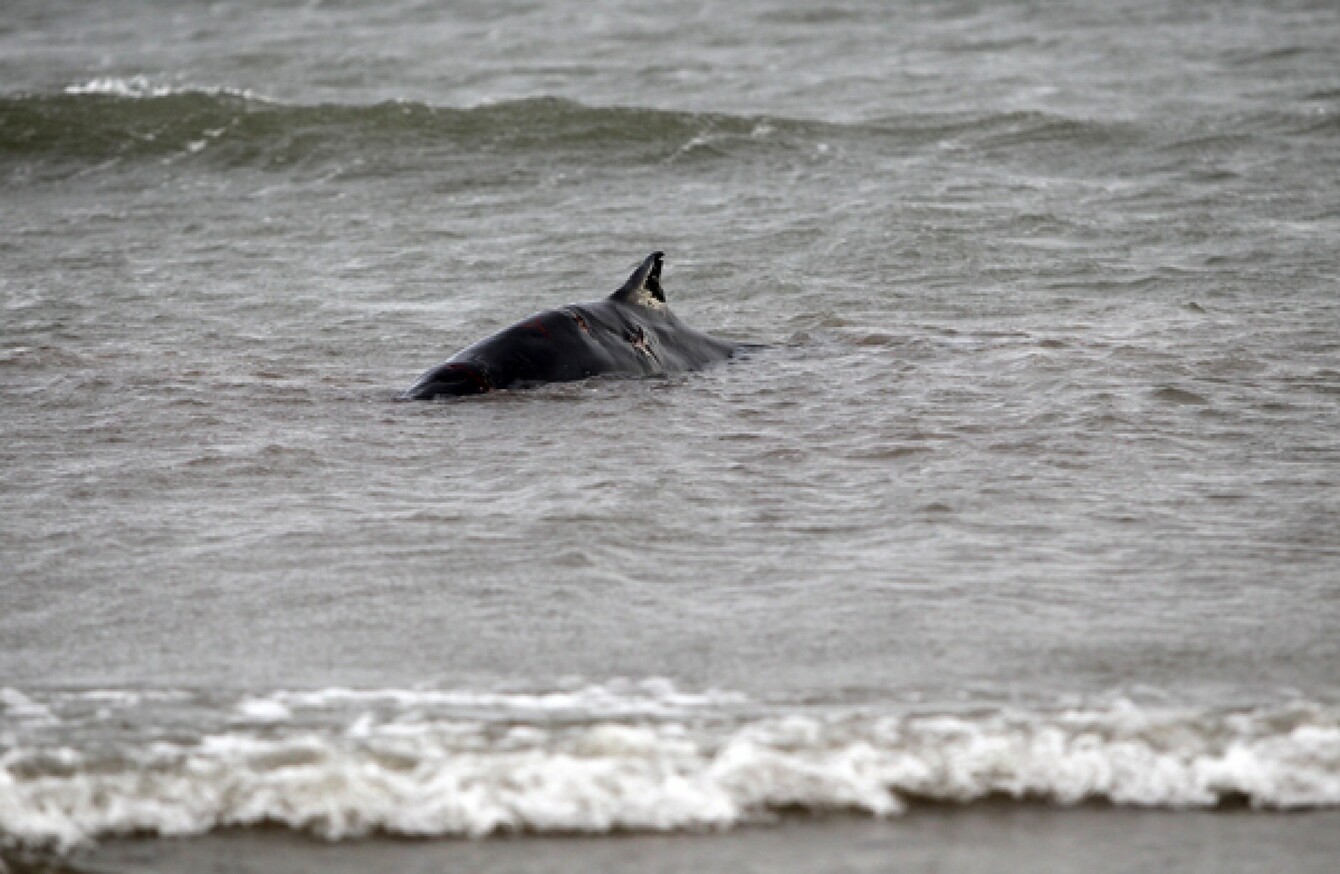 File photo of a whale stranded on Bull Island in 2013.
Image: Sam Boal/Rollingnews.ie
File photo of a whale stranded on Bull Island in 2013.
Image: Sam Boal/Rollingnews.ie
SO FAR THIS year, 56 dolphins and whales have died after becoming stranded on Irish beaches, according to new figures released by the Irish Whale and Dolphin Group (IWDG).
The IWDG says that this figure of 56 makes it the worst start to the year on record.
They add that the number of dolphins and whales dying on beaches and coasts around Ireland has risen sharply since 2011, and the majority of these deaths occur in January and February each year.
As of 17 February, 29 of these (52%) have been identified as common dolphins.
Back in 2010, the average number of strandings was around 22 by this time of year, with common dolphins accounting for five of these.
This week, the IWDG have been meeting various groups to try to get to the source of the problem. They said in a statement:
During this week, IWDG met with stakeholders from government agencies and representatives from the Irish and foreign registered fishing fleets in an effort to work out exactly what is happening to cause such changes at this time of year.
As reported in today's Irish Examiner, potential causes for such high numbers could be anything from pollution to bad weather and death by natural causes.
The IWDG believes that fisheries bycatch – where dolphins are the unintended target of fishing boats – could be a main reason for this but stress that the numbers they record may only be a fraction of the number of dolphins and whales who die in this manner.
"Before 2011," they said, "the highest annual total of recorded strandings of cetaceans in Ireland was 147 but this has risen to between 176 and 219 over the last five years. So the obvious question is why?"
The IWDG concludes by calling for a scheme to be put in place to conduct post mortems on dead dolphins and whales that wash up on Irish beaches.
#Open journalism No news is bad news Support The Journal

Your contributions will help us continue to deliver the stories that are important to you

Support us now
Until such a scheme is put in place, "it is impossible to adequately protest these animals because without knowing the "why", little else is possible," they added.
The issue was raised at European level last year by Fine Gael MEP Seán Kelly, who wrote to the European Commission to ask them to look at the issue of dolphin deaths.
Kelly said: "There are suspicions that the super trawlers are killing these dolphins and then throwing them back into the sea."
The MEP added the commission is "obviously taking it seriously" because it has "proposed revised technical measures on how to deal with this issue and the monitoring of super trawlers".