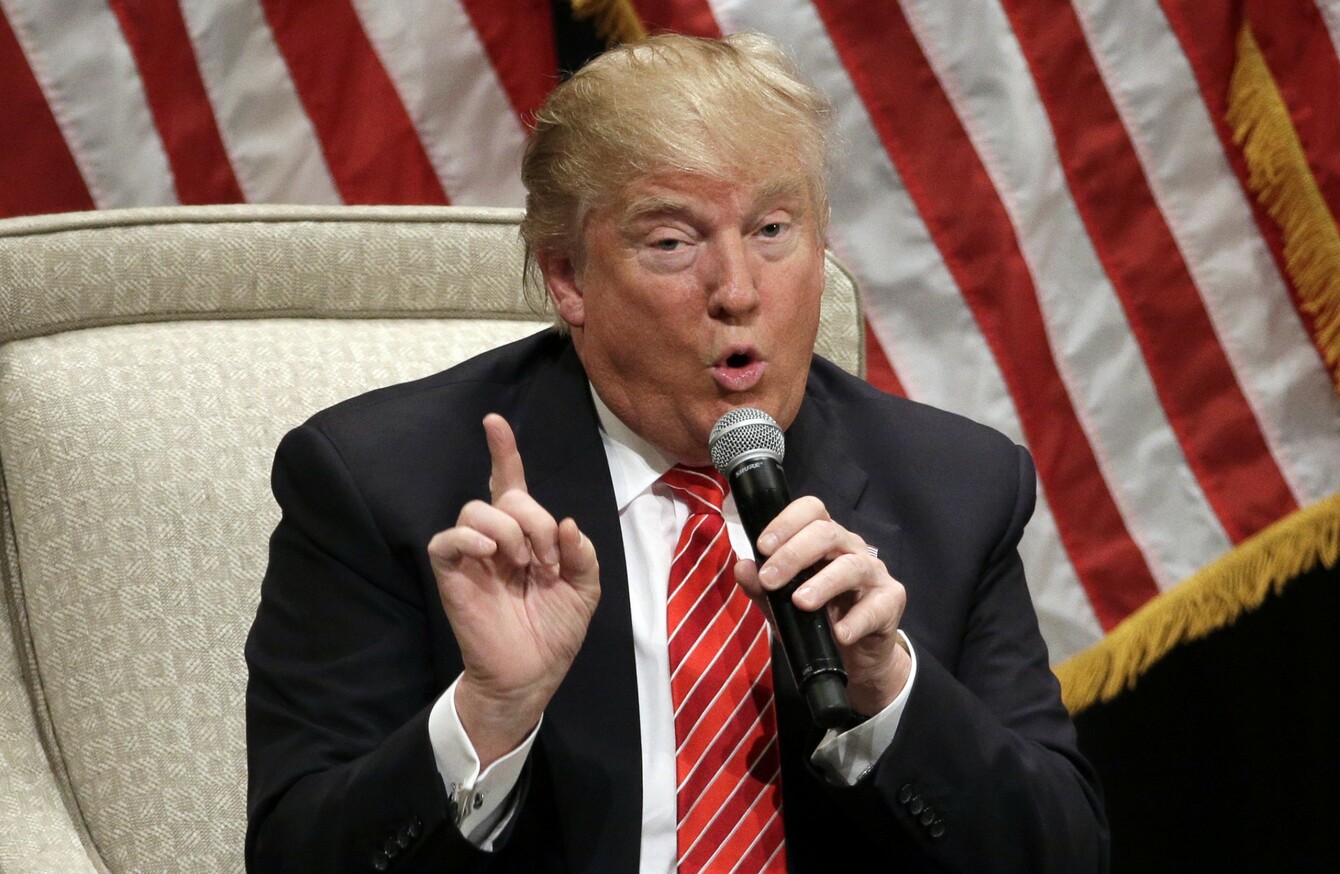 Image: AP/Press Association Images
Image: AP/Press Association Images
IF DONALD TRUMP manages to win the US presidential election come November, he would pose a significant risk to the world, The Economist Intelligence Unit has warned.
In its latest forecasts, the research firm described the candidate as a "businessman and political novice". But those words don't underestimate his power.
While the authors say that he is likely to be defeated by the probable Democratic contender, Hillary Clinton, there are risks to this prediction – especially if there is a terrorist attack on US soil in the next seven months.
According to the forecasting service, the probability of Trump winning in November is "moderate" but the impact of such a win would be "high". It has placed the "risk intensity" at 12: that is higher than a war in the South China Sea but lower than an economic 'hard landing' from China's economy and a new cold war because of Russia's actions in Syria and the Ukraine.
He has the exact same rating as 'the rising threat of jihadi terrorism destabilising the global economy'.
The main risks posed by a hypothetical President Trump would be on free trade and the threat from militant groups in the Middle East and beyond.
Summing up their take on the billionaire, the researchers say there are a few themes in his policies despite them being light on detail and prone to constant revision.
"First, he has been exceptionally hostile towards free trade… and has repeatedly labelled China as a 'currency manipulator'," they write.
He has also taken an exceptionally right-wing stance on the Middle East and jiadhi terrorism, including, among other things, advocating the killing of families of terrorists and launching a land incursion into Syria to wipe out IS (and acquire its oil).
"In the event of a Trump victory, his hostile attitude to free trade, and alienation of Mexico and China in particular, could escalate rapidly into a trade war.
"His militaristic tendencies towards the Middle East (and ban on all Muslim travel to the US) would be a potent recruitment tool for jihadi groups, increasing their threat both within the region and beyond."
The group uses a ranking of one to 25 to assess risks.
#Open journalism No news is bad news Support The Journal

Your contributions will help us continue to deliver the stories that are important to you

Support us now
Previously, Trump has promised to build a "big wall" to stop Mexican immigrants entering the US. He has also said that he will 'get Isis'.
Despite his unpopular statements and multiple protests against him at his rallies, he is on course to win the Republican nomination.
This morning, Fox News cancelled an additional debate scheduled between Trump and his rival candidate Ted Cruz. Trump had pulled out of the event.
He has also warned that any attempts by the Republican party of trying to block his nomination would be met with "bad things", including riots.