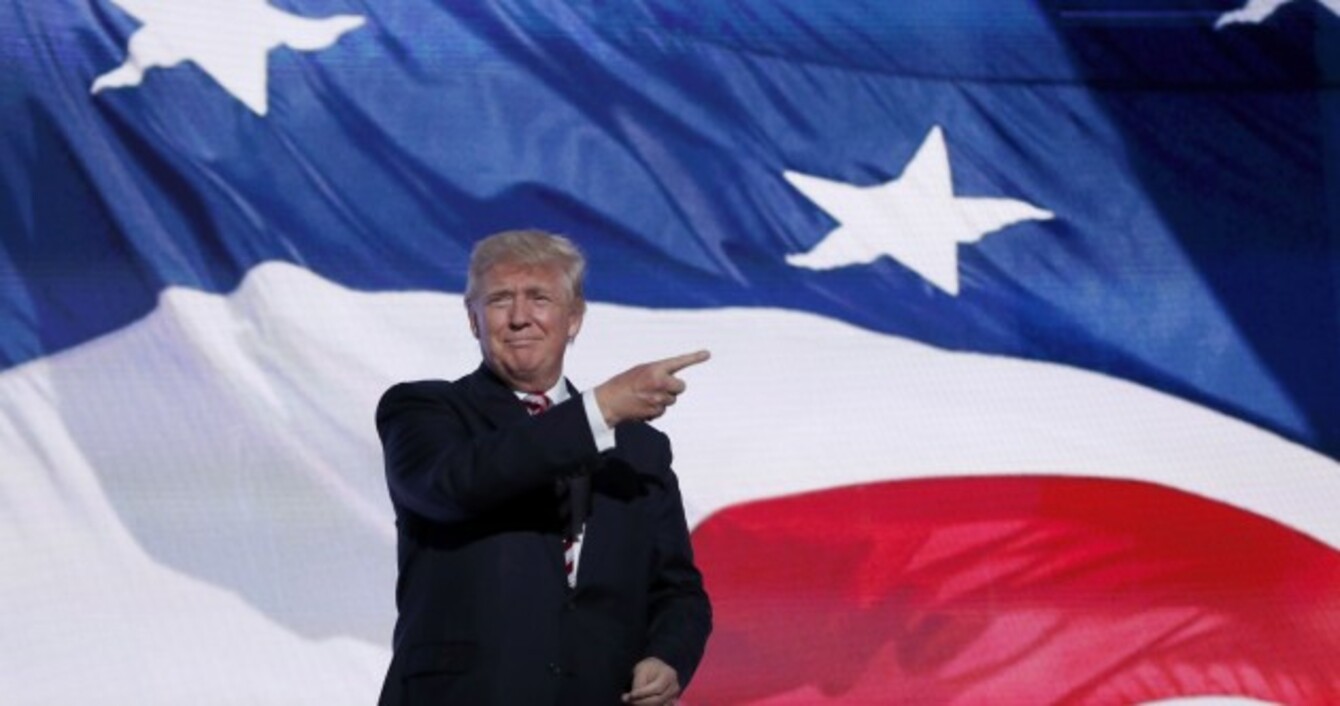 Image: Carolyn Kaster
Image: Carolyn Kaster
"HE WON'T GET past New Hampshire".
"He'll fall apart in the debates."
"He can't survive calling Mexicans rapists/pledging to ban Muslims/making fun of a disabled man/calling into question a judge's integrity."
Every time these things have been said about Donald Trump, he has sailed beyond the doubts of the media, a portion of the public and, most crucially, his opponents.
Now, there is but one opponent – Hillary Clinton – and again the logic is that a general election campaign will be too bruising, too revealing for the political novice Trump.
Hillary's been here before, she knows what has to be done, she has a better team and ground game.
But, is there any reason to believe that Trump won't continue to defy the conventional wisdom and actually become leader of the free world?
Yes
The short answer is yes. Trump is, essentially, in a two-horse race now.
And, despite what many might want to believe, he's not a million miles away.
A latest averaging of polls shows Clinton ahead by around four percentage points, 43 to 39. That's one point outside the margin of error and shows that 18% of people are either undecided or voting for neither.
Nowhere in the world would that be considered an unwinnable election by either side.
The keys to Trump's success are really two-fold: his "outsider" appeal and Clinton's unpopularity with a large section of American society. A political juggernaut, Clinton's pedigree isn't enough to turn a massive portion of the US public.
Latest polling gives her a 38%-56% favourable/unfavourable split with Americans. Trump's is 34%-59%.
At this week's Republican National Convention in Cleveland, chants of "lock her up" rang around the arena at the mention of Clinton. On Tuesday, the words "Hillary" and "Clinton" were the two most used of the evening.
Trump's one-time presidential rival Ben Carson even linked her to Lucifer himself.
"She should be in jail," Rudy Giuliani, who was mayor of New York during the 9/11 attacks of 2001, told MSNBC.
Of the 25 speeches on Tuesday alone, fully 19 were anti-Hillary. Just six focused primarily on singing Trump's praises, including addresses delivered by his son Donald Jr and daughter Tiffany.
While they blame her for Benghazi and accuse her of covering her incompetence on that tragic night, one retired Marine and informal advisor for Trump ramped up the rhetoric to another level, calling for Clinton's execution.
"Hillary Clinton should be put in the firing line and shot for treason," Al Baldasaro, said.
Her campaign shoved back, lambasting Republicans for making the "lock her up" chant "the mantra of the RNC."
"If you closed your eyes, you could imagine it being a lot like a witch trial – they were barely one step removed from screaming 'burn her at the stake,'" Clinton's campaign said in a fundraising email.
And Yet
And here is the rub: a moderate Republican like Mitt Romney or John McCain would be ahead of Clinton this week.
Her primary battle with Bernie Sanders went on far longer than it should have, she is unpopular and Trump is riding the crest of a wave in convention week.
And still he's behind. Because he himself is massively disliked by a large section of the US.
While he will now have three and a half months to woo those voters, his campaign so far has seen him play to his most vociferous base.
But, the party that gave the world the first black US secretary of state in Colin Powell and the first African American woman secretary of state in Condoleezza Rice has been accused of alienating black voters and one man in particular is getting the blame: Trump.
"I can't speak for the whole community but I can speak for me and he has turned me off," says black retiree and Hillary Clinton supporter Gloria Bivins attending a civil rights convention in Ohio.
While Mitt Romney won 6% of the black vote in the 2012, he said, Republicans got 10% of the black vote in the 2014 mid-term elections and Ohio Governor John Kasich 26%.
Yet the optics, at least, do not look good for Trump. Unlike Clinton, he declined to address black civil rights organisation the NAACP, in what has become a rite of passage for US presidential candidates.
Et tu?
Added to that, there was something else in the air in Cleveland: a sense that many of the Republican politicians are starting their own campaign to challenge Hillary in 2020.
Step forward Ted Cruz, Paul Ryan, Marco Rubio and Tom Cotton, all stopping short of being Brutus to Trump's Caesar, but hardly carrying him on their shoulders.
Each man addressed the Republican delegates this week, showing face where an older generation of like-minded Republicans pointedly stayed away.
"Most party leaders expect Trump to lose," said Larry Sabato, head of the University of Virginia's school of politics.
"Many of them are not for Trump, and they aren't happy that he has presented the party with loads of problems."
The road to 270
Then there's the maths.
Each candidate needs 270 electoral college votes to win the White House. A good number of those votes are more or less sewn up for both parties – just as Texas is going to vote Republican, California will go Democrat.
However, the 2012 election wasn't close. Barack Obama took almost every one of the 12 "swing states" – Wisconsin, Pennsylvania, New Hampshire, Minnesota, Ohio, Iowa, Virginia, Florida, Michigan, Nevada, Colorado, and North Carolina.
This time around, polling shows Clinton ahead in North Carolina, Colorado, Nevada, Michigan, Virginia, Minnesota and Wisconsin.
Should she take those, without Florida's 29 electoral votes, Pennsylvania's 20 or Ohio's 18, she would still narrowly pip Trump.
But, as we have learned, even that might not be enough to stop The Donald.