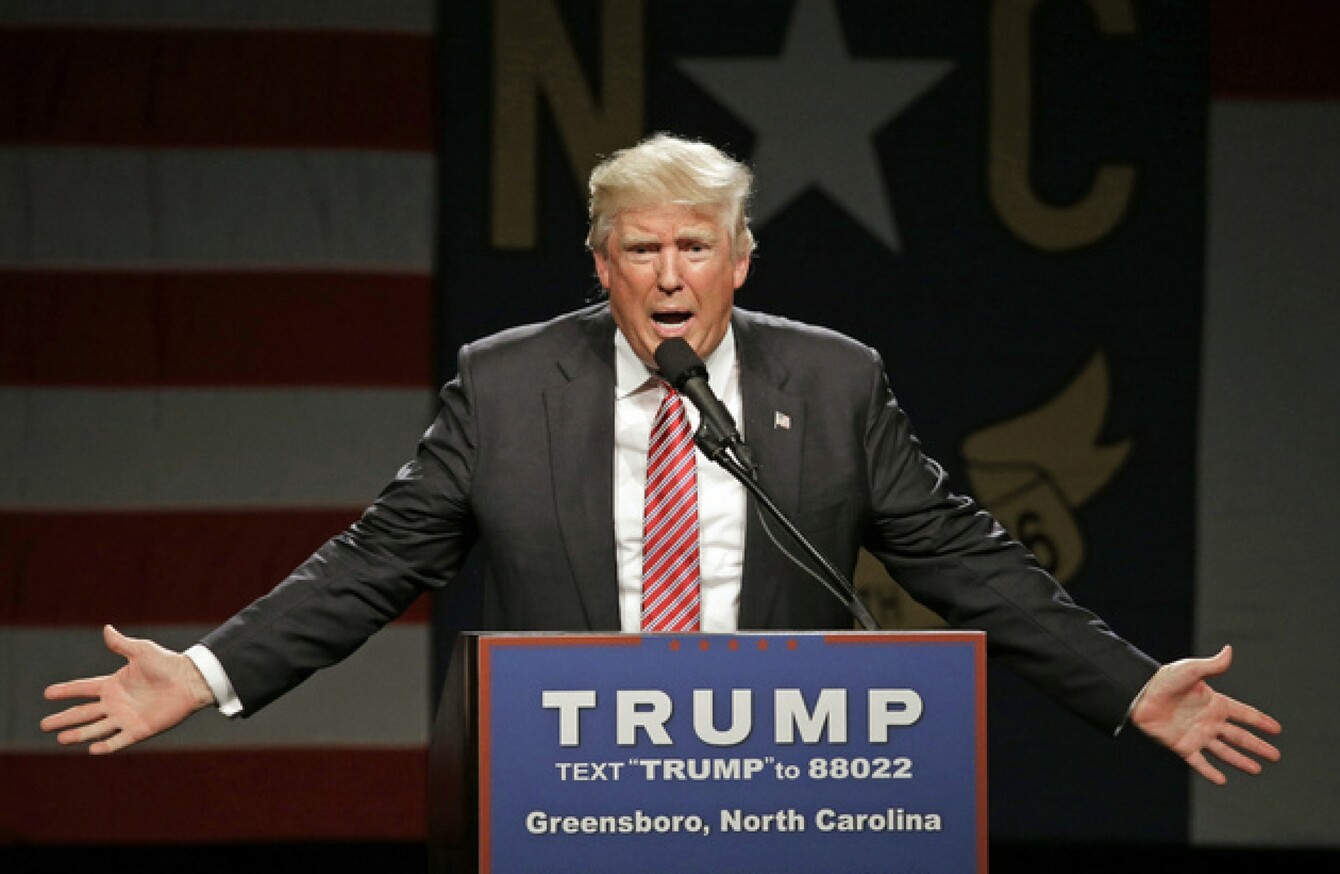 Image: Chuck Burton
Image: Chuck Burton
IT'S BEEN ONE heck of a week for Donald Trump and the Republican Party.
The controversy-prone presidential nominee kicked things up a notch over the past few days, getting embroiled in arguments and making statements that are over the top even by his usual standards.
Among incidents there is the ongoing feud with the parents of a Muslim American soldier who died in Iraq; his failure to endorse senior Republican figures Paul Ryan and John McCain for reelection; and his claims that the election could be rigged against him.
He even told a mother with a crying baby to get it "out of here" while he was giving a speech.
Despite this, Trump has said that his campaign has "never been so well united".
However, all is not well in the Republican camp – with senior figures coming out against Trump and declaring their support for Clinton, and reports of major divisions within the party.
ABC News is now reporting that Republican Party members are exploring how to handle a scenario that should be unthinkable:
What would happen if Trump was to drop out of the race altogether?
Here's what would happen
Just to clarify, no presidential nominee has ever dropped out of the race before, so the move would be unprecedented.
As well as this, Trump has given absolutely no indication that he has any thoughts of stepping down.
If he was to go, Trump would have to do so voluntarily, as there is no mechanism in place to force him to withdraw his nomination.
Should he step down, then it would be up to the 168 members of the Republican National Committee (RNC) – which provides national leadership for the Republican Party – to choose someone to take his place.
First, they would have to reconvene the national convention (that big, week-long event with speeches and crowds and lots of cheering) and have a vote on the matter to choose a new candidate.
Members from each state would have to vote together, and a majority would need to go to any potential candidate before they could be given the nomination.
ABC said that according to one legal expert, Trump would have to drop out by early September in order to give the party enough time to choose his replacement and get that name on the ballot in enough states to try to win the election.
Why it would be a disaster
Sounds simple, right?
Well, it's not. Because as the Washington Post reports, Trump stepping down would almost certainly gift the presidency to Hillary Clinton.
Not only would the chaos reinforce her message of being the safer candidate, but the Republicans would be hard pressed to find a viable candidate to take his place.
On top of that, Trump supporters across the country (of which there are quite a few) would be so disillusioned with the whole thing that they'd likely stay at home in large numbers.
So, while Trump may be getting on the nerves of a few Republicans, for now the thought of him stepping down is likely much worse to bear.