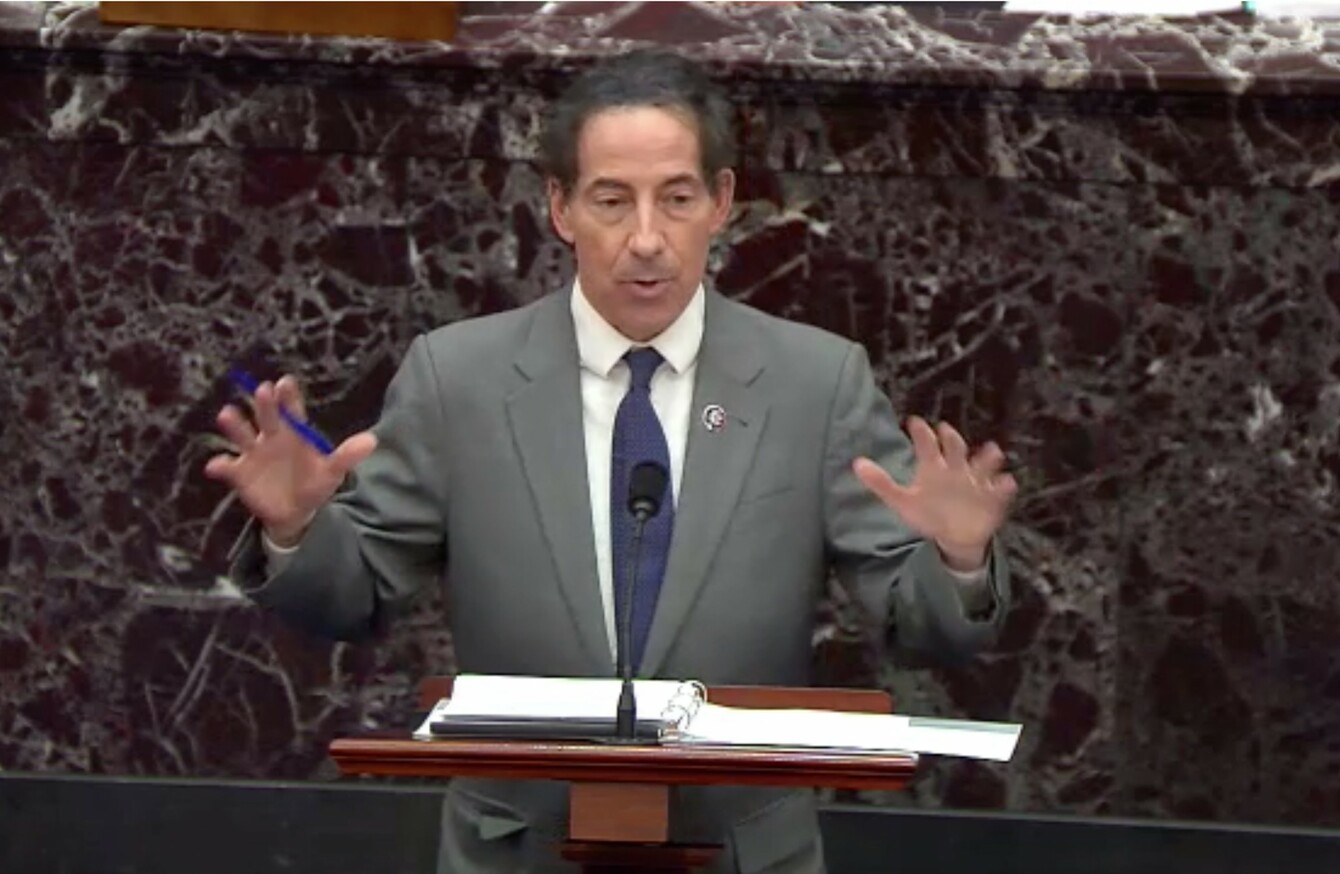 Democrat Jamie Raskin in the impeachment trial today.
Image: US Senate TV via CNP
Democrat Jamie Raskin in the impeachment trial today.
Image: US Senate TV via CNP
Updated Feb 10th 2021, 9:59 PM
PROSECUTORS IN DONALD Trump's impeachment trial said they would prove the former president was not an "innocent bystander", but the "inciter in chief" of the Capitol riot last month.
Democratic impeachment managers – equivalent to prosecutors in a regular trial – reconstructed the events leading up to the 3 November presidential election.
They then laid out the aftermath, when Trump attempted to discredit the Joe Biden's election win. 
Impeachment leaders this evening backed their timelines with video footage and copious documentary evidence – much of it in the form of Trump's incendiary tweets falsely claiming fraud and urging supporters to "fight."
"When the violence inexorably and inevitably came," said lead impeachment manager Jamie Raskin, "he completely abdicated his duty."
"Donald Trump surrendered his role as commander-in-chief and became the inciter-in-chief of a dangerous insurrection," Raskin said.
Another impeachment manager, Ted Lieu, said the Capitol riot was the logical result of Trump's attempts to discredit and then dispute the election.
"President Donald J Trump ran out of non-violent options to maintain power," he said
The day's proceedings unfolded after an emotional start yesterday to the trial that left Trump fuming after his lawyers delivered a meandering defence and failed to halt the trial on constitutional grounds.
Some allies called for yet another shakeup to his legal team.
Raskin this evening accused Trump of encouraging and cultivating violence on 6 January. 
The Democrat brought up a 12 December tweet from Trump which read: "We have just begun to fight." 
While Democrats won yesterday's vote, it is not likely they will have the votes for an eventual conviction, since they would need a minimum of 17 Republicans to vote with them.
Democrats say they know they are arguing the case uphill, but they are holding out hope that they will convert more Republicans by the final vote.
Here are a few things to expect in the next few as the Democrats prosecute their case for "incitement of insurrection".
A 'devastating' case against Trump
The Democrats are trying to take advantage of senators' own experiences, tapping into their emotions as they describe in detail — and show on video — what happened as the mob broke through police barriers, injured law enforcement officers and ransacked the Capitol building.
Democratic aides working on the impeachment team said they think they have a "devastating" case against the former president, and that they will prosecute it like a criminal trial.
Trump's lawyers had a bad day yesterday, as the former president fumed at their performance and Republican senators leaving the trial criticised their arguments as "random", "disorganised" and "perplexing".
Trump felt that the team, especially lead lawyer Bruce Castor, came off badly on television and looked weak compared to the Democratic prosecutors, according to a source.
They will get another chance on Friday, starting what is likely to be two days of arguments that last into the weekend.
They plan to argue that Trump did not incite the violence, that rioters acted of their own accord and that the former president is protected by freedom of speech.
While the Democrats have appealed to the senators' emotions, Trump's lawyers have tried to tap into raw partisan anger.
Lawyer David Schoen, who spoke after Castor, criticised statements from Democrats that he said were also inciting violence, and told the chamber that the Democratic prosecutors were fuelled by a "hatred" of Trump and fear that they will lose power.
#Open journalism No news is bad news Support The Journal

Your contributions will help us continue to deliver the stories that are important to you

Support us now
Six Republican senators voted with Democrats not to dismiss the trial on constitutional grounds yesterday. Those senators so far appear the most likely to vote to convict Trump.
The six senators, most of whom have harshly criticised the former president's behaviour, are Susan Collins of Maine, Ben Sasse of Nebraska, Mitt Romney of Utah, Lisa Murkowski of Alaska, Pat Toomey of Pennsylvania and Bill Cassidy of Louisiana.
Cassidy was the only one who did not side with Democrats in a similar vote two weeks ago.
He said after the vote yesterday that he thought Democrats had a better argument and that Trump's team had done a "terrible" job. He said he would watch the additional arguments as an impartial juror and decide whether to convict.
Ohio Senator Rob Portman, who voted yesterday to dismiss the trial, is retiring in 2022 and has also said he has an open mind about conviction.
- With reporting by Orla Dwyer