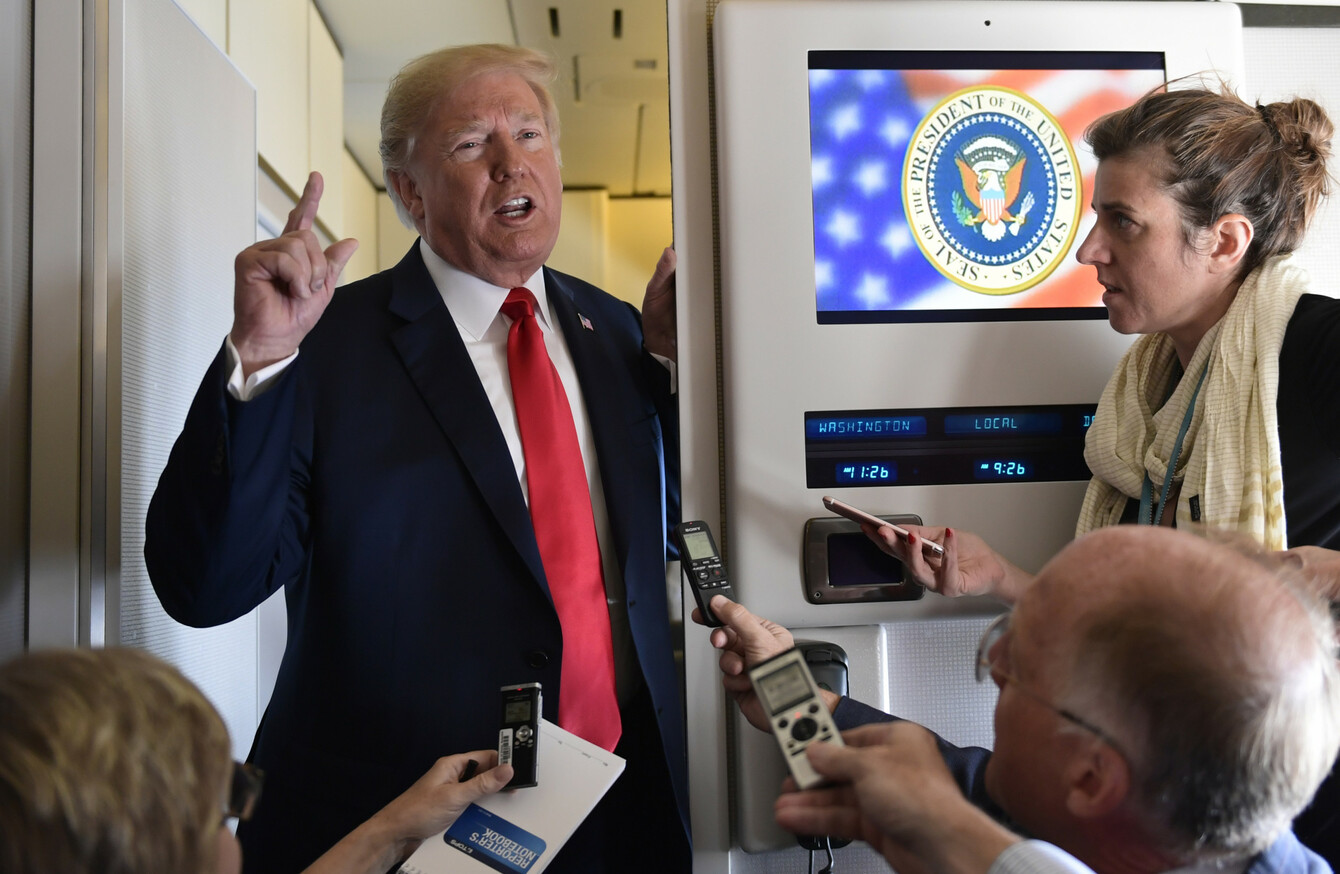 President Donald Trump talks to reporters while in flight on September 7, 2018.
Image: Susan Walsh/PA Images
President Donald Trump talks to reporters while in flight on September 7, 2018.
Image: Susan Walsh/PA Images
US PRESIDENT DONALD Trump has vowed to root out the author of an anonymous opinion piece in the New York Times that has plunged his presidency into crisis.
In an interview today, Trump blasted the newspaper for printing the op-ed, accusing the newspaper of treason.
"The Times should never have done that, because really what they've done is virtually, you know, it's treason," the president said.
The piece claimed that cabinet members have been attempting to sabotage Trump, and even suggested they considered beginning a process of ousting him via an amendment to the Constitution. 
It said "unsung heroes" were quietly working within the administration to frustrate the president's "worst inclinations."
Trump has now reportedly ordered Attorney General Jeff Sessions to begin an investigation into who authored the piece, although no crime has been committed.
A "whodunnit?" style guessing game has raged in the corridors of power and on social media over the identity of the author, prompting nearly every cabinet-ranked member of the government to deny involvement.
"We have thousands of people that, in theory, could qualify," Trump told Fox News, describing the author's anonymity as "very unfair," since it prevented them from being openly scrutinized.
Trump remains on the defensive over damning accounts of the inner workings of his administration, following the publication of excerpts of a book by investigative journalist Bob Woodward.
Woodward's "Fear: Trump in the White House," a 448-page account of an out-of-control administration set to hit bookshelves next week, draws on hundreds of hours of insider interviews.
The respected White House chronicler describes a coalition of like-minded aides plotting to prevent the president from destroying the world trade system, undermining national security and sparking wars.
"The Woodward book is a scam. I don't talk the way I am quoted. If I did I would not have been elected President. These quotes were made up. The author uses every trick in the book to demean and belittle," Trump tweeted.
"I wish the people could see the real facts – and our country is doing GREAT!"
With additional reporting by Stephen McDermott.