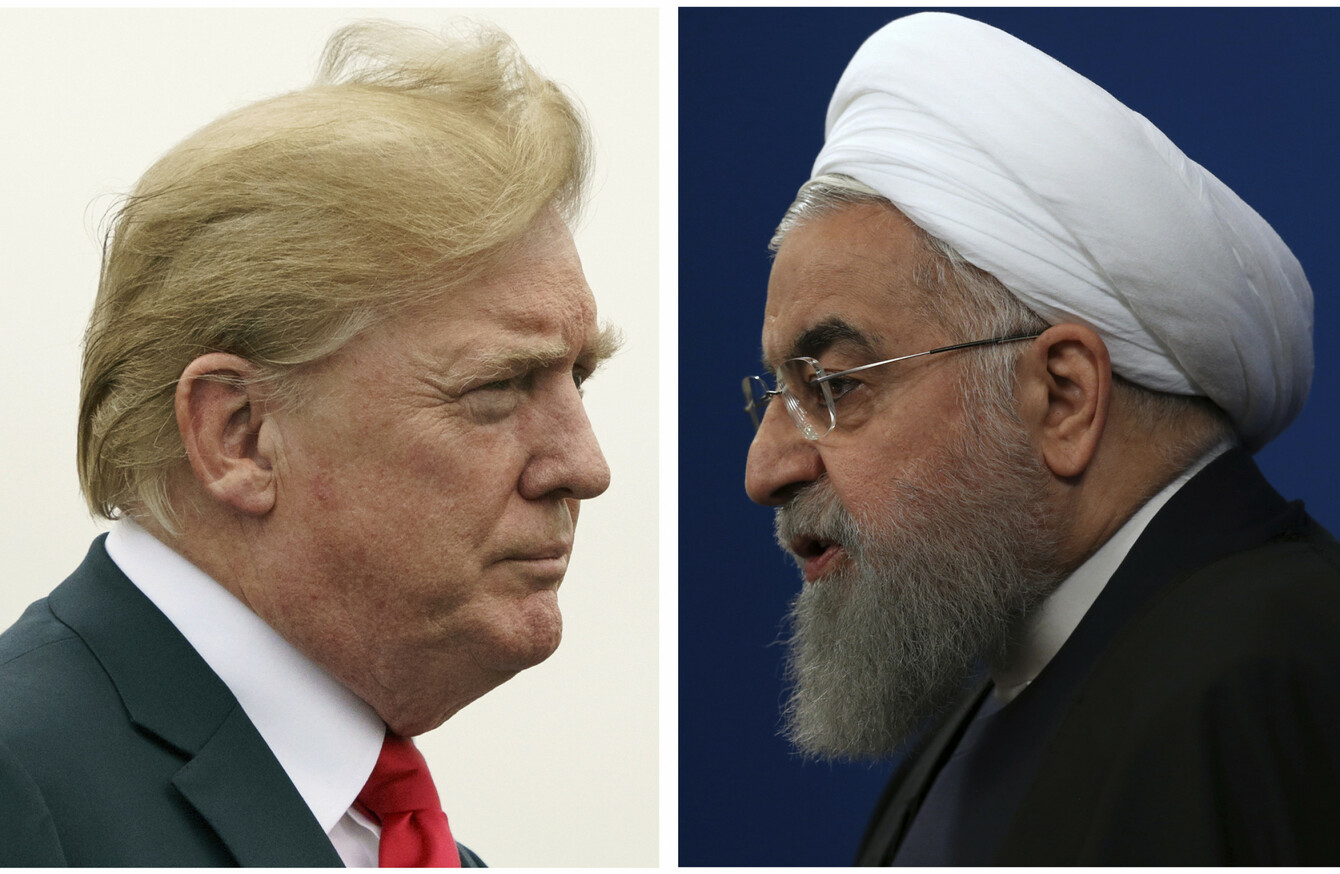 Donald Trump and Hassan Rouhani
Image: AP/PA Images
Donald Trump and Hassan Rouhani
Image: AP/PA Images
IN THE EARLY hours of Monday morning, anyone with an eye on US President Donald Trump's Twitter feed would have seen a post that, even for him, appeared alarming.
Using all capital letters, Trump issued a stark warning to Iranian President Hassan Rouhani of the consequences that would follow from picking a fight with America.
He said: "Never, ever threaten the United States again or you will suffer consequences the likes of which few throughout history have ever suffered before.
We are no longer a country that will stand for your demented words of violence and death. Be cautious!
The US President was responding to comments made by Rouhani on Sunday, where he warned Trump not to "play with the lion's tail", and that getting into a conflict with Iran would be the "mother of all wars".
This exchange came after months of tensions between the two nations, but these comments marked a significant escalation – and a new low – for relations between Iran and the US.
So what's it all about? And how has it got so serious?
Nuclear deal in tatters
Back in 2015, Iran agreed a landmark agreement with a number of countries, including the US, dubbed the Iran nuclear deal framework.
Under the pact, sanctions were eased in return for a commitment from Iran not to pursue a nuclear bomb. The US also released billions of dollars of frozen Iranian assets as part of the deal.
At the time, US President Barack Obama said a "historic understanding" had been reached with Iran, which had come after "months of tough, principled diplomacy".
Iranian foreign minister Javad Zarif, meanwhile, said: "We have built mutual mistrust in the past and I hope that… some of that mistrust could be remedied."
The international community, including top US officials, have said Tehran had been in compliance with the deal well into this year.
This accord, however, whose signatories also included the UK, France, China, Russia and Germany has been consistently criticised by Trump. The deal was not met favourably with US ally Israel, to whom Trump has dealt with favourably since taking office.
The US sees Iran as a destabilising force in the region, with the nuclear deal only emboldening its aggressive policies in countries such as Syria. Another US ally Saudi Arabia has also signalled warnings about Iran.
In a meeting in April with Emmanuel Macron in the White House, Trump slammed the deal as "insane" and "ridiculous".
In May, he defied the pleas of his European allies and pulled the US out of the Iran nuclear deal, vowed to reimpose sanctions on Tehran and said that Iranians deserved a better government.
Calling the deal reached by Obama "defective at its core", Trump said he had consulted America's friends in the Middle East and concluded "that we cannot prevent an Iranian nuclear bomb under the decaying and rotten structure of the current agreement".
"America will not be held hostage to nuclear blackmail," Trump vowed.
The reaction from Iran was of outrage. Iran's President Rouhani was furious, accusing Trump of "psychological warfare".
Conservative publications went even harder, with paper Javan saying in an editorial: "It is time for unity and not for blaming others. It is the occasion for a renewal of Iran. Our slogan 'Death to America' is not just a slogan — the United States is effectively dead in our eyes."
This was followed later on in May with a vow from US Secretary of State Mike Pompeo that Iran would be hit with the "strongest sanctions in history", as the US ramped up its campaign against Iran.
Escalations
Trump's rhetoric has set a clear tone for how exchanges have followed with his administration and the Iranians since May.
While Trump has been faced with a number of controversies in recent weeks – including the Putin summit, the separation of families at the border with Mexico and the threats of a trade war with the rest of the world – the tightening of sanctions against Iran had retained a comparatively lower profile than these issues until this week.
Trump and his administration have even sought to promote unrest among the Iranian people with Pompeo last week urging Iranians abroad to "support" anti-regime protests.
Pompeo also said that he wanted to try put a stop to countries importing Iranian oil by November in an attempt to continue the economic pressure on Tehran.
Speaking last week ahead of the speech by Pompeo, Rouhani warned the United States not to "play with the lion's tail" on Sunday, saying that conflict with Iran would be the "mother of all wars".
Addressing Trump, he said: "You declare war and then you speak of wanting to support the Iranian people. You cannot provoke the Iranian people against their own security and interests."
It was these comments that provoked the all capital letters retort from Donald Trump. In a later riposte from Iranian foreign minister Javad Zarif, he tweeted (in English and in all capital letters): "Color [sic] us unimpressed… Be cautions!"
While the US has outlined conditions for any "new deal" between itself and Iran – including its withdrawal for Syria and an end to its support for Yemen – Iran has shown no willingness to engage on this, and has insisted it has kept to the terms of the original deal.
Tensions may be at their highest for some time between the two nations, but Trump's presidency has been marked with unexpected turnarounds.
Less than a year from labelling Kim Jong-Un "rocket man" and saying the US was ready to "totally destroy" North Korea, Trump was meeting Kim and hailing a "big step back from potential nuclear catastrophe".
This week's testy exchange certainly does not mean war is imminent, but certainly signals an increasingly aggressive tone in the US's dealings with Iran.