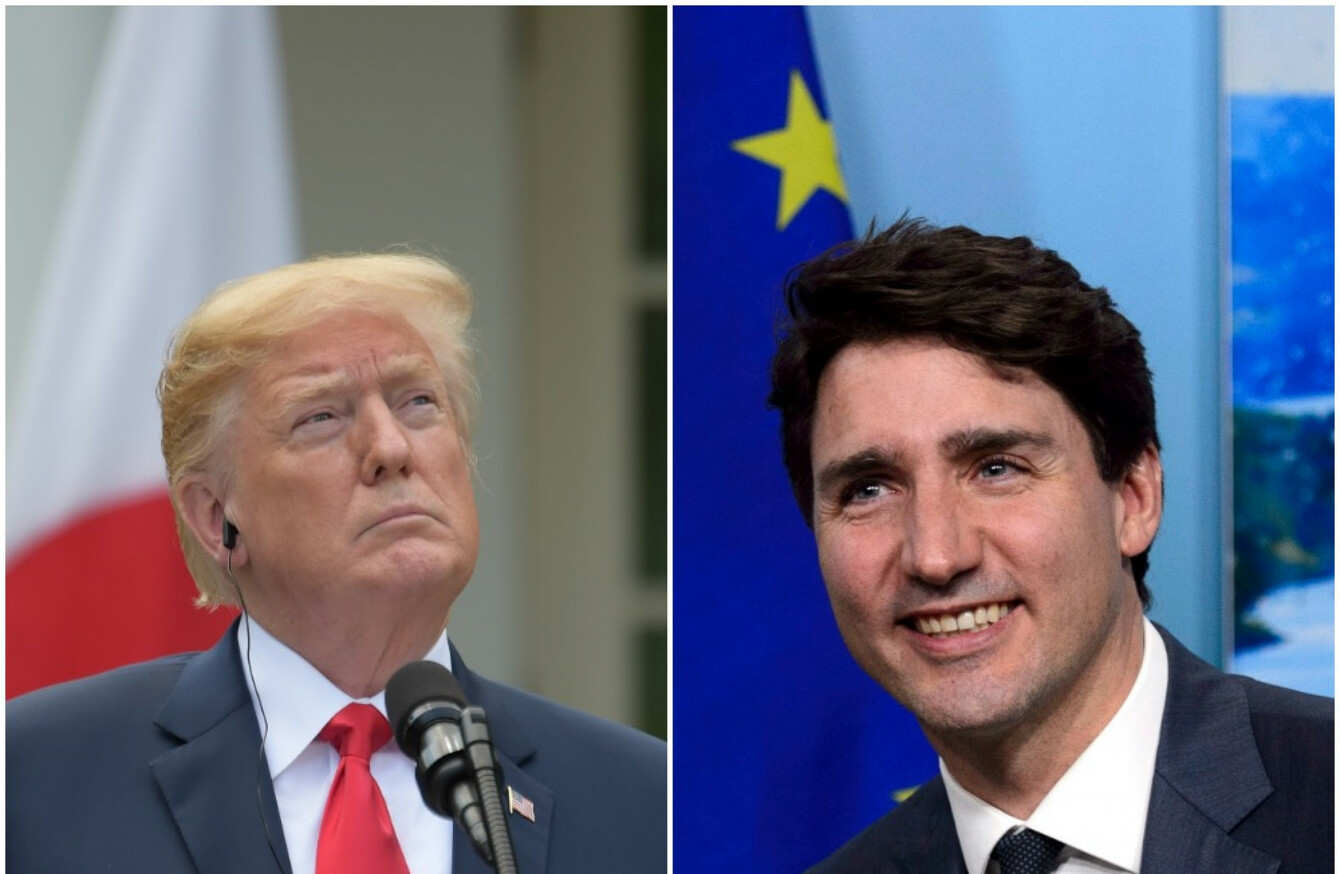 Image: Photojoiner/PA Images
Image: Photojoiner/PA Images
PRESIDENT DONALD TRUMP is facing four days of diplomacy that could tip the world toward trade war or nuclear peace.
The G7 summit is being held in Canada this weekend, and is the first gathering of world leaders after Trump imposed tariffs on aluminium and steel imports, prompting fears of a trade war.
But just days before the summit, he's targetted two of the world's most powerful leaders, and what were once-close US allies.
On Twitter yesterday, Trump addressed French President Emmanuel Macron, who has been critical of Trump for withdrawing from the Paris accord on climate change goals. He also addressed Canadian Prime Minister Justin Trudeau.
Please tell Prime Minister Trudeau and President Macron that they are charging the US massive tariffs and create non-monetary barriers. The EU trade surplus with the US is $151 billion, and Canada keeps our farmers and others out. Look forward to seeing them tomorrow.
This was in response to criticisms of Trump for imposing tariffs which world leaders feared would start a trade war with the US.
Prime Minister Trudeau is being so indignant, bringing up the relationship that the US and Canada had over the many years and all sorts of other things… but he doesn't bring up the fact that they charge us up to 300% on dairy – hurting our farmers, killing our agriculture!
Why isn't the European Union and Canada informing the public that for years they have used massive trade tariffs and non-monetary trade barriers against the US. Totally unfair to our farmers, workers and companies. Take down your tariffs and barriers or we will more than match you!
After the tweets, Macron tweeted: "Tensions are rising all the time. This G7 will be demanding."
The American President may not mind being isolated, but neither do we mind signing a 6 country agreement if need be. Because these 6 countries represent values, they represent an economic market which has the weight of history behind it and which is now a true international force.
The US president kicks off with a two-day sojourn at Chateau in the rolling Quebec countryside, and faces criticism from G7 leaders who are reportedly 'furious' over his rash of protectionist trade sanctions.
After the G7 meeting, Trump is off to Singapore for a landmark summit with Kim Jong Un to discuss the equally difficult issue of North Korea's nuclear weapons programme.
In his first year and a half in office, Trump has approached diplomacy as a blood sport, warning interlocutors, whether friend or foe, to capitulate or suffer the consequences.
The 71-year-old businessman has repeatedly demanded "big" – declaring stark ultimatums and broad-stroke threats in the way most politicos dole out platitudes.
As Trump prepared to depart Washington his aides touted that as a feature, hailing what they called "500 days of winning on the world stage".
"President Trump has ended decades of talk and restored the credibility of America's word on the international stage," the White House said.
Among his controversial decisions, he's announced withdrawal from the Paris Climate Accord, but has remained a signatory, respecting the years long process of exiting.
He moved the US embassy to Jerusalem, but left most of the staff in Tel Aviv, leading critics to argue he effectively changed a sign above the consulate door.
Most recently, Chinese company ZTE saw sanctions lifted for a much-touted billion dollar fine, but was allowed to continue working in the United States.
That concerned US intelligence agencies and even some Republicans.
- with reporting from AFP