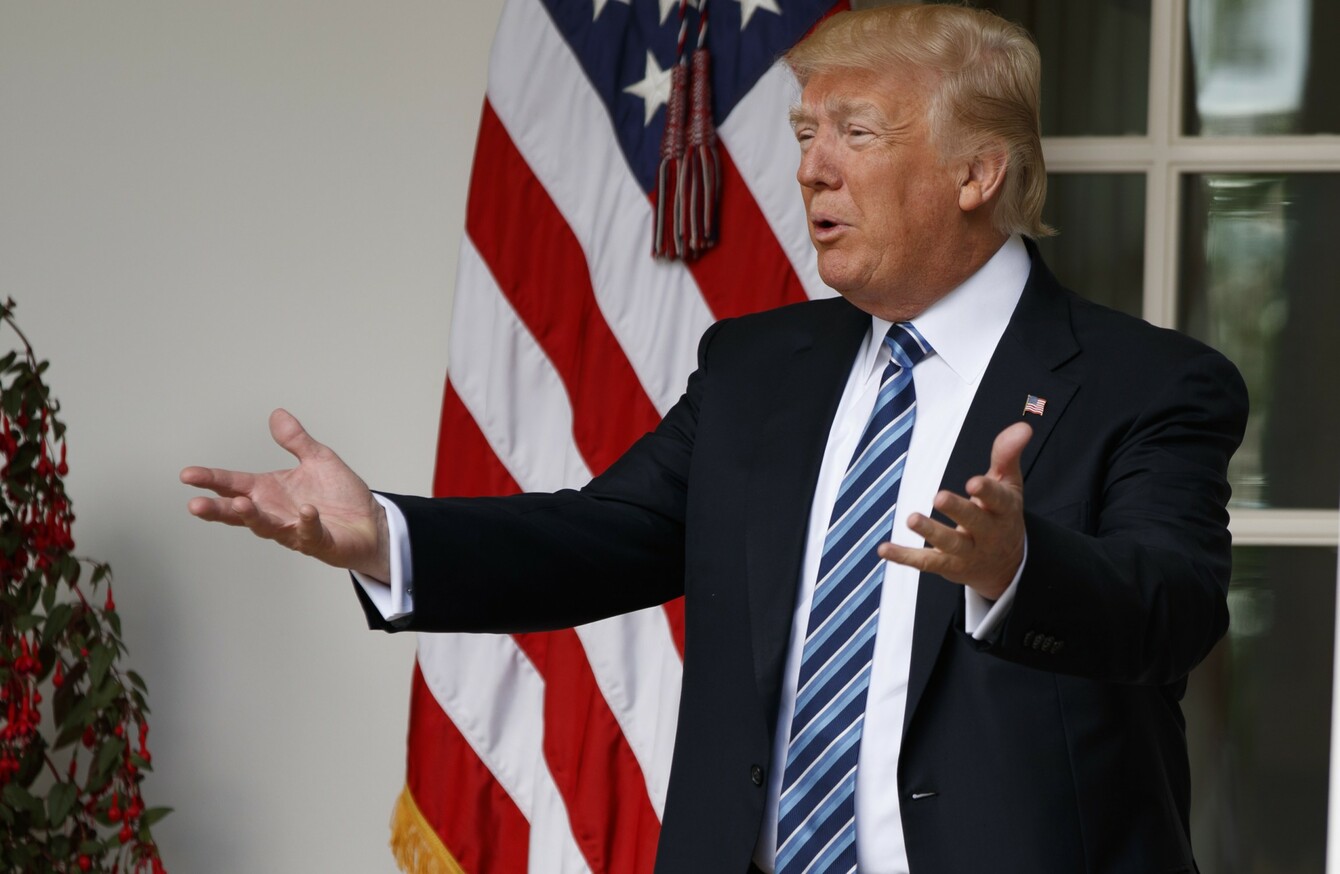 Image: Evan Vucci/AP
Image: Evan Vucci/AP
AS HE PLANS his first foreign trip and visits to Israel and Palestine, US President Donald Trump seems optimistic that he can help secure peace in the region.
But what, if anything, has changed to justify the hope that he can overcome a challenge that has frustrated all his recent predecessors?
Trump welcomed Palestinian leader Mahmud Abbas to the White House during the week and declared that the search for peace was "frankly, maybe not as difficult as people have thought over the years."
Later this month he will travel to Israel and Saudi Arabia on his first foreign trip as president, and reports suggest he will visit Abbas and Palestinian officials in the West Bank.
The trip will focus on rallying the region behind a new drive to counter Iranian influence and to defeat the Islamic State jihadist group — but does Trump's optimism signal a new peace push too?
Washington observers are cautious, not to say pessimistic, about the chances of the current generation of Israeli and Palestinian leaders striking a two-state final status deal.
But the brash new White House chief might find enough room to maneuver to nudge the parties and their Arab neighbours towards a productive thaw in ties on the basis of common interests.
"I am not optimistic any grand deal is in the offing, but could the parties find a way out of the impasse they're in now? Yes," David Makovsky, a former senior State Department adviser, told AFP news agency.
Makovsky, a professor of Middle East studies and fellow of the Washington Institute, said Sunni-led countries like Jordan, Egypt and Saudi Arabia have high hopes for a Trump presidency.
"The Arabs clearly want to engage Trump in the region, to have him be an active player against Iranian encroachment," he said.
"So they have chosen a very upbeat approach and Abbas is clearly joining that kind of Arab bandwagon."
Chicken and egg problem
Egypt and Jordan have reached out to Abbas since his White House invitation, which also reassured his Palestinian supporters that his Fatah movement still has powerful international friends.
If Arab governments want to work with Washington, and more covertly with Israel, to counter Iran and the Islamic State, they may engage with efforts to break the logjam in the peace process.
"But between having an upbeat tone and having a grand breakthrough – there's a distance between those two ideas." Makovsky admitted.
Hussein Ibish, a senior resident scholar at the Arab Gulf States Institute and longtime expert in the peace process, agreed the Washington visit had boosted Abbas' confidence.
"It's a remarkable turnaround for him. It's a lifesaver. It's a shot of adrenaline to an ailing patient," he told AFP news agency, adding that Trump had put the "Palestinian issue" back on the table.
With Abbas' position more secure, the next step might be to bring Saudi Arabia and the Gulf states on board with the promise of more strategic cooperation with Israel against Iran.
"The idea is that this would give the Israelis the added incentive of having strategic relationships with these countries and normalisation with the Arab world," he said.
And it would give the Palestinians political cover and diplomatic support and economic aid and allow both sides to make concessions."
But, as is often the case in the Middle East, there is a problem – in this case what Ibish calls a "chicken and egg" problem.
#Open journalism No news is bad news Support The Journal

Your contributions will help us continue to deliver the stories that are important to you

Support us now
Which comes first? Israeli concessions to the Palestinians that would appease the Arab world, or public Arab recognition of their de facto strategic alliance with Israel against Iran.
Little baggage
This would be where Trump and Washington come in as guarantors.
"He has very little baggage: all the parties like him right now. The Palestinians like him, the Israelis like him, the Arabs like him," Ibish said.
"Everything else has failed, why not a Trumpian approach?"
More US engagement is seen as critical, in a region where both Israelis and Arabs felt slighted by former president Barack Obama's attempts to disengage and to rebalance US ties with Iran.
But many observers, including Makovsky, are pessimistic.
"I don't want to be a skunk at the garden party. I do think it's good that Trump talks about this issue," he said.
"And the president is not being driven by a domestic base on this, he genuinely wants to see progress."
But, he added, that's not the same thing as a US plan to deal with the core issues blocking a deal: borders, security arrangements, the status of Jerusalem, refugees and mutual recognition.